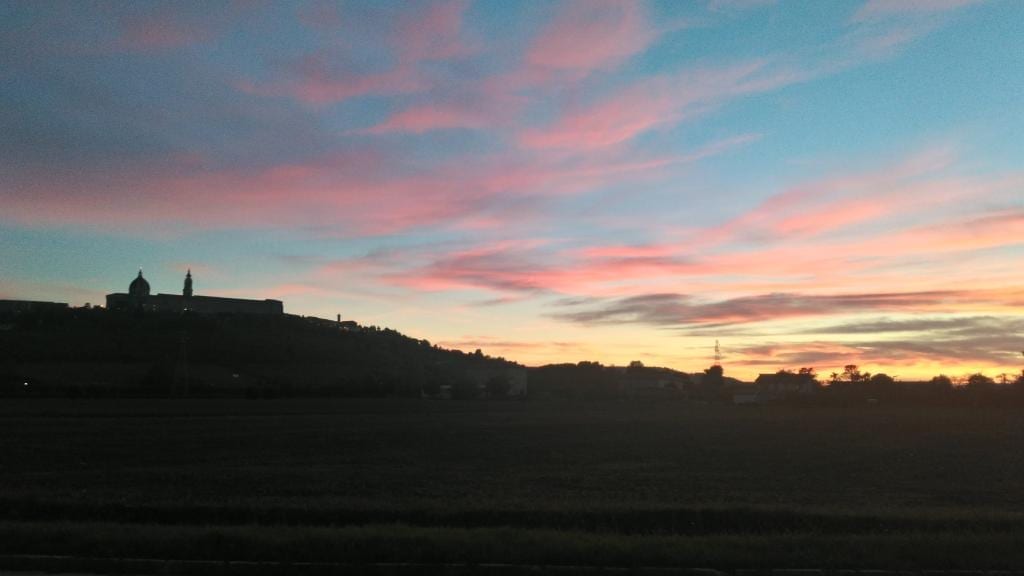 The LORD said to Abram: Go forth from your land, your relatives, and from your father's house to a land that I will show you.
(Genesis 12:1)
In 2014, my wife and I made our decision. It came naturally, though not without struggle. Katia is from a small town called Mottola in the southern region of Puglia roughly halfway on the autostrada between the port cities of Taranto and Bari on the Ionian and Adriatic Seas. Though the Mottolesi live officially within the province of Taranto jurisdiction, their dialect, food, and culture are closer to that of the Baresi than the Tarantini.
I, on the other hand, grew up in the suburbs of Atlanta. My childhood was as americana as apple pie, as they say. Backyard barbecues, Fourth of July parades, wrestling and football – these were all as natural for me as was using "ya'll" for the second person plural of "you." Orechiette pasta with rapini heads and burrata cheese were as far from my worldview as were the Greek ruins in Taranto and the relics of St. Nicholas in the Cathedral of Bari.
Yet "my thoughts are not your thoughts, nor are your ways my ways" (Isaiah 55:8). They are always better. Soon I would call her land my land.
I knew it would not be easy for me to say goodbye to friends and family in the US. But we knew it was time to go. We would move to Loreto, Italy.
Looking back, the moment in which we left was not the beginning of our discernment, but the culmination. I can see the providential hand of God accompanying us along each step of the way.
Certainly there is another story in the twelve years leading up to that moment – from the time Katia and I married in Mottola, Italy, to the time we made the decision. But for the sake of simplicity, let's just say that it was our deep devotion to St. Francis that prompted us to go.
Her love of Francis began when she lived in Assisi for six years where she attended the University of Perugia. There she met many good Franciscan friars and sisters. They accompanied her spiritually and showed her the face of God she had learned about growing up. Like most Italians of her generation, going to Mass on Sundays and attending Catechism was the norm, though internalizing the Gospel was not always part of that process.
I, on the other hand, discovered St. Francis while studying Italian in Florence, Italy as an undergrad student. On a weekend excursion to Assisi, I was impacted so much by the story of St. Francis that it eventually led to my conversion to Catholicism.
Katia and I met, while I was studying in Italy. After adding new meaning to the term, long-distance relationship – she in Italy, I in the US – we decided to marry. We initially lived in Atlanta where I was working as a pilot building flight time.
After settling stateside, we knew right away something was missing. Longing to reconnect with St. Francis, we joined a local fraternity in the Secular Franciscan Order in Georgia. But something was still amiss.
After I assessed the damage of the September 11 attacks and its damage to the airline industry, I decided to leave my career flying. Then we began organizing pilgrimages and bringing English speakers to Assisi and central Italy. After a few years commuting with groups of pilgrims back and forth across the Atlantic proved to be too much, we knew we had to do it.
We were invited to assist the OFM Franciscan friars and the Alcantarine sisters who had a retreat center aimed at young people and families. The friars had also started a religious association based on Franciscan spirituality for families. Known as Progetto Nazareth, we already knew many of the families, and we longed for a deeper spirituality for our marriage and family.
With their base in Loreto in the region of the Marches – famed throughout the world for the basilica safeguarding the Holy House of Mary – it made sense. We would raise our own family in the shadow of the basilica housing the walls in which St. Joseph and St. Mary raised the Christ child.
The Marches has a long Franciscan presence since St. Francis came here in 1209 with one of the first friars, Brother Giles. Over the centuries, it became a cradle of Franciscan spirituality outside of Assisi. Even today it is filled with Franciscan friaries, hermitages, Poor Clare monasteries and convents. San Damiano crucifixes and TAU crosses are still regular fixtures on the walls of coffee bars and automotive garages as well as public school classrooms and courthouses.
With our two children in tow, then aged eight and six, we set out. In the spirit of Genesis, I went forth "from my land, my relatives, and my father's house to a land God would show me" (Genesis 12:1). We hoped that a closeness to the deep spirituality of the region as well as to the friars and sisters would mark our children in a special way. (Certainly, the sea breezes of the Adriatic Sea and the cool air of the Apennine Mountains couldn't hurt either.)
We are now in our seventh year in Loreto. And God has not disappointed. With the presence of the friars and sisters and our involvement with Progetto Nazareth, we have seen Scripture come alive in our lives: "And everyone who has given up houses or brothers or sisters or father or mother or children or lands for the sake of my name will receive a hundred times more, and will inherit eternal life" (Matthew 19:29).
I look forward to sharing future stories about life in Italy – with the Franciscans, the sanctuaries, and the Church.