When someone asks me how I ended up living in Loreto, Italy leading and organizing Catholic pilgrimages in the footsteps of St. Francis after being raised Protestant in an American southern suburb, I respond simply, "Movements of the Spirit."
When I look back twenty-five years ago to that Easter Vigil Mass after six months of RCIA, I had no way of knowing what was in store for me. In that moment I only knew that I had a strong desire to become Catholic and serve God.
The first promptings took place a few years earlier in college. I was in Florence, Italy on a summer study abroad program to learn Italian. On weekends, our school organized excursions to nearby cities and places of interest. One Saturday we went to Assisi.
When we arrived in Assisi, I looked up at the town built centuries ago from stone carved out of nearby Mount Subasio. I was impressed by how this medieval city was many centuries older than the founding of my own country.
Yet I was struck all the more by the legends narrated pictorially by Giotto in his celebrated frescoes as our professor guided us through the storied thirteenth-century majestic basilica that conserved the remains of Assisi's most famous son.
Given my Protestant upbringing, I was embarrassingly ignorant of the lives of the saints. This was the first time I had ever heard the name: St. Francis of Assisi. As our faithful Italian professor tactfully broke open the stories, I had never heard of anyone doing such a thing so radical, so drastic, for nothing other than love of God. This was also due to the fact that I hadn't darkened the doors of any church for many years.
At the conclusion of the presentation, we had some free time. While other students poked around souvenir stands near the basilica, I wanted more. I set out uphill toward the center of Assisi to explore. While I was enthralled by Assisi's characteristic walls and stone structures, I couldn't help notice an elderly woman slip through an automatic sliding door off the main street. Beyond the glass door was a chapel and more frescoes. I followed her in.
This beautifully decorated chapel was considerably different from the bustling basilica just a few steps away. Instead of the hubbub of tourists and pilgrims, there were only a handful of people, including a veiled nun, praying silently.
Though it felt unnatural, I did what they were doing: I too knelt down in prayer. As I closed my eyes, something began to stir. I had known it once as a child, but it had long since been dormant.
I recalled moments from those few short years in Sunday School as a child when I had experienced the presence of God in my heart. I remembered innocence, the desire to please God, and the guilt I felt after committing venial sins like telling a white lie.
Suddenly so many things I was clinging to at that point in my life seemed unimportant. I saw that my attitude toward religion was shallow and self-centered and that God was infinitely greater than the box in which I had pridefully enclosed him.
I recalled the first few recently memorized lines of Dante's Divine Comedy: "Nel mezzo del cammin' di nostra vita, mi ritrovai per una selva oscura che la diritta via era smarrita" (In the middle of our life's journey, I found myself in a dark forest, as the straight way had been lost.) Though at the beginning of "life's journey," I was able to see clearly that I was in that same dark forest.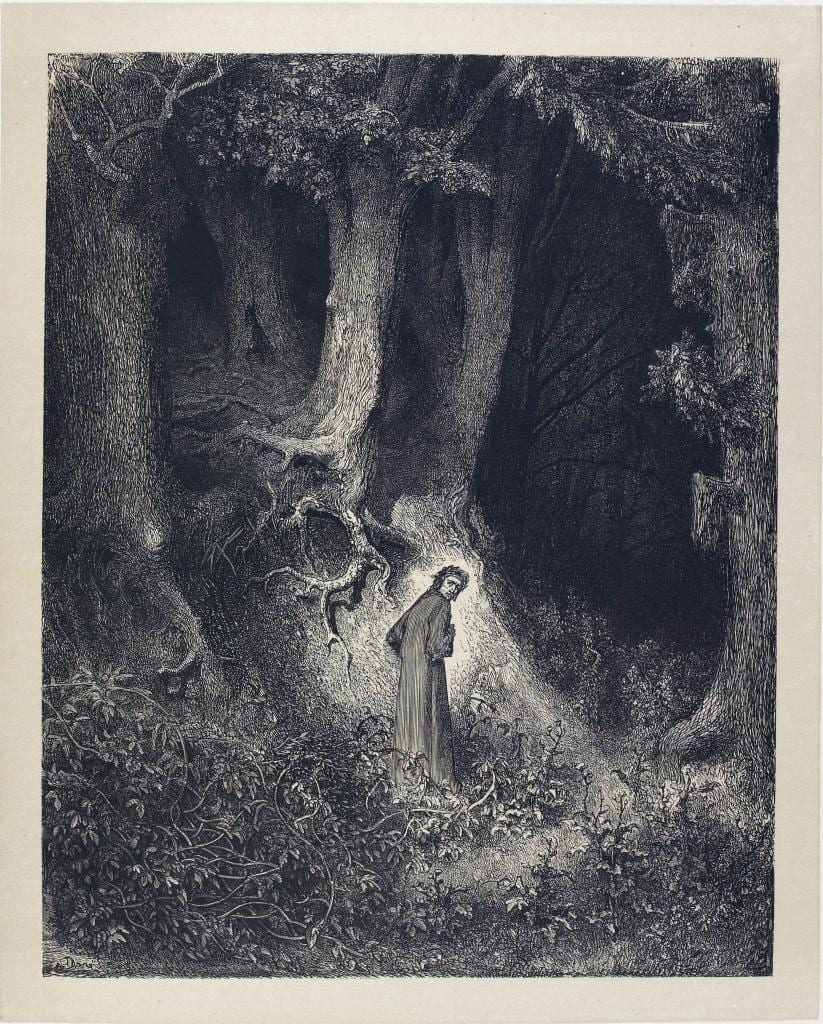 There in the stillness of that quiet little chapel, a sense of hope flooded from somewhere deep within. Though I had no idea where I would be headed, I knew it would be somewhere better. Something within told me that I would soon be led on the "straight way."
At the end of the summer, I returned home with a decent command of the Italian language. More importantly, however, was the experience of Saint Francis of Assisi impressed in my heart.
Shortly thereafter, I made my journey into the Catholic Church. It was only natural for me to choose St. Francis of Assisi as my confirmation name.
I was convinced intellectually by the arguments of Catholicism. The various Protestant churches I had attended could all be traced to a moment in time in which they were founded. Each had an historic launching point always initiated by a particular founder. Catholicism had no such beginning. It traced its roots to Pentecost, to the commissioning of Peter and the Apostles.
Beyond intellectual apologetics, there was something else about Catholicism. It touched my heart. Each time I entered a Catholic church, I sensed something – a Presence. Even before I knew about the Real Presence of Christ in the Eucharist, I could feel that there was more something in Catholic churches that I did not experience elsewhere.
Though I was not familiar then with the idea of the communion of the saints, in retrospect I see how there were many saints who accompanied me as I went through my conversion. They included the organizers and sponsors of the RCIA process. Yet there were also the invisible, celestial saints. Looking back, I see how one saint in particular guided me more than the others: St. Francis of Assisi.
More than any other saint, St. Francis has guided and formed me. Due to my experience in Assisi, I took his name as my RCIA confirmation name. But that was just the beginning. St. Francis had many more plans for me.