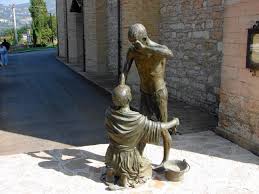 You may have heard about a book released not long ago. Titled The Benedict Option by Rod Dreher, it draws on the example of St. Benedict who fled the licentiousness and decadence of early sixth-century Rome to live as a hermit in the caves. He later began guiding others in the monastic life, wrote a rule, and founded numerous monasteries. While western society entered into a centuries-long period of decline, religious life flourished securely in Benedictine monasteries where monks safeguarded Christian life as well as culture.
In a similar vein, the Benedict Option calls on today's Christians to retreat from society. As our own society continues to deviate more and more from Judeo-Christian values – concretized in certain laws and court rulings – and is ever more hostile to the Christian way of life in the media and universities, it suggests that now is the time for Christians to withdraw from the world.
Quitting a culture that seems irreversibly anti-Christian and beyond the point of no return to form intentional, close-knit Christian communities bound by a dynamic faith-based way of life would seem, according to this option, appropriate and timely. Within these communities "fortified" in the Christian way of life, religion and culture would once again be safeguarded (according to the option) and set to usher in a Christian Renaissance and re-evangelization.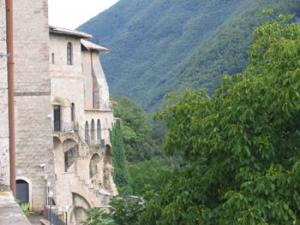 Though it may be tempting to withdraw from the world, does God really want Christians to leave? Is there another way?
The St. Francis Option
What about a St. Francis Option?
The life and spirituality of St. Francis of Assisi suggest a relevant and timely way to approach an increasingly secularized world.
Though St. Francis lived in the High Middle Ages, in some ways the golden era of Christendom, it was also quite anti-Christian in various and sundry ways. Thomas of Celano, Francis's first biographer, described late twelfth-century Assisi in the following not-so-virtuous terms: "shameful and detestable; lust and wantonness; every kind of debauchery; wickedness; sin" (see First Life, chapter 1).
Before his conversion, Francis was quite at home in such an environment. Full of pride and seeking to increase his social standing, Francis set out to become a noble knight.
While overnighting in Spoleto on his way to fight in the Crusades, however, he heard God's voice say to him, "Francis, who can do more for you, the Lord or his servant, a rich man or a beggar?" When Francis responded that the Lord could do more, he was told to go back to Assisi where he would be shown what to do (see St. Bonaventure, Major Legend, Chapter 1, 3).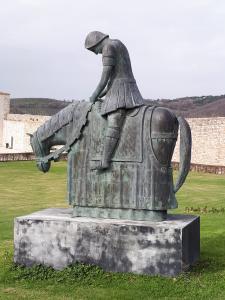 A New Way of Life
After Francis returned home and his conversion began in earnest, he too felt the need to leave his native city and retreat from society. He desired to separate himself from the vices and transgressions of his townspeople in order to heal and listen to what the Lord had to say to him.
Francis retreated to isolated caves in the mountains and dilapidated churches away from Assisi. His biographer wrote: "He frequently chose solitary places so that he could direct his mind completely to God" (Celano, First Life, Chapter 27, 71).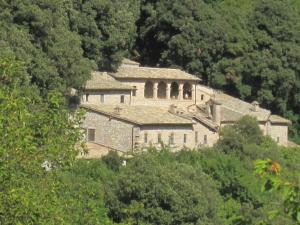 Here Francis appears to be have exercised the "Benedict Option."
Transcendent Spirituality
In ancient times, mountains were called the "seats of the gods," as they were believed to be closer to the heavens. In the Bible, the mountains are frequently the setting of significant events: Moses received the commandments on Sinai; Elijah challenged the priests of Baal on Carmel; Jesus was transfigured on Tabor.
On the mountaintop, many experience the power and strength of God quite easily. This is the God who revealed himself as Creator, sacred, lawgiver, mysterious, omniscient, and almighty. The mountains are like the vertical beam of the cross – the part that pointed up. This aspect of spirituality is transcendent.
However, like Peter – who wished to build "three tents" and stay on the mountaintop of Tabor (see Matthew 17:4) – Francis was not to remain in permanent retreat.
Here the Benedict Option ends for Francis. Like Peter, Francis was called to descend once again to the valley where his work would be carried out. God had another mission for Francis.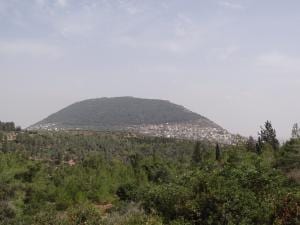 The Calling of Francis
Within the little church of San Damiano, Francis heard another voice speak to him: "Francis, Francis, go and rebuild my house, which, as you can see, is totally in ruin" (see Bonaventure, Greater Legend, chapter 2, 1). This would become his life mission and vocation: rebuilding the Church.
He promptly set out to restore the particular church of San Damiano. He then moved on to another one down in the valley, St. Mary of the Angels, in addition to a third church called San Pietro di Spina, further away, but also in the valley. Yet, the larger meaning of that command revealed itself over the course of his life: Francis was called to rebuild the universal Church.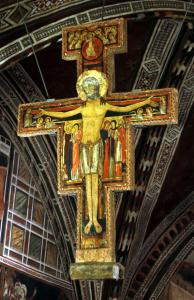 His conversion (which he referred to as "penance" in his Testament, 4) "began" in his own words, when he embraced a leper – the most marginalized of medieval society.
Soon others began following him. Francis and the brothers slept in animal sheds near a crooked stream known as Rivotorto, while they did odd jobs during the day for alms. They traveled itinerantly, lived on the generosity of others, and preached about the goodness of God and penance to anyone who would listen.
In 1209 they were twelve in number, and they went to Rome seeking approval for their way of life. Pope Innocent III granted it. From that moment on, the movement exploded and people from all walks of life flooded in.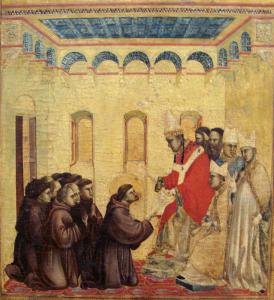 They began traveling itinerantly where they felt the Holy Spirit was leading them. They preached in the city squares and in churches where priests received them. All the while, they continued serving lepers and other marginalized.
It is clear that the charism given to Francis by God was one that required direct interaction with the people, and this would set his spirituality apart.
The Need for Prayer
However, Francis continued to retreat periodically to the mountains for contemplation and prayer throughout his entire life. During the course of the year, he would spent several forty-day periods of prayer in the hermitages which he referred to as "Lents."
Prayer served an important purpose: through prayer, Francis became more and more united to God and a channel of his grace and love. Thomas of Celano said of Francis: "Thus he would direct all his attention and affection toward the one thing he asked of the Lord, not so much praying as becoming totally prayer" (Second Life, 95). Thomas said that after praying, Francis was "changed almost into another man — another Christ" (99).
Francis was drawn so strongly to the mountain hermitages that he once felt tempted to take on the life of a hermit permanently. Not trusting in his own discernment, he asked a friar, Sylvester, as well as St. Clare and the sisters of San Damiano to pray for him to know the will of God. Clare and the sisters received the same response as did Brother Sylvester: Francis was called by God not only for himself, but to bear fruit and bring others to God: He had to continue preaching, they told him. (See Fioretti, chapter 16).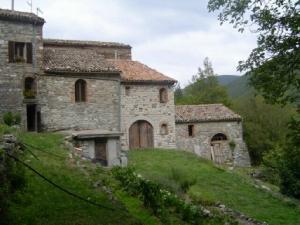 Immanent Spirituality
The hermitage was not a monastery for Francis. Praying in the hermitage was to be temporary, never permanent. Francis would once again leave his retreat and go back down to the valley to serve the lepers, the community, and the Church.
The valley recalls the Incarnation – when Christ humbled and lowered himself from the heavens above to be with humanity below. God reached down, stooped down, from heaven to be with man. God did not stay a mystery, he became a child. He did not hide from humanity, he revealed himself as a man. In the Incarnation, Christ became close to man and allowed for relationship and unity with humanity in the material world.
As a follower of the poor Christ, Francis would always have a strong concern for the world. He never lost his desire to help the poor and the marginalized. His spirituality led to a focus on being together in community and fellowship. God did not remain all-powerful, aloof up in heaven; he had come into the world. For the cross has two beams – vertical, as well as horizontal.
This is known as immanent spirituality — that God "remains" in the world.
The St. Francis Option is Christocentric
Francis was really walking in the pathway of larger footsteps. For it was Christ himself who alternated between praying in solitude and serving people. Though Christ "often withdrew to the wilderness to pray" (Luke 5:16), he always returned to the people where he preached, healed, performed miracles, and taught.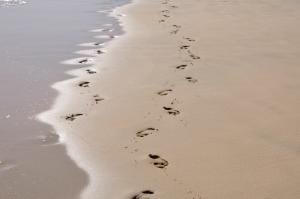 This is the dichotomy that is a characteristic hallmark of Francisan spirituality: retreating temporarily to the mountains and returning to the valley — going up on the mountaintop to remain alone with the transcendent God in prayer and hermitage to receive strength, followed by coming back down to the valley to serve the lepers and preach in the cities with the immanent God.
Francis's life was not to prayer alone or ministry alone; it was both to prayer and ministry, transcendent and immanent, the mountains and the valleys.
Francis's mountain would be Mount Sinai, his valley the Sermon on the Plain. Never the first or the second – but both – one in fulfillment of the other.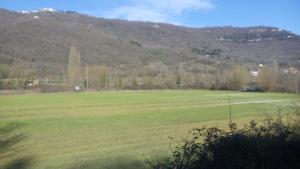 The St. Francis Option requires a discernment of the delicate balance between the contemplative life and the active life. It embraces both roles of the sisters, Martha and Mary – Mary who listened to Jesus's voice, as well as Martha who looked after his needs (see Matthew 26:6-13; Mark 14:3-9; John 12:1-8).
It keeps one's gaze fixed on God above, but does not avoid dirtying one's feet and hands in the world below. It juxtaposes Gospel hope in eternal life with the Gospel call to those in need.
Though St. Francis lived eight centuries after St. Benedict and eight centuries before us, the St. Francis Option remains relevant today. The St. Francis Option gives us guidance as we, too, ask ourselves the same questions that Benedict and Francis asked themselves during their milieu of cultural decadence and wickedness: "Lord, what do you want me to do?"
(Bret Thoman's latest book, A Knight and a Lady: A Journey into the Spirituality of Saints Francis and Clare" is available on Amazon in ebook and paperback)