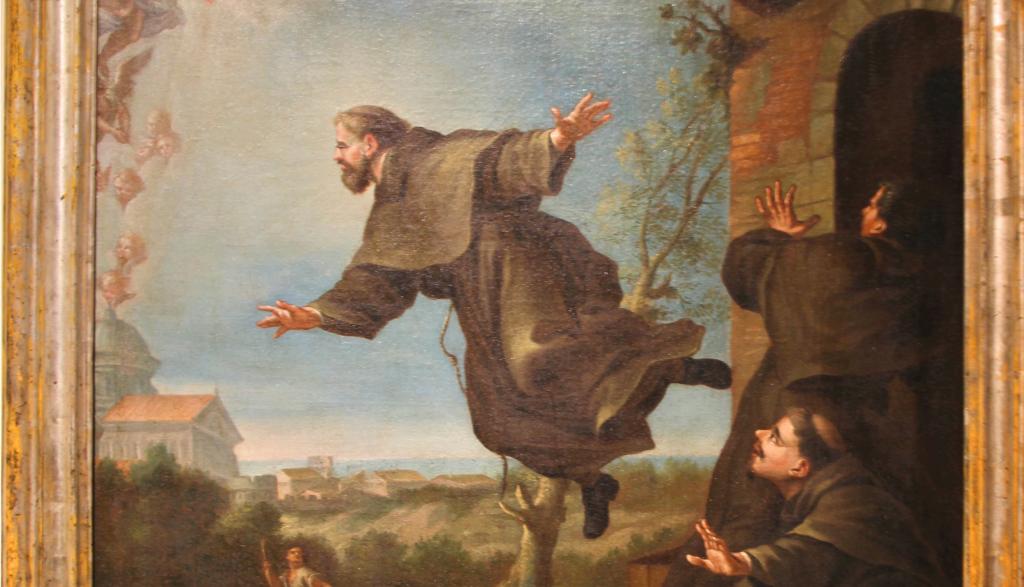 "Amen, I say to you, unless you turn and become like children, you will not enter the Kingdom of heaven." Matthew: 18:3
Difficult Childhood
St. Joseph of Cupertino (1603-1663) was born Joseph Desa on June 17, 1603. Like Christ, he was born in a stable in Cupertino, near Lecce in the southern Italian region of Apulia.
His father, Felice, was the keeper of the castle of the Marquises of Cupertino, near Lecce. However, he had gone into hiding for having signed too many bills in favor of friends. His mother, Franceschina Panaca, was a strong and rigorous woman, so much so that Joseph, later referred to his childhood years, as his "first novitiate."
As a child, he was known for being unintelligent as well as dreamy and distracted. It is said that he was forgetful, incompetent at his chores, and prone to angry fits. He also experienced intense spiritual ecstasies during which he would stare off in the distance.
At the age of seven he went to school, but had to leave when a gangrenous tumor was discovered on his leg. This led to him being bedridden for five years during which time he listened to his mother tell stories about St. Francis. During this period, a desire to see Assisi and become a Franciscan friar began to take form.
One day his mother took him to the Sanctuary of Santa Maria delle Grazie, in the nearby town of Galatone where he was anointed with oil from the votive lamp. Joseph was cured instantly and returned to Cupertino walking on his own two legs.
At the age of 16, Joseph began to train as a shoemaker, but he was unsuccessful.
False Starts
The following year, he applied to join the Observant Franciscan Friars but was denied due to his lack of education. Then he went to the Capuchins where he was initially accepted. However, after beginning the novitiate, he was judged "inept for any job" and his spiritual raptures made life difficult for the community. They, too, turned him away.
After being expelled from the Capuchins, Joseph felt too ashamed to return to Cupertino, so he went to two uncles who were Conventual Franciscan friars. They informed him of the death of his father, and also of the fact that soldiers were now looking for him as he had inherited his father's debts. Therefore, they decided to hide him in a small church dedicated to the Virgin Mary.
Joseph lived as a "clandestine of God" in a small room attached to the friary where a sacristan friar passed him food. After six months, the sacristan communicated to his uncles that the young Joseph was well-inclined to the things of God. His uncles granted him the tertiary habit which granted him immunity from secular authorities and his father's debts.
Entrance as a Conventual Franciscan
Joseph worked as a stable boy and used the time to learn to grow in humility and gentleness. His spirituality impressed the friars, and at the age of 22 he was admitted as a lay brother – a friar who makes vows but is not admitted to the priesthood.
Brother Joseph made his novitiate year alone under the guidance of his uncle, Father Giambattista Panaca. Overcoming many obstacles, he learned Latin and the Rule of St. Francis by heart. Often he was discovered late at night reading in secret or practicing his Latin. He felt a strong obligation to study, also for the fact that he had missed out on education as a child.
God doesn't call the equipped, he equips the called
His uncles now thought to present him as a candidate for priesthood though Br. Joseph was lacking in intellectual gifts and knowledge. They were concerned as admission to minor orders and the deaconate would require him to read, sing, and explain a verse from the Gospel.
Joseph did the best he could: he memorized the shortest passage he could find, from Luke 11: 27-28.
As Providence would have it, the bishop examining him opened the Bible at random to this exact same Gospel passage. Though he passed his first test, next he would have to undergo the more serious examination for the priesthood.
The bishop examined the first four candidates who all easily passed. Then, just when it was Deacon Joseph's turn, a breathless messenger ran up to the bishop with an urgent missive: he was being transferred to another diocese. The distracted bishop promptly extended to Joseph the same positive judgment the others had received. Joseph was ordained a priest on March 28, 1628.
Supernatural Phenomena and Levitation
Fr. Joseph's first assignment as a priest was to the community in Gravina in Puglia, where he would spend fifteen years. His work consisted of menial tasks around the friary such as gardening, looking after the animals, cleaning stalls, and helping in the kitchen. Joseph was sometimes found wandering in a spiritual daze, winding up in different places in the friary unaware how he got there.
Joseph had a deep prayer life, and he drew into a deeper union with God. He said that all the troubles of this world were nothing but "play battles" played by children with stick guns.
Here his proclivity for levitation began. While in prayer, he would be lifted from the ground several yards into the air. Seventy witnessed testified to his spiritual "flying," and word of his saintliness began to spread.
The Inquisition
The unusual phenomena associated with him began to create conflicts within the community. At times, his confreres scolded him for not accepting money. Other times he would return to the friary with his tunic ripped after townspeople – who regarded him a saint – wanted pieces of his clothing as relics. Alarmed, his superiors sought to sequester him and stop the crowds that were coming to see him.
Others were more skeptical. They accused Joseph of purposefully attracting attention to himself with his "flights" and they believed claims of miracles were false. In 1638, he was summoned to appear before the Inquisition where he was detained and examined for several weeks. He was eventually released when the judges found no fault with him.
Toward Assisi
Then Joseph was sent to the Sacro Convento in Assisi where he lived for nine years. He began to experience a period of spiritual dryness and his ecstasies stopped. Other saints have referred to this as a "dark night of the soul," a period of purification or spiritual testing.
At the same time, Joseph continued to be sought after for spiritual direction and consolation by people of low and high status. Though he was permitted to meet with people, he was forbidden to preach, hear confessions, or join processions and festivities on feast days. As a result, he felt even more repressed.
Toward Osimo
Due to his large following in Assisi, he was sent to two remote friaries in the Marches province. Finally, he was sent to Osimo not far from Loreto near the Adriatic Sea. In Osimo, Joseph continued to be limited in his interactions with people. However, he endured his ordeals with great patience and all the while continued to practice corporal asceticism, including wearing iron chains.
On August 10, 1663, Joseph became ill with a fever, and experienced one last "flight" on the feast of the Assumption, August 15, while saying Mass. He died three days later and was buried before great crowds of people.
Sainthood
St. Joseph was canonized on July 16, 1767 by Pope Clement XIII. In 1781, a large marble altar in the Church of St. Francis in Osimo was erected so that his body might be placed beneath it. It has remained there ever since.
The "flying saint" endured numerous sufferings and difficulties in his life. All the same, he shows what it is like to have the faith of a little child.
St. Joseph of Cupertino is the patron saint of aviators, pilots, students, and those suffering from mental illnesses and limitations.
His remains are conserved within the church of San Francesco in Osimo, Italy.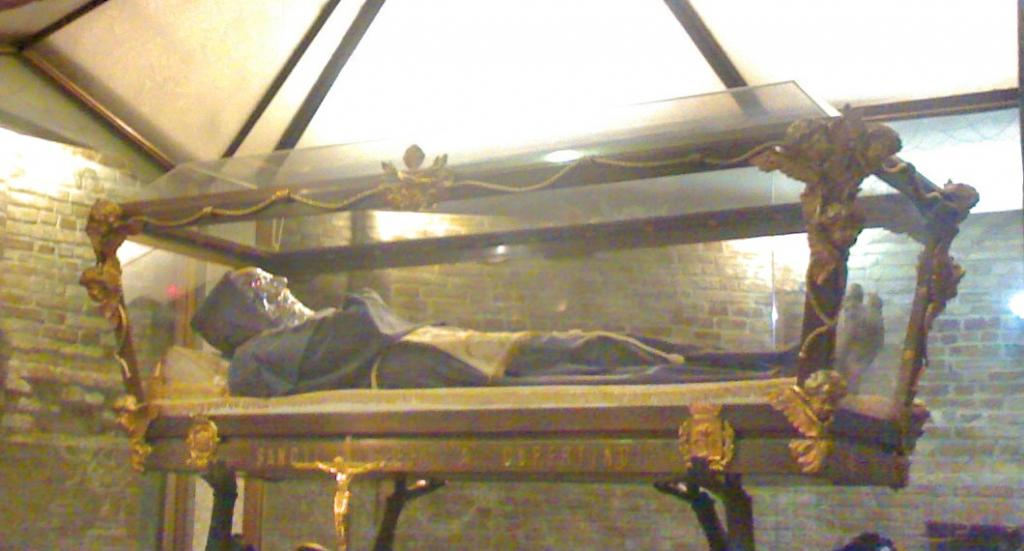 Bret Thoman's new book, A Knight and a Lady: A Journey into the Spirituality of Saints Francis and Clare is available on Amazon.