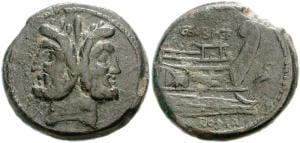 The month of January owes its name etymologically to the Roman god, Janus. According to ancient mythology, he was a two-headed figure: one head faced backward, the other forward. He was believed to stand at the threshold of doors. In the calendar, his name attributed to the first month represents looking back at the end of the previous year as well as forward to the beginning of a new year.
As our calendar transitions, this is a time for us, too, to look forward and backwards and consider certain questions. Though many will look forward to forgetting the year 2020, an honest assessment of where we are requires looking backwards as well.
Perhaps some reflections on pilgrimage sites will aid in the discernment.
"Where are you going?"
On pilgrimages, we often take groups to the Catacombs in Rome. Soon after leaving the ancient Roman city gates, on the ancient Roman road known as the Via Appia Antica, there is a nondescript little church. Its name is unusual as it is a question: "Domine, Quo Vadis?" — Latin for "Lord, Where Are You Going?"
According to an ancient legend, a vision took place on that very spot during the Christian persecutions. As Peter was the "rock" of the Church, he was particularly sought after by the praetorian guards of the notorious emperor, Nero, who launched the persecutions. And, prone to fleeing and hiding in times of duress, he was hightailing it out of there.
As he was fleeing, however, he saw Jesus in a vision walking along the Via Appia the opposite direction into Rome. Confused, Peter asked him: "Lord, where are you going?"
Christ's response: "I am going into Rome to be crucified a second time in your place." Devastated by his Lord's answer, Peter stopped, turned around, and returned to Rome to meet his fate and martyrdom: crucifixion upside down on Vatican hill.
Through Peter's question, Christ's response caused Peter to discern the Lord's will for his life and change direction.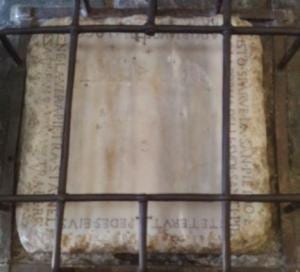 "Who are you serving?"
In some ways, Peter's question is similar to another one that took place some twelve centuries later, although this time it was the Lord who posed the question.
In 1206, a young Francis of Assisi was still seeking worldly honors. He was on his way to fight in the crusades in hopes of becoming a noble knight. However, while overnighting in Spoleto, he heard a voice speak to him in a dream:
"Francis, who can do more for you, the Lord or his servant, a rich man or a beggar?"
"The Lord, of course," responded Francis.
"Then, why are you serving the servant?" asked the Lord again. "Go back to your home and you will be shown what to do." (See Bonaventure, Major Legend, Chapter 1, 3).
Like Peter, the question prompted him to turn around. The next morning when Francis awoke, he went back to Assisi to fulfill the will of God. He renounced his dream of knighthood and began to give away his possessions. His conversion had begun.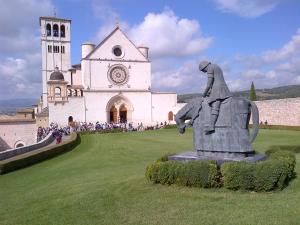 "Where are you?"
This instance of divine probing recalls a biblical narrative – the first time God ever questioned anyone.
In the Book of Genesis, after Adam sinned, God asked the first man: "Where are you?" (Genesis 3:9).
God is omniscient and therefore knew exactly where Adam was – he was hiding naked in the garden with Eve. Thus, God was not asking for his own sake. The question was for Adam. God wanted Adam to look inside and realize that he had violated his command not to eat from the "Tree of the knowledge of good and evil."
God does not speak only to great saints or biblical characters; he speaks to all people. All of us can ask ourselves: "Where am I going?" "Who am I serving?" and "Where am I?" If need be, we, too, can turn around and walk in another direction – the direction God wants for us in our lives.
Perhaps such questions are pertinent today more than ever. The plight of 2020 does not need rehashing.
Despite the turmoil in the world, God in his omnipotence either actively wills everything that happens or passively allows it for reasons we do not always comprehend. God is Lord of all that occurs – in good and bad.
With this in mind, this is an opportune time to reflect on 2020 and acknowledge the presence of God at work in it. Indeed, the mark of a mature Christian is one who can praise God always, even in difficult circumstances: "Rejoice always. Pray without ceasing. In all circumstances give thanks, for this is the will of God for you in Christ Jesus" (1 Thessalonians 5:16-18).
And as we look forward to 2021, we do so with hope. Though there may very well be more tragedies and difficulties, there will be more graces and blessings: "where sin increased, grace overflowed all the more" (Romans 5:20).
As we walk the road wherever God leads us this upcoming year, let us always remember to bless and praise God.
by Bret Thoman, OFS
Author of:
St. Francis of Assisi: Passion, Poverty, and the Man who transformed the Catholic Church
St. Clare of Assisi: Light from the Cloister
A Knight and a Lady: A Journey into the Spirituality of Saints Francis and Clare