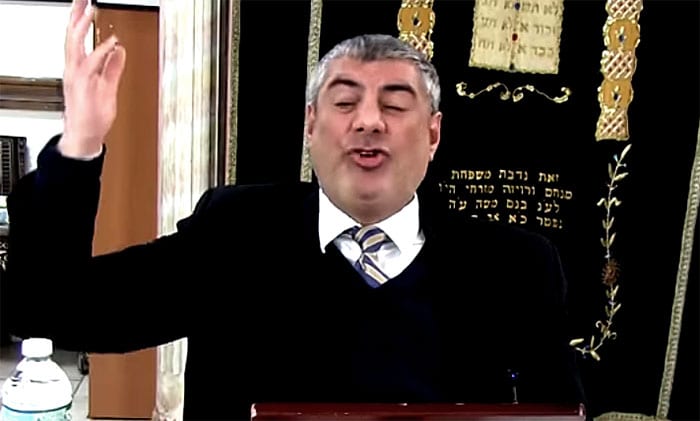 SOME mothers do have 'em – and in case of Rabbi Yosef Mizrachi, above, one wishes that he'd never been born at all because of his outrageously offensive views.
Yet this week, despite deep revulsion expressed by many Jews about his coming to Britain, he is scheduled to give three lectures at synagogues in London on March 15 and 16.
Mizrachi has been slammed by the UK's Chief Rabbi Ephraim Mirvis and others for his views.
In 2016 hundreds signed a petition (closed after 846 put their names to it) calling for Mizrachi to be banned from the UK because he was  regarded as a "hate preacher". Earlier, in 2014, he toured the UK lecturing schoolchildren and has since been seeking a return.
The petition detailed some of this clown's "cultish, divisive and contemptible" views that include the following:
• That children with Downs Syndrome and autism are being punished for their sins in a previous life for gossiping.
• That children who are born with blindness are being punished for watching pornography in previous lives.
• That women contract breast and cervix cancers as a result of sexual licentiousness
• That men contract prostate and brain cancers as a result of sexual licentiousness and what he calls "dirty thoughts".
• That crime has increased in America as the result of the emancipation of African-Americans.
• That people cease to be religious because they are influenced by gay university professors.
In 2016, Mirvis said:
We do not expect that any of our Rabbis or communities would wish to host a speaker  … with views which cause widespread offence and upset.
Mizrachi , who claims to have "cured" hundred of their homosexual tendencies, labels his critics "worse than Hitler".
In a YouTube video, he labels gay people as "sick" and "disgusting" and "criminal" – and urges them to get back in the closet:
Make sure that this closet goes in a bigger closet so if you wanna come out you'll still be in.
They include Novominsker Rebbe, President of Agudath Israel of America, who said Mizrachi's claims were :
Demonstrably false, profoundly offensive and extremely hurtful.
He is due to give three lectures in the UK, including one called "Defeating the Modern Day Amelek (enemies of Israel)" and another called "True Submission to Hashem's Will."
UPDATE: The Times (paywall) reports that Mizrachi , 50, faces being banned from entering Britain today over his rhetoric against disabled people, Holocaust victims and homosexuals.
As he was  prepared for a speaking tour last night, Home Office officials were studying his record. Sara Khan, the anti-extremism tsar, warned that his "appalling statements" would have a divisive impact on society.
The Charity Commission said that it would ask trustees of a synagogue to explain its decision to host the rabbi, who is known for disparaging comments against secular Jews, Christianity and supporters of Palestinians.
UPDATE II: He has been denied entry to the UK. Jewish News reports today that a Home Office spokesperson said:
When the purpose of someone's visit to this country is to spread hatred, we can and will stop them entering Britain. This Government upholds free speech but we will not let it be used to excuse detestable views that directly contravene our values. We take the threat from extremism seriously and we will challenge it wherever we see it.
David Toube, Director of Policy at the anti-extremist Quilliam Foundation, said:
Mizrachi was prevented from boarding his plane to the UK. I applaud the Home Office's decision and am proud the mainstream Jewish community has been united in its opposition to this man.