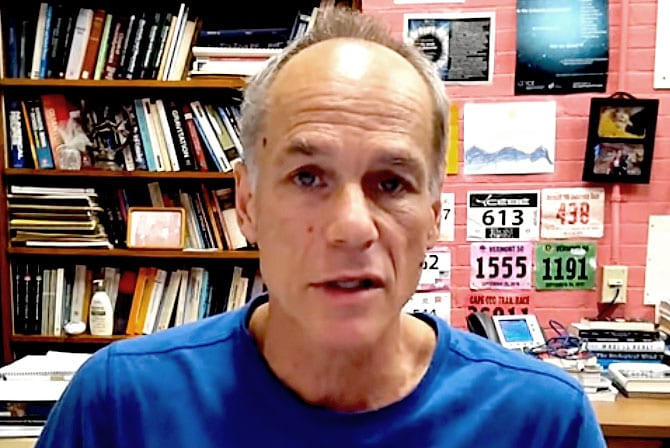 Marcelo Gleiser, above, a US-based physics and astronomy professor, today (Tuesday) became this year's winner of the $1.5 million Templeton Prize, which recognises outstanding contributions to 'affirming life's spiritual dimension' – and he is quoted as saying:
Atheism is inconsistent with the scientific method. Atheism is a belief in non-belief. So you categorically deny something you have no evidence against.
Utter tosh! I've always understood that atheism means nothing more or less than an absence in the belief in gods, and Wiki and other sources confirm this:
Atheism is, in the broadest sense, the absence of belief in the existence of deities. Less broadly, atheism is the rejection of belief that any deities exist. In an even narrower sense, atheism is specifically the position that there are no deities.
The latter is what I would term antitheism. The Oxford English Dictionary, according to Wiki, defines an antitheist as "One opposed to belief in the existence of a god". The earliest citation given for this meaning dates from 1833.
Gleiser's remarks, to my mind, place him alongside many Christians fools who insist that atheism is a religion.
The agnostic Brazilian-born professor added:
I'll keep an open mind because I understand that human knowledge is limited.
Although he does not believe in God, he refuses to write off the possibility of God's existence completely, and he accuses the "new atheists" of doing a disservice to science by making an enemy out of religion: notably British scientist Richard Dawkins – who called for the arrest of Pope Benedict XVI over paedophilia in the Catholic Church – and the late journalist Christopher Hitchens, who, among other things, attacked Mother Teresa, pointing out in no uncertain terms she was a charlatan.
For Gleiser, who grew up in Rio's Jewish community, religion is not just about believing in God: it provides a sense of identity and community.
At least half of the world population is that way. It's extremely arrogant for scientists to come down from the ivory towers and make these declarations without understanding the social importance of belief systems.

When you hear very famous scientists making pronouncements like … cosmology has explained the origin of the universe and the whole, and we don't need God anymore. That's complete nonsense because we have not explained the origin of the universe at all.
The prize is funded by the John Templeton Foundation – a philanthropic organisation named after the American Presbyterian who made his fortune on Wall Street, and who set out to seek:
Proofs of divine agency in every branch of science.
What does he think of people who believe that the Earth was created in seven days?
They position science as the enemy … because they have a very antiquated way of thinking about science and religion in which all scientists try to kill God. Science does not kill God.
Desmond Tutu, the Dalai Lama and dissident Soviet author Aleksandr Solzhenitsyn as recipients of the prize, first awarded in 1973.
Gleiser should invest some of the money he's just been handed in a decent dictionary.