AT the beginning of the year Canada announced that its one dollar coin – called a 'loonie' – was to be given a make-over to mark the 50th anniversary of the decriminalisation of homosexuality for adults across the country.
This prompted fury among loonies of a different stripe: mainly conservative Christians who yesterday gathered in Ottawa to demand the halt to the planned new coin, the design of which is currently being kept under wraps.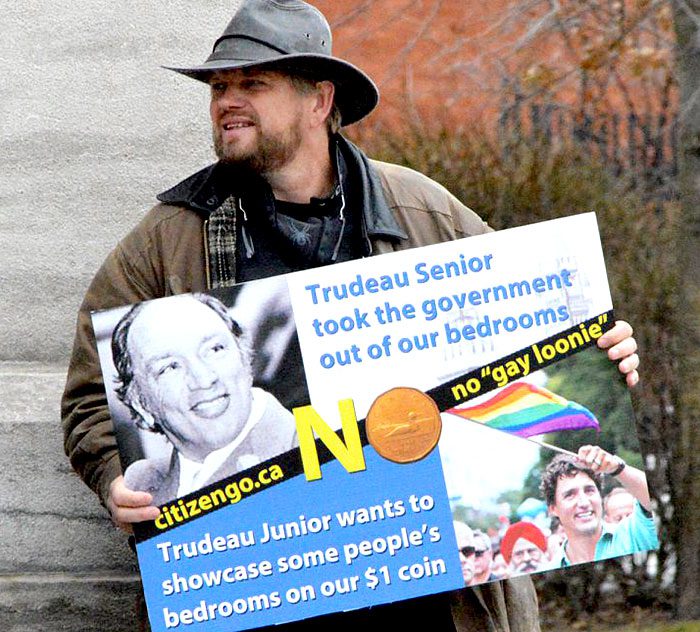 What we do now about the coin is that it will feature a "stylized rendering of two overlapping human faces within a large circle, the left half of the left face in front view and the right face in profile facing left, the two faces forming one whole face in front view composed of two eyes with eyebrows, a nose, a mouth and two ears with a small hoop earring on the left ear."
Among the first to spring into action to oppose the coin was CitizenGO, which launched a petition that says:
Most Canadians are not homosexual and find the idea of homosexual sex to be unappealing or even repulsive. They respect people's choices, but they would never choose homosexuality for themselves. So why should this divergent and unpopular sexual practice be highlighted on our circulation coinage?

Furthermore, many Canadians consider homosexuality sinful, based on the teaching of Judaism and Christianity …

Finally, many people (including numerous non-religious Canadians) argue that homosexuality is unnatural. They say that the practice of same-sex sexual activity is akin to fitting a square peg into a square peg: It defies the normal design of the human body. Should we celebrate an unnatural act?
Almost 50,000 people have signed the petition.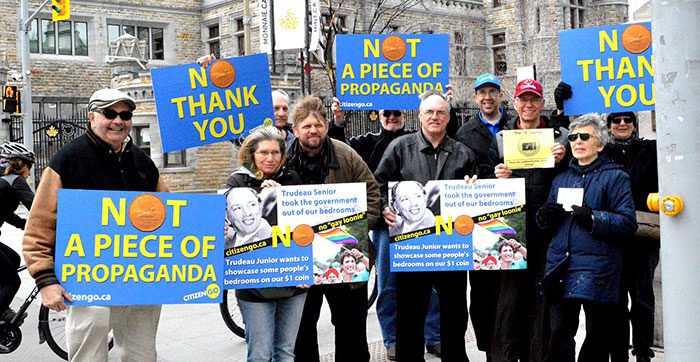 Protesters gathered outside Canada's Mint. CitizenGo said on its
Facebook page
:
It was a great event. We had about a dozen people join us in front of the Royal Canadian Mint in Ottawa from 12 to 1 PM. Together, we took a stand against the politicization of our coinage and the aggressive push of the LGBT agenda on ALL Canadians. Many of the pedestrians passing us by were totally supportive. We also got lots of positive honks from the traffic. Not a single counter-protestor showed up.
In 1967 Pierre Trudeau (1919-2000), acting as Canada's Justice Minister, introduced a controversial "Omnibus Bill" (Bill C-195) to the House of Commons, asking for sweeping changes to the nation's Criminal Code. Among the changes were the decriminalization of abortion, new restrictions on gun ownership, and the decriminalization of certain sex acts if performed in private.
Trudeau said at the time that there was:
No place for the state in the bedrooms of the nation.
He also suggested that homosexual acts in public were "a different matter."
The original Omnibus Bill did not seek to decriminalise homosexuality per se, but to distinguish between public and private sexual acts. It stated only that certain sexual acts between consenting adults aged 21 or older were legal when performed in private. If a third person or others were present, these acts – including sodomy – were still considered illegal.
This detail of the Bill changed, however. In 1968, the Omnibus Bill was modified and reintroduced to Parliament by Trudeau's own Justice Minister, John Turner, as Bill C-150. Inspired by similar legislation pertaining to England and Wales, the Bill now included the explicit decriminalization of homosexual acts among those aged 21 and over.
On May 14, 1969, after three weeks of furious opposition from the Quebec's Catholic Créditiste (Social Credit) party,  Bill C-150 passed third reading in the House of Commons by a vote of 149:55. There were 59 abstentions.
When Bill C-150 was signed into law both homosexual acts and abortion became legal in Canada. However, men in Canada continued to be arrested for soliciting or performing sexual acts in public and semi-public places.
Canada legalized same-sex "marriage" in 2005, thirty-six years after the passage of bill C-150.