'A wonderful day for survivors' is how one woman greeted news today that Cardinal George Pell, the most senior Catholic cleric to be convicted of sexual abuse, has lost his appeal against his conviction for abusing two boys in a Melbourne cathedral in the 1990s.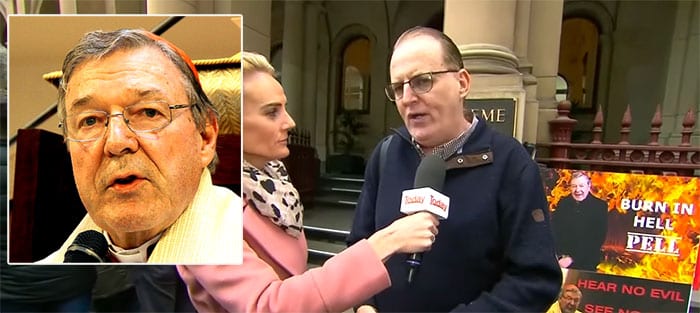 One survivor, pictured above, told a reporter in this video:
This is outstanding news. Now we can officially say 'Pell is a criminal, Pell is a paedophile, Pell is a destroyer, a maimer of young children.' He's a pathetic human being, a pig of a man and we are elated.
Pell was jailed for six years in March. The former Vatican treasurer, 78, will now consider a final appeal in the nation's highest court.
In a brief statement issued after the decision the Vatican reiterated that Pell maintained his innocence, and that it was now:
Pell's right to appeal to the high court. At this time, together with the church in Australia, the Holy See confirms its closeness to the victims of sexual abuse and its commitment to pursue, through the competent ecclesiastical authorities, those members who commit such abuse
No mention was made of stripping Pell of his cardinal title.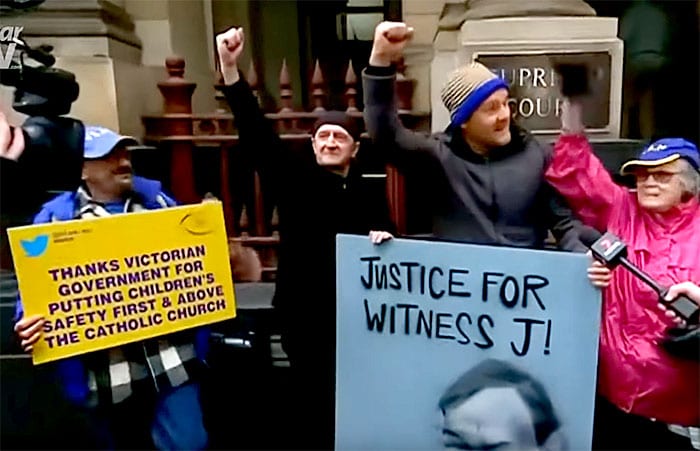 The BBC reports that Pell's surviving victim, who cannot be named, said he was:
Grateful for a legal system that everyone can believe in. My journey has not been an easy one. It has been all the more stressful because it involved a high-profile figure.
Australian Prime Minister Scott Morrison told reporters:
My sympathies are with the victims of child sexual abuse. Not just on this day, but on every single day.
He said Pell was likely to be stripped of his Order of Australia honour.
Pell's lawyers said they would "thoroughly examine" the judgement to make a possible last-ditch appeal in the High Court of Australia. However, there is no guarantee that the court will agree to hear the case.
Pell challenged the verdict by arguing it was "unreasonable" because there was insufficient evidence to convict him beyond a reasonable doubt.
His lawyers said the jury had relied too heavily on the "uncorroborated evidence" of the sole surviving victim.
Pell was archbishop of Melbourne in 1996 when he found the two boys on cathedral premises and sexually assaulted them. He abused one of the boys again in 1997. One of his victims died of a drug overdose in 2014.
The two judges who upheld the conviction said that they "did not experience a doubt" about the verdict.
When the news filtered through to campaigners and survivors of abuse outside, there was a loud cheer.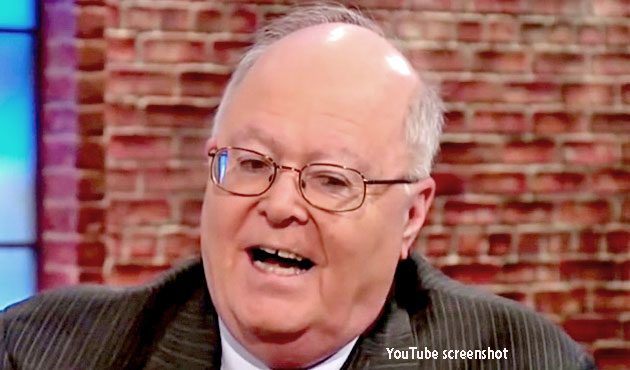 Earlier this year, in a rant against a Rolling Stone report of the Pell case, Bill Donohue, above, of the Catholic League, wrote:
Cardinal Pell is the poster boy for Catholic-hating secularists, not only in his home country but around the world. They hate him for his orthodoxy and the fact that he was, until recently, the third most senior cleric in the Catholic Church. No matter, he will go down in history as the biggest scapegoat for clergy sexual abuse in the history of the Catholic Church.
In another piece he exhorted Catholic to pray for Pell:
Keep Cardinal George Pell in your prayers. It is not easy for any priest, never mind a high-ranking one, to get a fair trial today. The hysteria and the animus that exist makes for a toxic environment.
Hat tip: BarrieJohn