AT THE UN General Assembly this past week, Donald Trump and his enforcers continued their efforts to prevent women from ending unwanted pregnancies. The right-wing National Review reports approvingly:
At the United Nations General Assembly on Monday, the United States presented a joint statement declaring that there is no "international right" to abortion and calling on the governing body to stop using euphemistic terms to describe abortion in its official documents.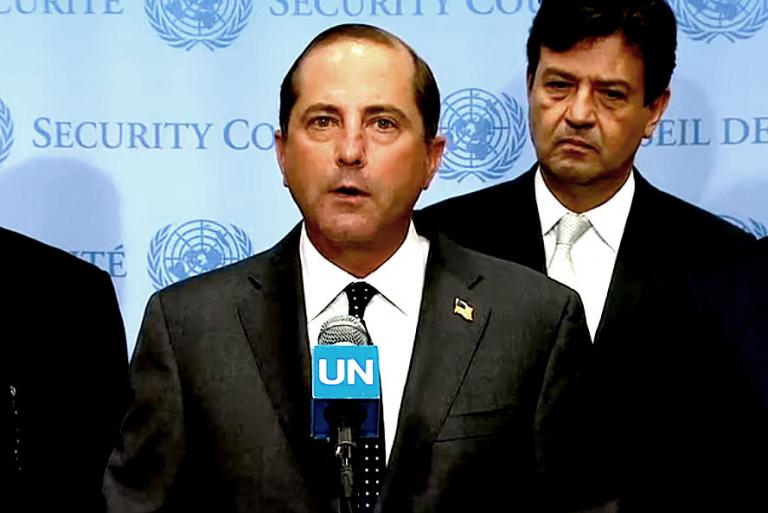 Well, it depends on how you define "right" and "international" and even "there is." Let's say we define "international rights" as those that are spelled out in the Universal Declaration of Human Rights.
That's a reasonable way to define them, because they're the closest thing there is to an official international list of rights, though not all countries have signed it. It doesn't include the word "abortion" so in that sense the US delegation is correct, but are there any rights that can be interpreted as supporting people's right to health, bodily integrity, autonomy and the like? Rights of that kind could be seen as implying the right to end a pregnancy that the pregnant woman does not want to continue.
Article 3:
Everyone has the right to life, liberty and security of person.
Security of person was doubtless intended to cover such things as not being rounded up and shoved into a concentration camp, much less a killing factory, but that doesn't mean we can't extend it to cover other kinds of security of person. The US Bill of Rights has been expanded in that way many times over the more than two centuries since it was written. Not being forced to carry and give birth to a baby you don't want to carry and give birth to seems like a very basic form of security of person.
Article 16
Men and women of full age, without any limitation due to race, nationality or religion, have the right to marry and to found a family. They are entitled to equal rights as to marriage, during marriage and at its dissolution.
(2) Marriage shall be entered into only with the free and full consent of the intending spouses.
(3) The family is the natural and fundamental group unit of society and is entitled to protection by society and the State.
If women are entitled to equal rights during marriage, then that would seem to rule out forced pregnancy. Men are not forced to carry and give birth to children they don't want to carry and give birth to, so women shouldn't be either.
Article 18
Everyone has the right to freedom of thought, conscience and religion; this right includes freedom to change his religion or belief, and freedom, either alone or in community with others and in public or private, to manifest his religion or belief in teaching, practice, worship and observance.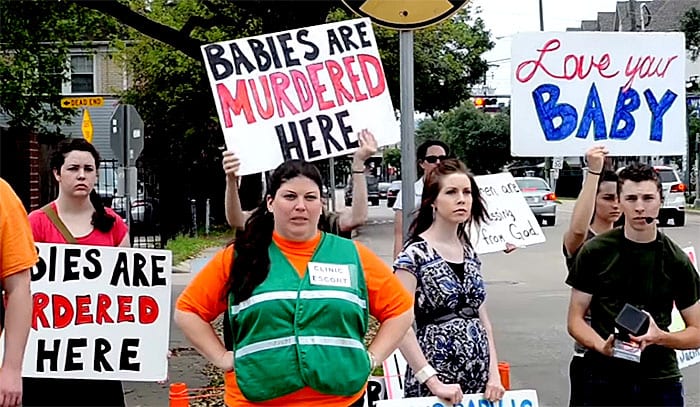 Opposition to abortion is very often rooted in religion, although there are non-believers who oppose it. Freedom of conscience doesn't mean we can go out and murder people if we feel like it, but what about cutting short an unwanted pregnancy?
It's not a slam-dunk, there is nothing I can point to to say "there's your international right to abortion," but I think there are rights to equal dignity and autonomy that can be argued to cover a right to stop being pregnant. I say it that way because I think the word "abortion" forces our attention onto the fetus, and I think we need to be reminded that pregnancy is a state of body to the pregnant woman, and it's a different kind of state of body if she doesn't want to be pregnant. Anticipation of the process of birth is also quite different if it's not wanted. The idea of a right to end a pregnancy leans on the idea that the existing woman or girl has more rights than her pregnancy.
So let's get back to Trump and the trumpies at the UN.
"We do not support references to ambiguous terms and expressions, such as sexual and reproductive health and rights in U.N. documents, because they can undermine the critical role of the family and promote practices, like abortion," said Alex Azar, secretary of the Department of Health and Human Services, in his remarks at a U.N. meeting on universal health coverage. Azar delivered his statement on behalf of the U.S. and 18 other member countries.
Alex Azar is a man. Donald Trump is a man. I know it's been said a million times, but these are men using their power and influence to force women to continue pregnancies they don't want. It's not a good look, it seems to me. It's not a good look for a class of people who will never have to endure an unwanted person growing in their abdomens, like The Alien, to force another class of person to endure just that.
This statement from the U.S. to the U.N. General Assembly is consistent with the Trump administration's policies involving the provision and funding of abortion overseas. One of President Trump's first actions after taking office in January 2017 was to sign an executive order reinstating the Mexico City policy, which prevents foreign-aid groups that provide or promote abortion in other countries from receiving US aid funding.
Of course that was one of his first actions. The right wing loves it, and it's no skin off his nose – he'll never have to push out a nine pound baby.
In the joint statement, Azar noted that the U.S. and the other 18 member countries "support equal access to health care, which includes, but is not limited to, reproductive concerns, maternal health, voluntary and informed family planning, HIV, elimination of violence against women and girls, and empowerment to reach the highest standard of health."
This disparity between the Trump administration's language and the interpretation of its critics reveals precisely why pro-life U.S. officials have asked for an end to the ambiguity. Do the U.N.'s efforts to protect and expand reproductive health care apply to actual health care, or to abortion – which, rather than caring for the health of pregnant women, ends the life of a distinct human being inside his or her mother.
But ending an unwanted pregnancy does care for the health of pregnant women. Pregnancy is hard on the body; it carries some risks; it's uncomfortable and exhausting. If it's a pregnancy the woman doesn't want, her health is improved by ending it.
Speaking of Trump and the trumpies and their tender care for children … they don't mind making sure half a million children won't get free meals at school.
More than 500,000 kids could lose their automatic eligibility for free school meals thanks to a Trump administration proposal to cut access to food stamps made last week.
Under the proposed rule, the US Department of Agriculture's Supplemental Nutrition Assistance Program would no longer provide benefits to as many as 3.1 million recipients solely because they are enrolled in food assistance programs run by the states where they live. But when the policy was announced it did not mention the potential impact on free school lunches …
Of course it didn't.