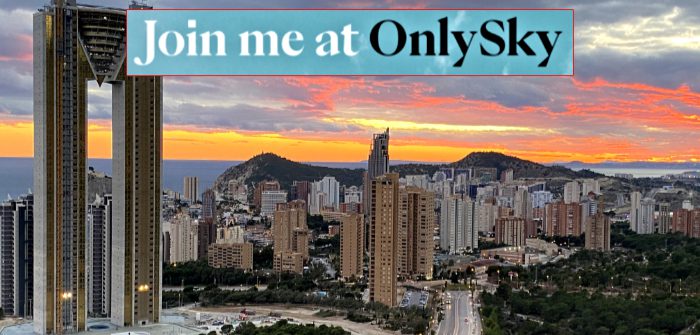 THIS will be my last post on Patheos. Together with such well-known blogs as The Friendly Atheist, Daylight Atheism, The Secular Cinephile and Laughing in Disbelief, I am in the process of moving over to OnlySky which will be officially launched in early January, 2022.

OnlySky has been created as an explicitly secular media outlet – the first of its kind – with international contributors covering a variety of subjects from a shared secular perspective.
The site will have a look and feel very different from Patheos. Instead of a network of blogs, it is a media site featuring news, storytelling, opinion columns, podcasts, and video by both new and well-known voices across the secular spectrum, serving the nearly one in three Americans who identify as having no religion and non-believers across the globe.
Because the non-religious are overwhelmingly (though not completely) progressive politically, the OnlySky creative team and its editorial posture will lean toward the progressive end of the spectrum on the issues it covers.
An immense amount of work has gone into migrating existing blogs to to the new platform, and as from December 15, we will cease to exist on Patheos.
This effectively means that we will be "off air" for about a fortnight.
Rather than take myself off for a vacation to some exotic spot I will be writing in-depth feature material for the "Deep Dive" section of the new platform, and tidying up migrated posts. Then I'll be back posting daily news reports.
Our new web address will be https://onlysky.media/thefreethinker/
If you click on the link above you will shown this form: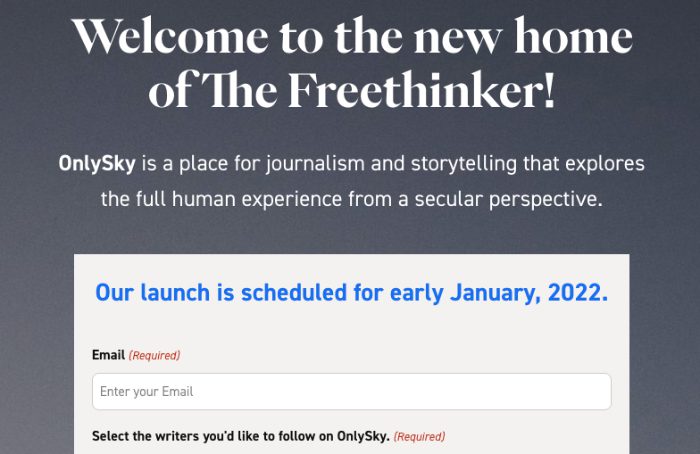 There you will find the site addresses of all the migrated blogs. Choose one or all, and you will receive an email when the site goes live.
At this stage I cannot tell you what method will be used for comments, but I'm given to understand that it won't be the universally loathed Disqus. And you will certainly be spared the annoying religious ads.
Let me take this opportunity to thank the many who have supported The Freethinker over the years, and have interacted with it so enthusiastically, and often with great flair, knowledge and humour.
Until we meet again, let me wish you and your loved ones safe and enjoyable year-end festivities.
¡Hasta luego!
If you'd like to buy me a tot of my favourite tipple – Famous Grouse – to help me cope with the immense amount of work required before OnlySky goes live please click the link below.
I'd love a large whisky