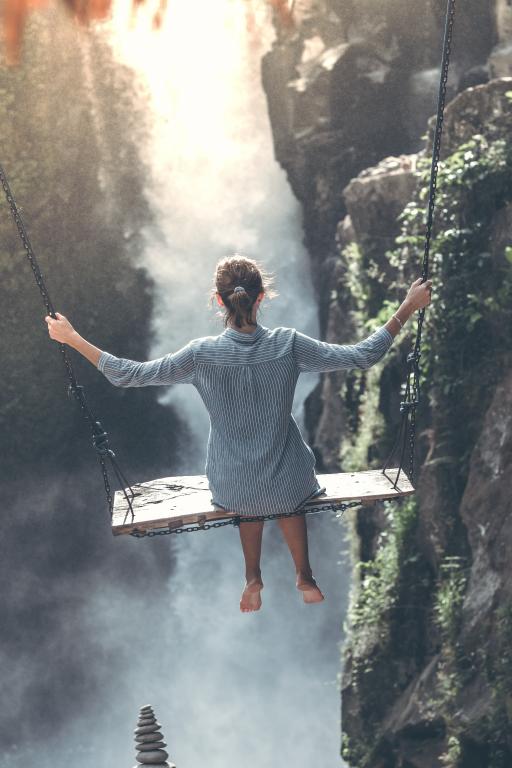 I was six years old, watching Ghostbusters. It's near the end of the movie, when the demon has risen and New York City is literally tearing to pieces. Streets are cracking in half, buildings are collapsing, people are screaming and running for safety. I'll never forget the terror I felt at seeing even the church being shorn in two, the nuns and priests just as terrified as everyone else around them.
I didn't know it at the time, but I was quickly developing a complex about the end of the world.
No doubt, I am not the only one who grew up terrified that the end of the world would come and nothing, not even God Himself, could save me. It was a constant source of paralyzing terror and debilitating fear–similar to the horror that kept me up at night, waiting for a fire to break out and kill me and my whole family in our sleep.
The older I got, and the more I understood the faith I took to heart, the more I understood that although there are many, MANY loudmouthed "Christians" and "Catholics" who profess prophetic visions of the future and the end times, there are infinitely more things we don't understand about the end times as predicted in Revelations than what we do.
There was a period of six years which I spent discerning religious life, much of which was delving into the insanely beautiful and truly unbelievable lives of the mystics. In the midst of this, I heard about a book St. Therese of Lisieux swore changed her life, and with such a hearty recommendation, I couldn't not at least try and read it. I don't readily recall the name of the book, but I do remember barely getting through the first chapter before being seized with those same panic attacks, horrific nightmares, and terrible fears of abandonment and loss as I had as a child, living in constant fear of the apocalypse.
It detailed in graphic, gory detail all the terrible things that will happen when the Antichrist comes, much of which I had learned before, but one new one I hadn't heard of that spoke to the deepest fear I had never spoken but felt so acutely: at the end of times, the Eucharist will no longer be accessible, and will be wiped from the face of the Earth until Christ comes in His full glory.
I know, I know. There are many things wrong with this, but keep in mind–at the time I read this, so many of the Church's flawed teachings were still pounding through me as utter, incomparable truth. The one thing that kept me from losing my mind completely was knowing that, no matter how terribly I felt, no matter how lost I was, no matter what was happening in the world that I couldn't control, I knew I could go into the Sanctuary and fall on my knees before Him. The Eucharist was (and still is) the anchor to my sanity and the hope I have for the dismal plight of the world.
It made me physically ill to think that there would be a time–even in the future, long after I was gone–that I wouldn't be able to go to Him, to see Him, to hold Him close and whisper to Him all the things I couldn't tell anyone else.
That was several years ago, at a point in my life when not attending Mass or the Sacraments regularly was as far outside of my line of sight as would me flying to the moon.
As I write this, it has been several months since I have attended Mass.
Yes, I still call myself Catholic, and I feel its truth deep in my soul. I can't just turn away from the core identity of myself, or the union I still feel to the One Who still sits and waits for me there, in that tabernacle.
But I can't deny that I get physically ill and wind up in heaving panic attacks at the thought of sitting through Mass–at least right now.
I shouldn't have to explain myself, but maybe I will.
I was raped as a child (as I've mentioned in previous posts). At first, when the resurgence of sex cases came up in the Church, it was enough to wade through the death and the blood of reliving my own trauma alongside those who suffered violations far worse than I could imagine. But even despite that, I was still able to go to Mass.
But then the whispers started, in the back of my thoughts.
The fear of the priests I saw, the fear of the parishioners around me, the fear of my own well-being in the one place in the entire world I never once questioned my safety before.
And then I remembered, again and again and again, the indescribable pain at finding out my parents knew I was raped as a child, and did nothing.
Didn't confront the parent of my rapist, didn't report it, didn't even talk to me about it except to punish me for strange behaviors I exhibited as a young child because of it.
Screamed at me for bringing it up in college when I remembered that it happened and dared to question why they did nothing.
Still act as though nothing happened, and revile the women who come forward to confront their rapists.
I was getting physically ill again, but for a different reason than before. The Eucharist was (and is) the lifeblood of my soul. I still went for Him, even if it meant reliving my traumas day in and day out.
Until I felt His undeniable pull in my heart to stop going, at least for now. To give my heart and soul time to heal and find solid ground again after succumbing to a new level of Hell in my PTSD.
I still love Him, and want Him more than anything. And it angers me more than I can articulate that I can't go to see Him because of the framework of the institution that so defiles His name and praises those who violate His very Self.
The other day, I realized sardonically that the fear I wrestled so often all those years ago, that of not having the Eucharist nearby, available, within reach, was nearly exactly what I was living now.
Granted, I take a few minutes extra on my commute each morning so I can pass the cathedral and kiss Him good morning. I still have my favorite painting of the Sacred Heart hanging above my bed. I still talk to Him, pray to Him, cry to Him, love Him with all of me. But I can't receive Him fully right now. I've learned a new gratitude for Spiritual communion, one that still brings me to my knees and has me crying out–it's legit, folks. Just ask for it.
I'm a Catholic living at the end of the world–it may not be the apocalypse that is preventing me from receiving Him, but it is enough that for my mental and physical safety, I can't attend Mass.
And He's proved to me through a sweet companionship that words would only undervalue and diminish, that He really did mean what He said to the apostles:
"And surely I am with you always, to the very end of the age." 
Image source: https://www.pexels.com/photo/woman-wearing-grey-long-sleeved-top-photography-1122868/