By Rosi Guastella
"The work is tough, the hours are long, and we do not get paid, but finally, I feel like I am home. I never dared imagine that I would one day finally find my tribe, my people."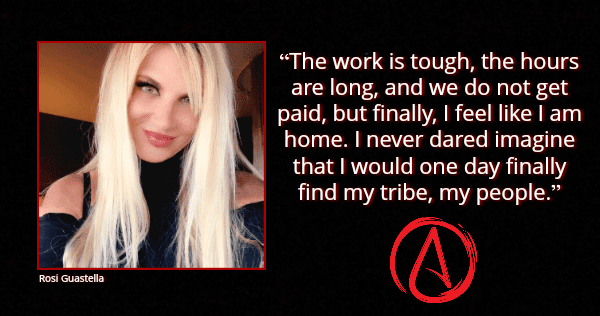 I never imagined that I, a former Catholic from Puerto Rico, would end up being elected to serve as Vice President of the Atheist Alliance of America. AAoA has been around for decades and has practically helped build the atheist community from the ground up. AAoA is an incubator for secular activities, for atheists and atheist organizations. It now has more than 600 volunteers. We recruit people who are passionate and talented, and we make a difference that matters. I am so proud to be part of this team, this family, this tribe.
My first foray into atheism occurred at the age of thirteen when my father took me to visit the Arecibo Radar, in Puerto Rico.  He told me about the cosmos and the possibility of life on other planets. He told me about other galaxies and introduced me to a complex subject that made my young and developing mind want to learn more.
Little did I know when I asked my dad these questions this was going to spark my atheism, and later introduce me to Mark Gura and CW Brown. This would then lead to me being an activist, one of the greatest loves of my life. I asked my dad,  
"Was Jesus also born on other planets?"
"If there is no Jesus on other planets, then what do they believe?"
My father then said the words that have stuck with me my entire life,
"This is the reason you need to study and learn, learn as much as you possibly can and continue learning until the day you die. Never stop learning."
In my late teens, I had another wake-up call. When I got ill and was forced to spend time in and out hospitals. During those long stays, I saw babies and young children battling leukemia and losing their fight. I saw mothers fainting, fathers screaming, asking, "Why? Why did you take my baby?"
Their pain was something I would never forget; it scarred me for life. Through their immense pain, I came to understand that there is probably no God, but even if there were a God, this God would have to be a perverse entity. This would have to be an entity who does not care for innocent children, or for people who suffer horrendous pains. He would have to be a psychopath who is indifferent to tiny bodies who writhe in agony as he sits there dreaming, blissful, and turns a blind eye, refusing to help them.
I am the mother of a transgender son. AAoA is currently working to enhance its LGBTQ program and Tina Hamilton, and I are excited to help people who are marginalized and stuck in bodies that do not match how they perceive their gender. Tina is a psychologist with a great passion for the community, transgender people in particular. This is her chosen area of expertise.
I've been working with Mark and CW for six months now. The work is tough, the hours are long, and we do not get paid, but finally, I feel like I am home. I never dared imagine that I would finally find my tribe one day, my people. We have formed a bond. It feels like we have known each other all our lives. Not all people make it at AAoA because we expect people to be their best. We don't put up with nonsense, and we only recruit people who have passion or talent. I want to express my gratitude to Mark W. Gura and CW Brown for not only putting their trust in me but also for making me feel so comfortable that it feels like we've been a part of one another's lives forever. We have a strong bond, but above all, we have deep admiration, love, and respect for one another, and this is the reason why we cherish each other so much, and why we enjoy working together.
The best is yet to come. Atheist Alliance of America will continue to achieve amazing milestones. If you are passionate or talented and want to make a difference that matters, look us up!  
Follow Mark W. Gura
Facebook: www.facebook.com/MarkWGura
Twitter: twitter.com/MarkWGura
Follow CW Brown
Facebook: www.facebook.com/CWBrown.PhilosophicalAtheism
Twitter: twitter.com/CW_Brown_
Follow Rosi Guastella
Facebook: www.facebook.com/ninarose.marina.7