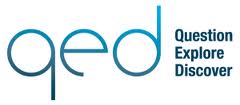 I enjoyed my time at QEDCon – you should too. More details over on the site:
QED is a two-day science and skepticism convention taking place at the Palace Hotel in Manchester on the 12th-13th April 2014.
Fantastic speakers from the worlds of science and entertainment will be joining us for a weekend celebration of science, reason and critical thinking.
Tickets for QED 2014 will go on sale on Thursday 31st October at 10:23am