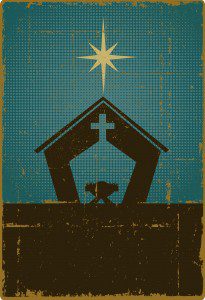 There was no Christmas wrap other than the swaddling clothes that first Christmas. There was no tinsel. No egg nog. No hand sanitizer after shaking hands and cleaning up messes that holy night. And while that night was by no means silent given baby cries and animal noises, the event and its Bethlehem surroundings were truly obscure. No royal pageantry befitting the emperor. No TV crews. No Royal Albert or Carnegie Hall. Just a bunch of angels performing on a lonely landscape for some shepherds and their sheep in the dark.
I have a hard time with all this—I am the kind of person who would like hand sanitizer as a Christmas stocking gift. I also like decorating the house with Christmas lights. Clean hands and bright lights have their place at Christmas parties. But Christmas also involves the dirt roads and dung and dark outside the inn, where there were no state of the art festivities. God enters the world and takes residence among us in the mess and mundane. God's presence makes such places sacred space.
This Christmas, we need to look for God not only in mysterious festivals of lights, but also in the mess and mundane of our daily existence. Are we looking? Christ is there.
I am excited that The Justice Conference Portland will be hosted by New Wine @ Multnomah U. This event is a great opportunity to engage justice themes such as those I've raised here. I hope you'll join us on February 21+22 for The Justice Conference Portland.
This piece is cross-posted at The Christian Post.