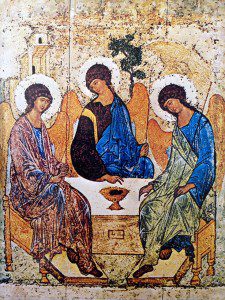 Holiness is relational. Behavioral solutions don't solve relational problems. Otherwise, God could say "Take two moral pills and call me in the morning." God solves relational problems relationally.
Where did I get this idea? No, I haven't digested a hallucinogenic. Nor did I pull a rabbit answer out of a hat. Take it or leave it, but my perspective is based on my ruminations over reading the Bible.
Jesus came to earth to live among us. The incarnation (John 1:14) is bound up with God's promise found throughout Scripture to dwell among his people in covenant relation (See Exodus 29:45, Leviticus 26:12, Ezekiel 37:27, 2 Corinthians 6:16, Revelation 21:3). God "tabernacles" among us in Jesus (John 1:14) through the Spirit. Jesus' presence in our midst leads those of us who long to behold him to live holy lives. Indeed, the hope of his appearance at the end of history purifies us, as we will see him face to face (See 1 John 3:1-3).
Even so, one might still think it would have been easy for God to give us a magic pill(s) or formula to solve our problem. Perhaps it would have been easy, and it certainly would have been sterile, not messy. Still, I don't think it would have gotten the job done. Relational problems require relational solutions.
Jesus was not set apart from sinners. Jesus was set apart from sin for sinners. Moreover, Jesus was set apart to become sin to make us whole (2 Corinthians 5:21).
If God must be set apart from sinners, Jesus could not have lived among us (John 1:14). It is in view of Jesus' presence in our midst that we recognize how unholy we are and how great our need is for cleansing and transformation. So it was for Isaiah, who cried out in agony in view of God's awe-inspiring and intimate self-disclosure (See Isaiah 6). It is worth noting that Isaiah's prophetic calling following his cleansing is drawn upon in all four gospels in accounting for people's rejection of Jesus (Isaiah 6:9-10; Matthew 13:14-15; Mark 4:12; Luke 8:10; John 12:39-40). John's Gospel goes so far as to claim (regarding Isaiah 6) that Isaiah saw Jesus' glory and spoke about him (John 12:41). Jesus' gracious presence revealed to Peter his sinful state; Peter pleaded with Jesus to depart from him based on the miraculous catch of fish (Luke 5:8-9). Zacchaeus was also undone; he repented in dramatic fashion in view of Jesus' gracious presence in his home (Luke 19:5-10).
Why don't we all respond like Isaiah, Peter and Zacchaeus in view of Jesus' presence in our midst? There are at least two extremes when dealing with Jesus and sin. First, there are those whose spiritual pride overwhelms their sense of need; such was the case for many religious leaders who grumbled over Jesus' association with Levi or Matthew the tax collector (and his friends), whom Jesus called to be one of his disciples (Luke 5:27-32). Second, there are those whose sense of depravity and remorse overwhelms their hope for deliverance. One fundamental difference between the betraying Judas and denying Peter was that Judas was filled with remorse unto death and Peter with repentance and renewal (regarding Peter, see John 21:15-19); in the end, Judas went to the wrong priest (Matthew 27:3-5). What would have happened if Judas had gone to Jesus in search of forgiveness rather than take his life?
Perhaps we all live somewhere between these two extremes. Perhaps we would rather overdose on behavioral solution pills of self-righteousness or remorse rather than respond by repentance and faith in view of Jesus' relational holiness. What do you think?