This guest post was written by Zach Christensen.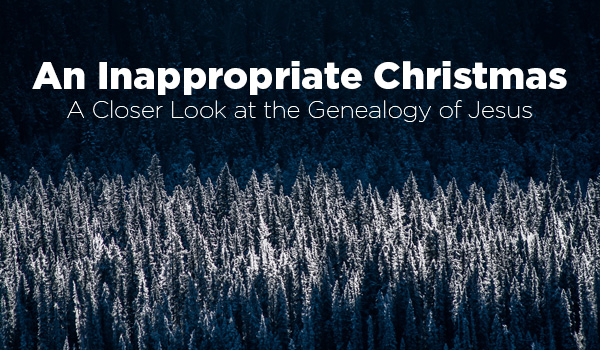 This past Sunday, many people began celebrating Advent, the season in which the majority of Western Christian churches commemorate the birth of Jesus. As we progress toward Christmas, there will be a many sermons preached about shepherds, wise men, innkeepers who are total jerks, and unplanned visits from angels. However, there is one passage from the birth narrative of Jesus in the Gospel of Matthew that I think truly captures the meaning of Christmas.
In Matthew 1:1-17, there is a genealogy of the family tree that led up to Jesus. If you have ever read the Bible, you usually skip this part (at least at face value, it is about as interesting as reading a phonebook). Why would the author lead with something like this? But there is something included in these verses that is not often noticed.
Over the course of the genealogy, the writer deliberately includes the names of four women. In a patriarchal world that considered women to be second-class citizens or property, this was an extraordinarily radical thing to do (if you read all of the other genealogies in the Bible or from any literature from the time, none of them include women). More importantly, the women included are not what anyone would ever expect.
In verse 3, the writer lists Tamar. In the book of Genesis, Tamar was widowed, disguised herself as a harlot, was taken by her father-in-law (Judah, who did not realize it), and bore a child named Perez. By the standards of their day, this was considered incest, and is a terrible Sunday school lesson. The next woman listed, in verse 5, is Rahab from the book of Joshua, who was a prostitute, and bore a son named Boaz. The third woman listed is Ruth (who has a book of the Bible named after her); she seduces Boaz, they marry, and have a child. The fourth woman listed (though not by name) is Bathsheba, the wife of Uriah, with whom King David had an adulterous affair. The second child of David and Bathsheba was King Solomon. This is the lineage that eventually led to Jesus.
The author decided to open his whole collection of stories about Jesus by saying that he descended from the incest of Tamar, the prostitution of Rahab, the seduction of Ruth, and the adultery of Bathsheba. Why would anyone ever open a book this way? The reason is this: all of the moral failures of the people who preceded Jesus did not stop God from achieving his purpose. Indeed, they all ended up being important points in the story.
The early followers of Jesus realized that God can bring something holy out of any human shortcoming, inadequacy, or evil. If God was not hindered by these people, surely God has not bailed on you because of your mistakes. The grace of God revealed in Jesus reaches farther than our deepest vices, and it sets us free to extend grace to one another. When we see the way that God has loved us by emptying himself, we are empowered love others in this same way.
The message of Jesus is that no one is outside the love of God, that no one is beyond redemption, and that this God did not give up on the world, but chose to enter into the turbulent human experience as Jesus in order to reconcile the world to himself. That is what Christmas is all about, and that is Good News.
Photo via Unsplash.
---
About Zach Christensen
Zach Christensen lives in Fremont, Nebraska with his lovely wife. He is on the final semester of his Master of Arts in Theological and Biblical Studies and is a full time social services worker.