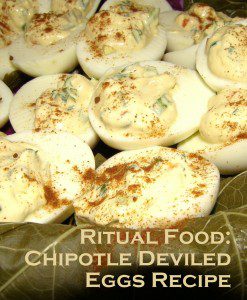 Deviled eggs have a devious name. The term "deviled" has been used for over 200 years to describe foods that were spicy or hot. Many would be surprised to discover that the custom of preparing eggs this way is almost as old as Christ and dates to 61 CE. Recipes for deviled eggs over the ages have included things as strange as raisins and powdered sugar. According to the History Channel these little treasures can be traced to Ancient Rome where a feast was said to go
 " ab ova usque ad mala ( from eggs to apples)"
Apparently this standard appetizer was used to start off a meal right both then and now.
All across the globe from Somalia to Central America eggs are used for spiritual cleansing and blessing. In New Orleans Voodoo and Haitian Vodou eggs are frequently offered for the Lwa, or deities, Damballa and Aida Wedo.  Damballa and his wife Aida Wedo are seen by some as the creators of the universe. They are responsible for transformation and new beginnings. There probably are as many realms of Damballa as there are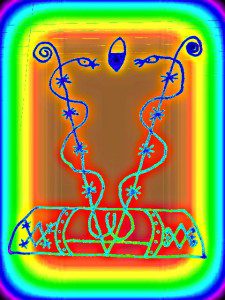 individuals who worship him. Damballa La Flambeau is a specific path of fiery energy, known for hot and sudden change.
This delicious recipe is designed to honor  Damballa La Flambeau and is crafted to bring about spicy new beginnings. It includes onion and chives, which have the magickal property of cleansing and protection. Parsley is included for spiritual and physical healing.  Paprika and the chipotle mayo will heat things up, and bring you fortitude and strength. If you are using the eggs as an offering for the Lwa, leave out the salt. For more ritual recipes for mind, body, and the spirits please explore my African-American Ritual Cookbook.
Chipotle Deviled Eggs Recipe
Makes 18 Deviled egg halves
9 eggs, hard boiled
¼ cup Chipotle mayonnaise
2 tbs. Minced chives or scallions
2 tbs. Bacon Bits
1 tbs. Minced parsley
1 tbs. Dill pickle relish
½ tsp. Smoked paprika
¼ tsp. Onion powder
Salt and Pepper to taste
Boil eggs and remove from shells. Slice in half and scoop out yolks. Place yolks in a large bowl and mash with fork. Add chipotle mayonnaise and mix well. Then add remaining ingredients, adjusting salt and pepper to taste. Enjoy and please share this recipe and this post with those you love !