I saw this image this morning and rolled by eyes. There's plenty wrong with the behavior of hardcore believers that we don't need to be stretching with obvious bullshit like this.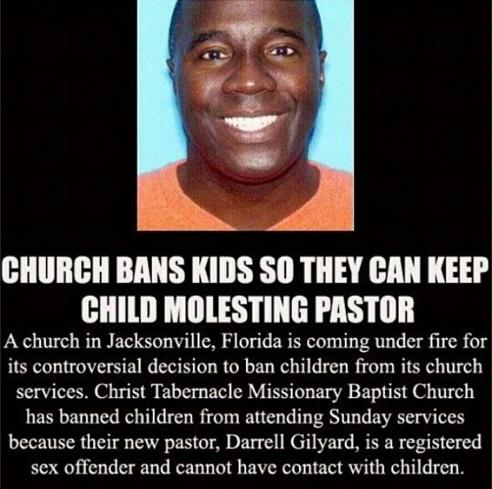 Then I decided to fact-check it so I could stop the flow of misinformation.
Holy shit, it's true.
A convicted sex offender can keep on preaching, but children are barred from attending his sermons.

The Florida Times Union reports that lawyers for Darrell Gilyard withdrew a motion to allow minors at sermons conducted by the former Jacksonville, Fla., megachurch pastor.

Though children are not allowed, attendance at the Christ Tabernacle Missionary Baptist Church has spiked since Gilyard began preaching in January, less than two months after he was released from prison, according to the Times Union.
Molest teens? You can still preach away. Love someone of the same sex? It's a one way ticket to hell for that lot. If this is what the moral high ground is like, I'll pass.