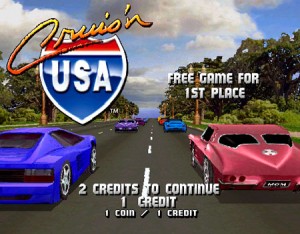 In honor of the forthcoming retro gamers for goodness fundraiser, let's talk retro games!
We talk about retro RPGs all the time, but what other retro games do you remember?  Maybe we can steal some of your favorites for the retro gaming fundraiser.  😀
Back in the day I sunk so much money into NBA Jam.  I played it with Jason last night and even though the graphics are out of date, the nostalgia is there and it's still so much fun.  I also happily recall playing Hydro Thunder (I'm not a Midway fanboy, really).
Oh!  And Cruisin' USA!  Did anybody else play that game a ton?
As far as games that ate up a ton of my time on the consoles (RPGs aside), Shadowrun for Genesis (the SNES version sucked), Chip n' Dale Rescue Rangers for NES (don't hate), Ducktales for NES, and every Mega Man game ever.
Above: "I want you gone" from the end of Portal 2.