My friend Greta Christina has a new book coming out and is embarking on a new tour to promote the new book.  So much newness.  I invited her to hop over here to tell you guys and gals a little bit about the new book and tour.  Enjoy!
---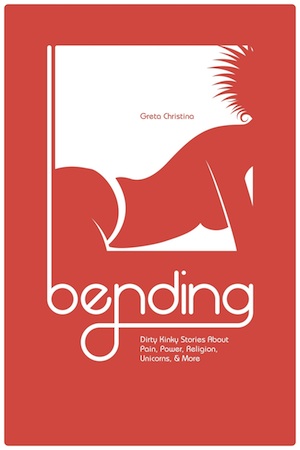 You wanna know the weird thing? It's not so much that I'm an atheist who writes porn about religion. It's that I didn't even start writing porn about religion until I became an atheist. Becoming an atheist is, apparently, a major part of what made me want to write religious porn in the first place.
Hi. Greta Christina here. I recently published a collection of my erotic fiction, "Bending: Dirty Kinky Stories About Pain, Power, Religion, Unicorns, & More." (Currently available as an ebook on Kindle, Nook, and Smashwords: audiobook and print editions in the works.) When I was putting the collection together, looking over the dirty stories I'd written and deciding which ones to include and so on, I decided to organize the book into sections, with rough thematic similarities. And I quickly realized that if I was going to do this "thematic section" thing, I absolutely had to have one on religion. I just had too many stories about it.
I realize this is a little weird.
But the more I think about it, the more it makes sense.
See, my erotic imagination is — mostly — kinky. In some cases, very freaking kinky. And religion is a hugely fertile ground for kinky porn. Religion is just loaded with dark themes: themes of power, of shame, of punishment.
And what's more, religion is very fertile ground for the kind of porn that I like to write.
As a porn writer, I have this weird fetish for realism. I'm not very interested in impossible fantasy scenarios. Aliens with superpowers, kidnap victims learning to adore their kidnappers, mysteriously perfect tops who always know exactly what their bottoms want even better than they do themselves… meh. I have nothing against these stories: I'm just not that interested in them. I want my dirty stories to feel real — like the things happening in them are things real people might actually do. Realism in porn gives it an immediacy, a vividness, that I find very powerful and very hot.
But this presents something of a conundrum. If you're coming up with fantasies about punishment and shame and the abuse of power, and you make them too realistic, they're not going to be hot. They're going to be a horror show. Fantasies about these things can be very hot indeed if you're kinky: the reality, not so much. So as a porn writer, I'm always trying to come up with creative ways to play with these themes in ways that are realistic… and yet not horrific. (Or not too horrific, anyway.) And in particular, I'm always looking for creative ways for my characters to be consenting to what they're doing… but to feel like they're not. I'm always looking for ways for my characters to feel helpless, to feel overpowered… even though they could walk away at any time.
And religion is deeply fertile ground for that. Religion is an almost perfect setup for that. Like I wrote in the introduction to "Bending":
There are stories about religion, where power and shame and violated consent get tangled up with an all-powerful Judge, obsessed with our sex lives, who watches everything we do and will smack us down for it on a whim.
So I wrote about a wife who complies with her husbands' increasingly bizarre sexual demands, because her faith teaches that marriage and a wife's obedience are sacred ("Christian Domestic Discipline"). I wrote about an ex-nun tormented with guilt she can't speak of… and seeking a torment that will cleanse her guilt ("Penitence as a Perpetual Motion Machine "). I wrote about cult members desperate to please their leader ("Deprogramming"). I wrote about a man seeking other men in filthy rest stops, praying that the shame he feels in these encounters will be marked in his favor on Judgment Day ("The Rest Stop").
I realize it's a tricky balance: eroticizing the very dynamics I'm working fiercely to oppose in the rest of my life. But I think that's pretty common for kinky people. Any time you eroticize force or the abuse of power, you're eroticizing something you're adamantly opposed to in real life. (Unless you're a sociopath, that is.) But like I wrote, again in the introduction to "Bending":
It's funny. When it comes to things that aren't sex, people seem to understand this distinction. People get that enjoying spy novels doesn't mean you want to join the CIA; that enjoying murder mysteries doesn't mean you want to kill people; that enjoying heist thrillers doesn't mean you want to break into Fort Knox. People understand that it's fun and exciting to imagine things we wouldn't actually want to do — even things we think are immoral.

But for some reason, porn often gets held to a different standard. Depicting a fantasy of a sex act is often assumed to be an endorsement of that act. So let me spell it out: I do not endorse sexual force, abuse of power, rape, or any form of violation of sexual consent. I am vehemently opposed to them.

I am, however, unapologetic about the fact that I like to fantasize about them. If we have any freedom at all, it's the freedom between our ears: the freedom to think about whatever we like. And that includes sex.
So yeah. It's a little weird that this passionate atheist writer is writing so much religious porn. But it does make a kind of perverse sense. Which, of course, is the best kind.
If you like to fantasize about this stuff, too, I think you'll like my stories. Check them out!
* * * * *
This is an excerpt from story " Penitence as a Perpetual Motion Machine," one of the stories in "Bending: Dirty Kinky Stories About Pain, Power, Religion, Unicorns, & More" by Greta Christina. Available as an eboook on Kindle, Nook, and Smashwords: audiobook and print editions coming soon.
Content note: kinky sex, twisted religious sexuality and guilt, oblique allusions to abuse.
"I'm here to see Sister Catherine."

"Yes. It's nice to see you again, Mary. Please have a seat. Catherine has just finished up with another — visitor. Why don't we take care of business now. She'll be with you in a moment."
Mary Elizabeth nods. She hands the woman behind the desk four hundred dollars in cash, and sits, keeping her coat on and her purse clutched in her lap. She tries not to look at the lobby: the garish red and black decor, the velveteen curtains tied back with steel chains, the worn spot on the black leather sofa. It makes it harder for her to think of this the way she needs to think of it. She sits, and stares at her knuckles gripping the handle of her purse, and waits.

"Mary Elizabeth. Please come in."

Catherine has stepped into the lobby. She is dressed, as always for their meetings, in a modified modern habit: the knee-length gray dress, the heavy hose and sensible shoes, the small, unimposing wimple. She has carefully wiped all traces of makeup from her face.

She takes Mary Elizabeth by the hand, and leads her to the now-familiar room, the one fitted up like a schoolroom. An office or rectory would have been better, but this was the closest they had.

"Sit down, Mary. We have to have a difficult conversation."

Mary Elizabeth — formerly Sister Mary Elizabeth — left the convent a little over two years ago. She left, more in need of penance than when she arrived. She left, unwilling to let the Church ever tell her a blessed thing about right and wrong again. She left, desperately needing somebody to tell her that she has done wrong, and to administer justice for it. So she comes here.

At Sister Catherine's gesture, she sets down her purse and takes off her navy blue coat. She is dressed, as always for their meetings, in a Catholic schoolgirl uniform. A real one, ordered from one of her own convent's suppliers, the ones for the older girls fit her awkwardly but adequately. She sits, her hands behind her back, shaking. Knowing, in a general way, what is about to come, and being terrified of it anyway. Not knowing, specifically, what is to come, and being more terrified of that. Sister Catherine begins.

"So, Mary. I think you know what we're here about. The incident at school yesterday. One of the girls was badly hurt. I know that you weren't one of the main girls involved, but I know you were there, and you didn't stop it, or tell any of the sisters or fathers about it. This is a serious matter. Two other girls have been expelled, they may even be arrested. But you have a good record, and you weren't as deeply involved, so I have persuaded Father Dominic to let you stay on, with a less severe sentence. I have told him that I would handle your penance.
"We will start simply. Bend over this desk. Raise your skirt, and lower your drawers."

All of this part is scripted. All of this part — the lecture, the position, the implement — is the same every time. The content of the lecture isn't perfect, but it's the closest she could come to what really happened without saying too much. It took Mary some time to find a… professional… who was willing to work with a script, even a short one. But Sister Catherine seems to have some genuine affinity for the script. She says the lines with passion and intensity; she wields the implement with grim determination. And Sister Catherine seems also to appreciate the free hand that she has with Mary once the scripted part is completed. Sometimes, she seems to appreciate it rather too much. Mary always pays for two hours: the scripted part is usually over in twenty minutes. Sister Catherine never has trouble filling the rest of the time.

Mary complies at once with the instructions. She is praying that it won't be too hard. But she is also, deep in her mind, praying that it will be. She is thanking God that she was caught. She is wracked with guilt over her crime, and the guilt is stronger than the fear. She immediately bends over the desk and raises her skirt to her waist. She lowers her underwear, more slowly, reluctantly: still, after all these times, feeling the shame rise up in her body with the lowering of the fabric and the revelation of her naked flesh. When her underwear has finally been lowered, she stretches across the desk and clutches the edge… praying that the punishment will be hard, viciously hard, unbearably hard, so her guilt will be cleansed, and she won't have to feel the way she feels.

The first stroke of the cane lands on her bared bottom like the fires of Judgment. Mary screams. She always thinks she'll be ready for this, and she never, ever is. Her scream seems to inspire Sister Catherine to greater wrath, and the next blow lands harder.