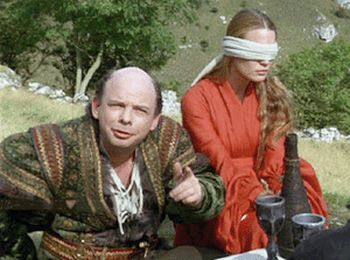 Michael Medved isn't really a lion, so much.  He's one of the species of conservative radio hosts who thinks a dearth of reason and evidence can be overcome with volume.  He's more annoying than threatening.
And yet, Sarah Morehead from Recovering from Religion will be on his show today at 3pm Central Time talking about the secular hotline project.  I won't say Sarah is brave for this, since Medved isn't exactly intimidating.  But I will say her patience rivals that of the oldest forest.
You can
go here and click the "listen to the show" button in the upper right hand corner
at the appointed hour.  And what's this?  Why!  It's a number to call the show!  That's exactly what we need!  That number is:
800-955-1776
Dial it and unleash hell.
If you want to discuss the interview on the twitters, use the hashtag #HotlineProject.  I also propose this: I'm kind of poor right now, and I'm not sure if I'll be able to listen to the interview.  However, if someone will keep track of the number of ad hominems used by Medved during the course of the interview, I will donate $1 for each one to the Hotline Project.
If you guys are feeling all generous, you should consider making pledges of your own.  🙂