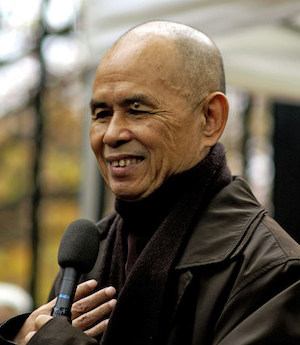 Thích Nhất Hạnh (born Oct. 11, 1926) is a Vietnamese Zen Buddhist master, poet, and global advocate of peace and nonviolence.
After serving as editor-in-chief of the periodical Vietnamese Buddhism in the mid 1950s, Nhất Hạnh went on to found a Buddhist press and university in Saigon, as well as a corps of Buddhist peaceworkers who helped establish schools and clinics in rural Vietnam. He taught Buddhism at a series of institutions, including Vạn Hanh Buddhist University, Princeton, and Columbia, before devoting himself to nonviolent activism and education.
In 1967, Nhất Hạnh was nominated for the Nobel Peace Prize by Dr. Martin Luther King, Jr.
In recent years he has established a number of monasteries and mindfulness centers in several countries including Vietnam, the United States, and France. He currently lives in Plum Village, a Buddhist retreat in France.
Patheos on Thich Nhat Hanh
AMERICAN BUDDHIST PERSPECTIVES

MY JOURNEY OF CONSCIENCE

ASK AN EXPERT
OFF THE CUSHION
Image by Duc (pixiduc) CC BY 2.0 via Wikimedia
6/11/2021 3:48:15 PM