By Sharon Groves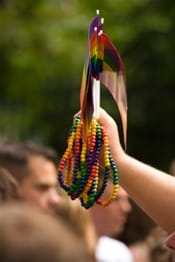 "I just wish I knew how to be me without keeping you from being you." -Rev. Dr. Howard Thurman.
Let's start with the Good News. If you are someone who has felt marginalized, discredited, misunderstood, or forsaken, the gospel has a healing message for you. You are loved.
Jesus' ministry did not rest with the comfortable, those society had already sanctioned as acceptable. Instead he reached out to the most marginalized of his day -- poor people, prostitutes, lepers, women, and eunuchs. In so doing he brought a message of salvation to society's outliers while also challenging its gatekeepers -- the denominational heads and church legislative bodies of his day -- to stop using religion as a form of exclusion.
Mainline Protestant denominations are currently wrestling with whether their congregations are going to stand with the gatekeepers or truly follow Jesus' ministry and honor the spirit of love when they acknowledge lesbian, gay, bisexual and transgender couples. Although the struggle has been hard and long, we are seeing a dramatic shift toward honoring marriage equality, a demonstration of the expansive love Jesus preached. For some time now, Unitarian Universalism, Reform and Reconstruction Judaism, and the United Church of Christ have officially sanctioned and pledged to advocate for marriage equality. In Conservative Judaism, Rabbis can officiate in LGBT marriages. Although the Episcopal Church does not explicitly condone marriage equality, it has stated its "support of gay and lesbian persons and [opposition to] any state or federal constitutional amendment that prohibits same-sex marriages or unions."
---
Read an opposing perspective on The Christian Definition of Marriage here.
---
Increasingly, we're finding mainline Protestant congregations that once refused to recognize LGBT relationships are changing their hearts. Recently, the Presbyterian Church U.S.A. missed an opportunity to allow for lesbian and gay people in committed relationships to serve as ministers, elders and deacons. Despite this, an unprecedented 33 presbyteries (and still counting) changed their positions from a stance taken 6 years ago and have affirmed that God's sacred call to ministry matters more than our prejudices. This shift toward embracing an inclusive love is occurring in other denominations as well, most notably in the Evangelical Lutheran Church of America. For more on mainline denominations position on marriage equality see The Pew Forum on Religion and Public Life.
Those of us who are religious and support LGBT justice feel passionately that marriage equality is theologically in keeping with the teachings of Jesus and, indeed, with the moral tenets of love and compassion found at the heart of all major religions. Nonetheless, we also believe in a separation of church and state. Despite what our opponents often say, the First Amendment protects religions from government interference. As they have been for centuries, religious bodies remain free to decide whom they will marry in their congregations whether or not a state recognizes LGBT marriages. Sometimes these decisions reflect a pastor's judgment call about the compatibility of a couple, but often they are based on beliefs, affiliations, and identities. A Roman Catholic priest, for instance, is free to refuse to marry a person who had been previously divorced or a Christian minister can refuse to marry an interfaith couple. But, just as government is prohibited from dictating to a religious entity who it must marry, our religions should not be dictating who has access to civil marriage.
While understanding that our congregations continue to have full religious freedom, those of us who are religious advocates need to encourage our congregations to support marriage equality not only for LGBT people but because the health of our congregations depends on our ability to see Jesus' radical message of expansive love in our own moment. As expressed in 1 John, "Beloved, let us love one another, because love is from God; everyone who loves is born of God and knows God. Whoever does not love does not know God, for God is love." 1 John 4:7.
Sharon Groves, Ph.D., is the Deputy Director of the Human Rights Campaign Religion and Faith Program in Washington, D.C. She has overseen the creation of numerous new resources, including a weekly preaching resource, a guide to living openly in your place of worship and a biweekly e-newsletter. She co-authored an article on GLBT issues and world religions for Conscience Magazine.
Groves is a lay leader at All Souls Church, where she has chaired the Committee on Ministry and worked extensively on issues of racial justice, community voting rights and neighborhood outreach. Sharon received her PhD in English Literature from the University of Maryland in 2000 and is currently working toward a Masters in Theological Studies from Wesley Theological Seminary.
7/7/2009 4:00:00 AM