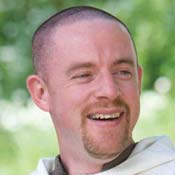 In the new guidebook 25 Books Every Christian Should Read, a diverse editorial board including Richard Foster, Dallas Willard, Phyllis Tickle, and Chris Webb selected what they deemed the most essential historic books for Christian discipleship. To find our more about how the books were selected and why, we sent Patheos Managing Editor Patton Dodd to visit Chris Webb, President of Renovaré, in his Denver offices.
In addition to his gorgeous reading of his favorite Gerard Manley Hopkins poem (one of the 25 authors from the book), Webb shared why spiritual reading is critical to the Christian life, what book he wished made the cut but didn't, and how representative this list is for every Christian.
(For more conversation on 25 Books Every Christian Should Read, visit the Patheos Book Club here.)
Why should reading be considered a formative or essential part of the life of a Christian?
The canon of Christian classics in this book features a host of familiar names—St. Augustine, Dante, Julian of Norwich, Dostoevsky, Chesterton, C.S. Lewis, and so on. What's the value of pointing again to these widely revered works of Christian thought?
I'm sure you and your editorial team enjoyed some lively discussion about what made the list and what was left off. What was your 26th title? What was most painful for you to leave off the list?
I would love to have twenty-five different conversations with you about the specific shaping influence these books had on your life, your theology, and your practice of Christianity. We can't do that, but let's at least do one—my personal favorite on this list. How has the poetry of Gerard Manley Hopkins illuminated the Christian journey for you?
11/28/2011 5:00:00 AM