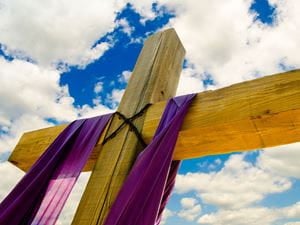 Lent is a 40-day period of fasting and prayer that takes place before Easter. Lent begins on Ash Wednesday, which is always six weeks before Easter weekend. These six weeks are a season of preparation for Christians as they anticipate the joyous celebration of Easter morning and the fifty days of that season until Pentecost. In the spirit of preparation, Christians undertake self-examination, penance, and renewed devotion to God.
This practice of taking six weeks to focus on one's relationship with God is said to have begun with Jesus himself. The Lenten season is meant to reflect the 40 days that Jesus spent in the wilderness at the onset of his ministry (Matthew 4.1-11; Mark 1.12-13; Luke 4.1-13). There he prayed, fasted, and resisted the temptations of Satan. Christians mirror this period of spiritual renewal by acts of self-denial, which are meant to help them deepen their relationship with God. Many Christians choose to give up something that they enjoy, like desserts or alcohol, as a way of fasting. Others skip a meal once a week or take on a specific discipline, like extra prayer or scripture study, for the season. Orthodox Christians undertake a much more rigorous fast by giving up whole food groups for the entire six weeks.
Lent began in the early years of the Church as a time of preparation for those who sought baptism at the Easter services and a time of penance for those who had sinned grievously and needed to reconcile with the Church.
It was first regulated at the Council of Nicaea in A.D. 325. By the 6th century, the practice had developed to begin on a Wednesday, to mark the day with the imposition of ashes on the forehead as a sign of penance, and to continue for 40 days, not counting Sundays, which are always feast days in the Church. The season culminates with Holy Thursday, the day on which Jesus celebrated the Passover meal and washed his disciples' feet. The following day, Good Friday, is the holy remembrance of Jesus' crucifixion and burial.
Some Christians, particularly of non-liturgical communities, do not recognize Lent as a special season of preparation, but all Christians celebrate Easter as the culmination of the Gospel message.
8/11/2021 5:14:24 PM