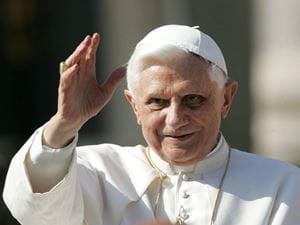 giulio napolitano / Shutterstock.com
Before the late pope's passing, I had only read one volume from Benedict's mammoth bibliography: his Eschatology (1977), written the year he became Archbishop Joseph Ratzinger of Munich and Freising, and a cardinal just a month later. This, my first article written after His late Holiness's departure from this world, will consider his insights on death.
To begin with, Ratzinger is astute on social customs around end of life within his own cultural experience. 'Bourgeois society hides death away,' the then-cardinal remarks (p. 69). It's an apt observation but it's a post-war, Central European solipsism. In Ireland, for instance, death is handled rather candidly. See the famous tradition of wakes: holy water, social drinking, open coffin.
To be fair, urban Ireland only became a bourgeois society during the Celtic Tiger economic boom, culminating in Dublin's vibey Facebook HQ. This was two decades after Eschatology first appeared, so time will tell if Éire proves Ratzinger's thesis correct…
Why refuse to face the fact of death? According to Benedict, 'Death is rendered banal so as to quell the unsettling questions which arise from it' (p. 70). Foremost among these questions has to be: Why? Ten thousand times: Why? Rather than try to respond, it's easier to trivialise dying, to try to make it as normal as catching a bus. A funeral becomes a rushed affair, a sprint-race with no time for contemplation.
A healthy conception of death is important because, as His late Holiness posits, 'Attitudes to dying determine attitudes to living' (p. 72). It's inspiring to see someone live a life to the full, come what may. There are few people with more stout resolve than the patient who responds to their terminal diagnosis with amazing feats they wouldn't have otherwise undertaken. This instead of embittered resignation.
'The sting of death is extinguished in Christ in whom the victory was gained through the plenary power of love unlimited,' Ratzinger assures us. Death's power is formidable, but God's love is a greater power still. 'Death is vanquished where people die with Christ and into him' (p. 97). How does this happen? There is a way to capitalise, to use too crude a term, on the Lord's earthly heroics: namely, baptism.
'By baptism we enter on a common destiny with that of Jesus and so with the death which was his fate' (p. 115). When we receive Holy Baptism in God's name, our fate is henceforth as fixed as the bright North Star – with our conscious assent in adult baptism, without it in infant baptism. The christening of infants, or paedobaptism, serves to counterbalance our contemporary hyper-individualism.
This credo, postmodern autonomous individualism, glorifies the choosing self over inherited identity. Never did a poem epitomise this outlook more thoroughly, to my mind, than "Invictus" by William Ernest Henley, which rhapsodises: 'I am the master of my fate, / I am the captain of my soul.' My life is whatever I make of it. I design the mould into which I pour, like runny plastic, the sovereign spirit I design. Solidarity with others be damned!
Here is a countervailing view from Jordan Peterson on identity formation: 'it's a set of complex compromises between the individual and society as to how the former and the latter might mutually support one another in a sustainable, long-term manner.'
Seductive as it may be, there's one problem with individual agency: nobody can opt out of dying – not even, so the Gospels claim, the Messiah! Death is a refutation of our notions that we can write our own destinies. In this light, our hope, as Christian believers, is to turn in faith to Christ. 'Faith, which is the contact between Jesus and myself, vouchsafes here and now the crossing of death's frontier' (p. 117).
We may be doomed to die, though the story doesn't have to stop there. 1 Thessalonians 4 is the classic text here: 'For we believe that Jesus died and rose again, and so we believe that God will bring with Jesus those who have fallen asleep in him' (v. 14). Faith is harder to pin down than Christians usually think. If ever there were a theological idea which is open to competing definitions, it's faith. Whatever faith is, though, Christian faith is the golden thread which binds our lives to that of Our Saviour.
2/4/2023 12:22:56 AM