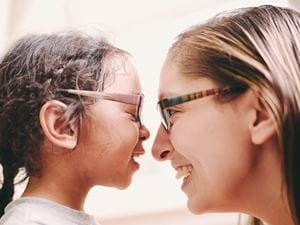 Twenty20.com
When asked "Who is the greatest in the kingdom of heaven?" Christ showed his questioners a child and replied,
Except ye be converted, and become as little children, ye shall not enter into the kingdom of heaven.
Whosoever therefore shall humble himself as this little child, the same is greatest in the kingdom of heaven.
And whoso shall receive one such little child in my name receiveth me.
(Matthew 18:1-5).
But the Savior did not deny the reality of human nature. "But whoso shall offend one of these little ones which believe in me, it were better for him that a millstone were hanged about his neck, and that he were drowned in the depth of the sea" (Matthew 18:6).
Rites and Rights of Childhood
Children have many characteristics and behaviors that represent their fitness for the kingdom of heaven. With the humility praised by Christ comes a natural desire nurtured in Christian families to be "good," like a four-year-old boy who refused to fight because "My family doesn't hit." Children have natural self-confidence that they can be good and can do things they really want to do. Some children are most highly motivated by being told how hard something is.
When they experience a positive environment, children love naturally and spontaneously, as they are loved by the Savior, and when they learn of Him they naturally love Him. During bedtime prayers, a young child may assume that God has nothing more important to do in his vast universe than to listen to that prayer (which may be true). Along with love, children are gifted with natural happiness. On almost every continent I have seen children who may have few worldly advantages but go everywhere with big enthusiastic smiles. They don't wait for happiness; they create happiness.
These happy, loving, confident, children are living by standards that the Savior welcomes in those preparing for his kingdom. But a worldwide pandemic, accompanied by horrifying natural disasters, worldwide violence, and devastating war are compounding and intensifying risks already part of many childhood circumstances. But within these overwhelming conditions, there are ways that 7-day Christians can help, by being aware of children's struggles and needs and by reaching out to bring God's loving concern and comfort into their lives.
Children Who Struggle at School
Whenever possible, inclusion of students with disabilities in public school general education classrooms is now the strategy of choice. Before its prevalence, one of my sixth graders was a deaf girl who was a quick learner and a gifted lip reader, but she was having social and academic problems. When my students had to wait in a long lunch line, I sometimes sang songs while we stood there. After one such impromptu concert, my deaf student pulled me aside when the others had left. "Mr. Wilcox, you are always happy! Don't you have any problems?" she asked. I knelt down at her eye level and said, "Watch my lips. Yes. I have problems, but you can have problems and be happy at the same time." No one had told her this before; and this perspective made a difference in her life.
Many children struggle at school. Not all disabilities are visible; for example, learning disabilities are not apparent to classmates unless someone notices the backward writing or the blank miserable looks when reading is assigned. Many children are bullied at school; some have been seriously injured or driven to suicide. Even young children may mock each other; tragically, some teachers mock and tease as well.
Seven-day Christians can help bring happiness to children who desperately need it. Schools commonly have literacy programs that encourage volunteers to come into classrooms and read with children. Grandparents, parents, school neighbors, members of Christian congregations, siblings of school children, college students or other young adults are among those who participate. They may read to children to build their enthusiasm for books, or listen to children read to give them practice—or take turns reading every other page.
Some volunteers bring favorite books from home to share; some occasionally bring a book to the child as a gift. They do not give reading instruction, just motivation and practice, which are critical. Public libraries also have literacy programs, particularly to help young children get started with their reading.
Some schools have mentoring programs to help children who need social, emotional, or practical relief and guidance—with or without academic help. Girls and Boys Clubs offer highly acclaimed mentoring programs. Mentors can be older children or adults who are willing to be a friend, a role model, and a support in meeting the specific needs of a child. One-on-one appointments are arranged by teachers or program administrators.
Children Who Lose Their Homes
Natural disasters are threatening the confidence and trust of many children. Globally, 175 million children every year are likely to be affected by severe storms (including hurricanes, tornados, cyclones), floods, earthquakes, and other disasters. Wildfires also claim a large number of homes and many lives. Children are affected with physical and mental health issues and with learning difficulties.
Many churches open their buildings for disaster victims to shelter, receive food and water, and experience empathy and friendship. In addition to basic necessities, organizers should be prepared with toys and entertainment for children of various ages. If children panic or become hysterical, they can be helped to take deep breaths.
Children need to talk about their experiences. Those who want to talk during the initial sheltering time should have support. Some need to wait until another day to process their experience. Some prefer to draw pictures of what they saw or how they feel; others are more comfortable making up a story about someone having the experience. If their parents cannot or do not desire to go through this with their child, volunteers from the neighborhood or congregation who know and are known by the child may want to give this support. Libraries have lists of children's books on various crises, including natural disasters.
Children Who Mourn
Among the critical rights of childhood is the capacity for open, spontaneous, unconditional love: "for of such is the kingdom of God" (Luke 18:16). One of the most prevalent and devastating childhood losses of the 2020s is the death of parents, grandparents, siblings, other family members, friends, or caretakers. In 2020 and 2021, COVID-19 had the third highest mortality total in the U.S., following heart disease and cancer. For 2021 the total was 3,458,697 approximately.
An article in The Lancet Child & Adolescent Health reported that children experiencing the loss of a caregiver may suffer from "inadequate care," "food insecurity," and/or "inadequate housing," as well as an environment of grief from others who survive. Mental health difficulties are common for them. The Lancet report warns that in some circumstances orphaned children are also more likely to become victims of violence.
This article indicates that younger children need "immediate full-time nurturing, and ongoing support for early childhood development." Care quality will affect future development, including the child's mental as well as physical health.
Mentoring, as mentioned with schooling, can be critical for children in mourning. Seven-day Christians can contact school psychologists, Boys and Girls Clubs, and universities with child development and educator preparation programs for advice in finding programs that would welcome their participation. The National Alliance for Grieving Children has lists of "grief support providers," but does not evaluate them, so volunteers might want to check with an available local licensing board or even a better business bureau before specific commitment.
But a loving Christian doesn't need an organization to offer time, concern, and the love of the Savior for children they encounter who need these blessings. If a child in your neighborhood, your congregation, or your child's peer group, or perhaps among families or neighborhoods of your social media contacts, is in mourning, you may be able to find important ways to give.
Children Who Feel Empty
A close Christian family was horrified when their 11-year-old son attempted to commit suicide. He wasn't merely seeking attention; he knew exactly what he was doing and had figured out how to do it. His parents barely got him to the hospital in time to save him. While hospitalized, he and another boy stole a sharp instrument and began to cut their wrists. Neither boy wanted to live; both were suffering from severe childhood depression.
Depression in children can come on suddenly. Warning signs include changes in typical moods or atypical spells of irritability or anger that are frequent enough and severe enough to interfere with school, social activities, or daily life. A mother described her typically happy daughter: "I really felt like her soul had been kidnapped from her." The mother specified, "All of her ability to experience joy and happiness and laughter and pleasure was gone." The girl would cry for hours; she missed a year of school. Extensive cognitive behavioral therapy began her healing process, and she was eventually able to emerge as an optimistic and productive adult.
The father of the boy first mentioned had severe depression, so a hereditary chemical problem was anticipated and quickly diagnosed. He was put on medication and into therapy. The boy's aunt, who was a trained and experienced hospital child life specialist flew more than 2,000 miles to spend several weeks with the family. Every day when her nephew came home from school, she was waiting for him in a place where they could be alone to talk about anything he wanted to talk about, for as long as he wanted to talk. Both looked forward to these loving times together. The boy's therapist told his aunt that she had done what was best for him. At last report, the boy was doing well.
Obviously 7-day Christians without specialized training should not attempt to deal with childhood depression alone, but they can notice sudden troubling changes in moods and behavior patterns, particularly deep sadness, of children in their families or close associations. If the child's parents have noticed similar concerns and welcome their support, they may help in locating medical or therapeutic help (for example, a trained and experienced cognitive behavioral therapist). Simple awareness can be critical, and timing can save a life.
Final Message
Christian family educator (author of six books) Lori Wildenberg warned that today's world requires that we prepare children to struggle and suffer by instilling hope, which she defined as "a weaponized bear hug, a mixture of strength and tenderness, activated following hurt, [which] gently whispers, 'It will be OK. Your circumstances are temporary.'" Today's children, she affirmed, are "human beings who will experience a full life . . . with good, hard, sad, and scary things."
C. S. Lewis wrote a children's book series, The Chronicles of Narnia, with Christian-inspired characters and values. Aslan, the great lion, represents Christ, the king who rules with love and wisdom, submitting himself to abuse and death to save his friends. Lewis's message of faith to children is expressed at the end of the second book completed, Prince Caspian, in which Aslan tells his dear friend Susan that she is too old to return to Narnia again. He assures her that he will always be with her—that he is in the other world as well as Narnia. He explains that she has been brought to Narnia to know him so that she will be able to recognize him when she meets him outside.
I recommend highly that this series be made available to and/or shared with children—any who should learn to recognize Christ. I recommend even more highly that 7-day Christians will recognize that, like Aslan, they can bring children's sacred relationship with Christ into their experience by the faith, love, and concern that they share.
5/25/2022 11:42:03 PM