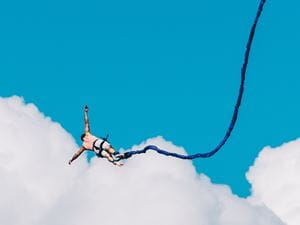 Unsplash
During a meeting I attended, the man directing it said, "May you be at peace with God, whatever you conceive Him to be."
I'm sure his words were chosen carefully in an effort to not offend anyone, but they left me unsettled.
Are we really at liberty to conceive God? Can we invent Him, alter Him, or change Him to fit our ideas? Isn't it more important to seek to know Him as He is and allow Him to influence us?
Faith in God
Jesus taught, "And this is life eternal, that they might know thee the only true God, and Jesus Christ, whom thou hast sent" (John 17:3). We can come to know God by following Jesus (see Matthew 16:24; Luke 9:23). Jesus explained, "If any man will do His will, he shall know of the doctrine, whether it be of God, or whether I speak of myself" (John 7:17).
Such knowledge is possible for those ready to live on a higher plane. God doesn't want this life to be an endless debate or a guessing game about His existence.
We can know for ourselves, and one way in which we prepare ourselves to receive this knowledge is to do God's will.
No wonder David Kinnaman and Gabe Lyon have written, "The truest knowing comes in the doing" ("UnChristian: What a New Generation Really Thinks About Christianity and Why It Matters," p. 225).
True faith inevitably leads to action. Faith in Jesus Christ always leads to repentance and change. Repentance and obedience are not replacements for faith, but extensions of it—the substance of our acceptance of Christ and evidence that Christ is working with, in, and through us.
John F. MacArthur, Jr. wrote, "Obedience . . . is the inevitable characteristic of those who are saved" ("Faith Works: The Gospel According to the Apostles," p. 121).
The faithless see commandments as inconveniences or pointless burdens. The faithful see them as divine gifts from a loving God who is helping us know Him.
The faithless see commandments as limiting their freedom. The faithful see them as insuring and expanding it.
Obedience is an Extension of Faith
When my children were young, I was asked to direct a study abroad program in New Zealand as part of my work. Our family had a wonderful experience living in Auckland and traveling throughout that amazing country.
One day my son Russell, who was 16 at the time, came to me and said, "Dad, bungee jumping was invented here."
"Cool!" I responded.
"Dad, you don't get it. Bungee jumping was invented here."
"Cool!" I said again.
Then Russell dropped the bomb: "So I have to go bungee jumping."
"No," I said. "You do not have to go bungee jumping!"
"But Dad, it was invented here."
I said, "I know where the electric chair was invented, but that doesn't mean—"
"Please Dad," Russell interrupted. "I really want to go bungee jumping."
Over the next few weeks he persisted in his pestering and pleading until I finally gave in. I had seen bungee towers in the United States at amusement parks and in grocery store parking lots—always surrounded by plenty of air mattresses at the bottom. I thought, "How dangerous can it really be?"
Then I discovered that's not the way they do it in New Zealand—land of no lawsuits!
They jump off helicopters. They jump off bridges into rivers. They jump off sheer mountain cliffs with no air mattresses at the bottom. There are only rocks (and tombstones).
I still remember the day that Russell, his older sister, and some friends decided to throw themselves off a mountainside in Queenstown. They took their turns being strapped into the harness which was attached to the bungee cord.
To me it looked like an old-fashioned corset that was cinched up tight in the back. When the man working the jump put Russell into a harness, he tightened it to the point that when he stepped away my son squeaked out, "Dad, I can't breathe. It's too tight."
My immediate response was, "It is not too tight!"
I didn't know how tight it was, but I wanted it tighter! Why? Because I wanted him to live through the experience. I didn't want my son to snap his back.
How foolish would a person be to remove the harness before jumping, saying, "This harness is too tight. I want to be free!" He's free all right, but for how long? His freedom ends, and it ends very abruptly, painfully, and permanently.
Because Russell was willing to put up with the tight harness, he was the one who was truly free—free to jump, which he did (Superman style)!
He was free to buy the very expensive video of the experience, which he did. He was free to show it to everyone who dared visit our home for the next year, which he did.
Russell was free because of the harness and not in spite of it.
God's rules, expectations, standards, and commandments are not restricting cords that bind us down. They are the bungee cords that allow us to fly!
God patiently allows us to debate His existence, but He certainly doesn't want that to be the end of our learning experience. He grants us time to ponder about His character, but only for a greater purpose.
Consider the situation in reverse. God doesn't spend all His time wondering whether we exist.
He knows us. He spends less time questioning our characters and more time shaping them. Just as He knows us perfectly, He desires that we come to know Him.
Faith and Obedience Provide Knowledge of God
"Ask and it shall be given you; seek, and ye shall find; knock, and it shall be opened unto you" (Matthew 7:7).
Asking, seeking, knocking—in each application God is asking us to do something. Too many say, "You can't know God exists. Even if He does, you can't know His character or intentions. You can believe, but you can't know."
However, Jesus taught, "And ye shall know the truth, and the truth shall make you free" (John 8:32).
My own experience has confirmed to me that as I strive to do God's will, I come to know Him better. And the better I know Him, the more I love Him and desire to serve Him and emulate Him.
Many in the world look at God's commandments as true-false or multiple-choice options on a test God is giving us. I don't see them as God's test as much as His lesson. I don't see that God is grading us as much as He is educating us.
Perhaps the key to living the way we believe is realizing that ultimately we are not limited to believing. By living lives consistent with our faith, we can know. And when we know, we can live securely and joyfully in worshipful emulation of our Lord—not just on Sunday, but seven days a week.
Excerpt from "The 7-Day Christian" by Brad Wilcox.
10/22/2021 12:01:58 AM