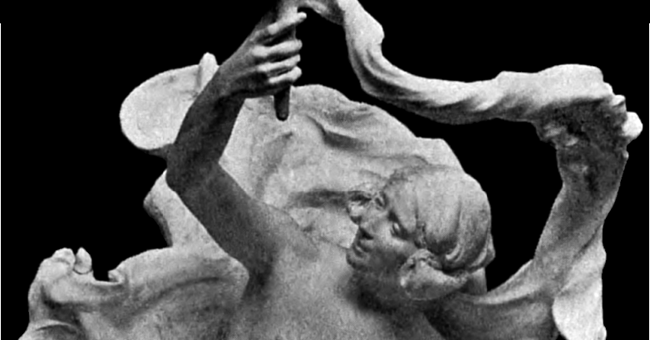 Creative Commons / Wikimedia Commons
The biblical book of Qohelet (known in Christian tradition as Ecclesiastes) begins with a bleak assertion. The traditional English translation reads, "Vanity of vanities, says the Preacher, vanity of vanities; all is vanity" (Eccl 1:2; cf. ASV, ESV, KJV, MEV, NRSV).
The Hebrew word translated "vanity" is הבל (hevel) and it appears five times in this single verse. In our modern parlance, "vanity" describes something that is worthless or futile; hence the choice of some translators to render הבל as "futility" (e.g., CSB, NASB, NJPS).
Similarly, the more recent Common English Bible translates הבלים הבל (havel havalim) - traditionally, "vanity of vanities" - as "perfectly pointless."
Yet these translational choices do not quite grasp the fundamental meaning of the Hebrew. Rather than denoting meaninglessness or triviality, הבל means "vapor," "mist," or "whisp."
For Qohelet, the problem is not that life has no meaning or is not worthwhile, but that it goes by like a vapor or mist. The Preacher bemoans the brevity of life on earth and the transience of existence, but this does not mean that life has no meaning.
On the contrary, the worship of God imbues one's time on earth with purpose and value.
The notion that הבל means futility or perplexity over existence is at odds with Qohelet's context and message. According to the Contemporary English Version, the author exclaims, "Nothing makes sense! Everything is nonsense" (Eccl 1:2).
Yet the workings of the world make perfect sense to Qohelet: "The sun rises, and the sun goes down, and pants back to the place it rises. The wind blows to the south and goes around to the north; the wind goes around and around, and on its circuits the wind returns" (Eccl 1:5-6).
The problem for Qohelet is not that nothing makes sense - the natural world is both observable and predictable. The problem is that nothing lasts; the sun rises and falls quickly, and the north winds are soon in the south.
Humanity is subject to the same fleeting reality: "A generation goes, and a generation comes, but the earth stands forever" (Eccl 1:4). This lament over life's brevity supports an understanding of הבל as a temporary vapor. For Qohelet, the temporality of human existence makes it the mist of all mists.
The uses of הבל elsewhere in Israel's Scriptures underscore Qohelet's description of life as ephemeral. As he undergoes suffering, Job declares, "I loathe my life; I would not live forever. Leave me alone, for my days are a vapor (הבל)" (Job 7:16).
The Psalms corroborate the swiftness of life in a similar way when they address God, saying, "Behold, you have made my days handbreadths, and my lifetime is as nothing before you. Ah, all humanity stands as all vapor (כל-הבל; kol-hevel)" (Psalm 39:5). For the psalmist, "Humanity is like a vapor (הבל); its days are like a passing shadow (כצל עובר; ketsel 'over)" (Psalm 144:4).
These instances in the Wisdom literature of Israel present הבל as nothing more than a fleeting breath.
Being equipped with this understanding of הבל can also deepen our reading of one of the Bible's first stories: the death of Abel at the hands of his brother.
In Hebrew, Abel is Hevel (הבל) - the same word we find at the outset of Qohelet. Insofar as Abel's name means "vapor" or "mist," readers should not be shocked when they hear that "Cain rose up against his brother Abel and murdered him" (Gen 4:8).
Just like a passing mist, Abel is not around for long!
The meaning of Abel's name also helps to make sense of why Eve offers an explanation when she names her first son, but not her second: "She conceived and bore Cain (קין; Qayin), saying, 'I have acquired (קניתי; qaniti) a man with the Lord. And again, she bore his brother Abel" (Genesis 4:1-2). Cain gets his name because it sounds like the Hebrew word for "get" or "possesses" (קנה; qanah), but Eve does not explain his brother's name.
However, those who can read the Bible in its original language do not need an explicit explanation for why Abel gets his name - the narrative tells us the reason when the man called "Mist" exits the narrative only six verses later! Like a vapor, Abel is here one moment and gone the next.
Qohelet highlights the rapidity of our days on earth. This is also true of our experience. The longer the person lives, the faster the passing days seem to go.
Yet to say that life is brief is not to deny its meaning. On the contrary, the Preacher knows that worshiping God and doing the divine will provide humans with a worthy goal in their lives.
Near the end of the book, Qohelet reminds readers that existence is but a breath, and that people should be cognizant of God while they have the chance:
Walk in the ways of your heart, and in the sight of your eyes, but know that for these things God will bring you into judgment. Remove anger from your heart, and put away evil from your flesh, for youth and black hair are a vapor (הבל) (Eccl 11:9-10).
The Teacher says that life moves quickly, and grey hair is on the horizon for everyone, so it is best to posture one's life toward God.
"Remember your Creator in the days of your youth.... The end of the matter, when all has been heard, [is to] fear God and keep his commandments, for this is the whole duty of humanity" (Eccl 12:1, 13).
Life may be short - even the ultimate "vapor of vapors" (הבל הבלים) - but it is not meaningless. Qohelet encourages human beings to use our brief lives to practice righteousness and glorify God, the Giver of life.
Take Your First Steps in Biblical Hebrew – EXPLORE HERE.
---
Dr. Eli Lizorkin-Eyzenberg: Head of School at
The Israel Institute of Biblical Studies
and Founder of the
Israel Bible Center
,
Dr. Eli Lizorkin-Eyzenberg
is an Israeli Christian author, experienced educator and expert scholar in Jewish context and culture of the New Testament. One of Dr. Eli's greatest passions is building bridges of trust, respect and understanding between Christians and Jews. His writing reflects a balanced perspective based on historic and contextual interpretations. As a communicator, he has a unique ability to simplify complex ideas, so they are both memorable and shareable.
Dr. Nicholas Schaser: In addition to his work with Israel Bible Center as Professor of Hebrew Bible,
Dr. Schaser
is an Assistant Professor of Jewish Studies at Macalester College and the Adjunct Instructor of the New Testament at Bethel Seminary (both in St. Paul, Minnesota). Professor Schaser's research interests include rabbinic literature and the Jewishness of the New Testament, with particular focus on Midrash and the Gospel of Matthew. Teaching widely in both synagogues and churches, Dr. Schaser strives to promote mutual learning and respect between Jews and Christians.
12/8/2021 3:41:10 PM