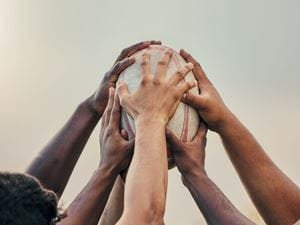 Shutterstock.com
Rugby, Winston Churchill is supposed to have said, is a "hooligan's game played by gentlemen."
No doubt, rugby union is an aggressive, sometimes brutal, and incredibly demanding sport that pushes players' bodies to the extremes: running, hitting, jumping, and grinding their way across the pitch for 80 minutes.
But what of their souls? How do these "gentlemen" (or women) bring their spirituality to bear in a sport many consider savage by nature?
In the lead-up to the Rugby World Cup (RWC) in France (September 8 - October 28, 2023), this month's "What You Missed Without Religion Class" takes a look at how religion might play a role in the crowning of rugby's world champions.
Within the field of religious studies, "religion and sport" research has traditionally focused on two areas: religion as sport and religion in sport. While one could make the case that rugby is religion in places like New Zealand, I consider what we might learn by looking at how the cultural phenomena of religion and sport intersect, overlap, and mimic each other in the wide world of rugby.
Faith and 'footy'
Martin Lewis, a Christian chaplain for the Cardiff Blues — a professional Welsh rugby team — says that religion can play an important role in rugby players' lives both on and off the pitch.
Lewis, a 6-foot-7 Welsh back-rower with more than 400 first class rugby matches behind him, said that even though spectators may not see it, faith influences some of the sports' most prominent players.
For example, Sonny Bill Williams, one of New Zealand's all-time greats, converted to Islam in 2009, saying it helped him find his way in the chaotic world of professional sport.
Since retiring from professional rugby, the former All Black has become a prominent spokesperson for Islam on Instagram and other social media channels, not only sharing his personal pilgrimage journey but speaking out on social justice issues like the Israeli-Palestinian conflict or the recent "abaya ban" in France. In the aftermath of the 2019 attacks on mosques in Christchurch, New Zealand, his mother and fellow All Black Ofa Tu'ungafasi converted due in part to his guidance.
Another famous faith-fueled player is Jonny Wilkinson, whose iconic drop goal in the dying minutes of the 2003 World Cup final ensured his place in rugby union lore, winning England their only Webb Ellis trophy to date. But beyond the highlight-reel, Wilkinson told Men's Fitness that anxiety, depression and burnout haunted his career. Being a practicing Buddhist helped him make sense of his own mental health and find "spiritual ways to become more grounded in the present moment."
Several big names you're likely to see at the RWC are also vocal Christians. Siya Kolisi, captain of the current world champions, the South African Springboks, said he was "born again" following a public saga when his wife found provocative photos of another woman in his Instagram messages. Kolisi said his newfound spiritual commitments helped him fight off temptation and make better lifestyle choices.
Kolisi claims Christianity has not only made him a better husband, but a better player and leader on the field. That claim was put to the test when he tore his ACL in April 2023, putting his ability to play at this year's RWC at risk. But in what The Daily Mail called a "medical miracle," Kolisi went from "surgeon's table" to "being back fit" in three months. His faith inspired him during the turnaround, he said, as he asked for prayers from supporters and regularly posted Bible verses alongside photos and videos of the personal training routine that brought him back to the pitch in time for the team's RWC warm-up matches.
For each game day, he posts a different Bible verse, sometimes with a picture of his jersey draped over his open Bible. Upon his return against Wales in August, he posted a video with the following caption on Instagram:
Deuteronomy 31:8-9 The Lord himself goes before you and will be with you; he will never leave you nor forsake you. Do not be afraid; do not be discouraged. Thank you Jesus ❤️🙏🏾Thank you for all the support [sic] and prayers through my rehab, im really grateful 🙏🏾
It was liked over 62,000 times.
But religion can also cause controversy in the rugby world.
Israel Folau, a professional dual-code rugby player who has represented Australia and Tonga at the international level, was famously sacked by the Australian national rugby association after he paraphrased a Bible verse promising damnation for unrepentant "drunks, homosexuals, adulterers, liars, fornicators, thieves, atheists and idolators." In other posts, Folau claimed transgender people were evil and that the devil was influencing governments to allow primary school children to change their gender.
Several fellow players supported Folau, defending his "religious freedom" and right to share his opinion in public fora. Others denounced his fundamentalist perspectives, including fellow Wallaby David Pocock, a Christian rugby rockstar and politician who has been an outspoken advocate for equal marriage rights for same sex couples and has called out homophobic abuse on the field of play.
Weeping Welshmen and post-game prayer
As a rugby chaplain, Lewis says it's not his job to weigh in on such issues but focus on the individuals in front of him.
Lewis said he offers "well-being support" that is "pastorally proactive and spiritually reactive" to Christians, Muslims, or those of no faith at all.
"A lot of players are just looking for someone to talk to who isn't their boss or a fellow player," Lewis said, "and I'm there to have a chat and maybe offer a bit of advice."
More than that, Lewis said he's been a shoulder to cry on — literally — for some of Wales' biggest players. "Being a chaplain is all about journeying with people," he said. To that end, he's performed funerals for players and their families, celebrated births and marriages, and even got a call from thankful parents who said his counsel helped save their son from suicide.
At this year's RWC, Lewis said there won't be any official chaplains like there were at the 2011 event. Instead, chaplaincy will happen in a more informal way, he said.
Nations like Fiji, Samoa, Namibia, and Tonga might even bring their own chaplains. "Some of their assistant coaches might even be pastors or spiritual leaders for the team," he said, "and might lead prayer time or Bible study every day during training."
Keen viewers might also catch players praying together on their knees before or after the game. Even players from different teams will often circle up and pray with one another, he said, "maybe even for forgiveness for the cheap shots they took at each other on the field."
Off the field, churches are using the excitement around the event for outreach opportunities. Conversion stories like that of former Welsh international Brian Haywood have been translated into multiple languages to be handed out in the form of tracts and booklets at fan zones in France. Lewis himself will be hosting an event in advance of the RWC featuring the testimony of retired rugby player Nick Williams, first cousin of Sonny Bill.
Whether it's outreach, outspoken players or pre-game rituals by fans and players seeking to bend the will of the rugby gods in their direction, religion will play a role at this year's RWC.
The keen student of religion should take note.
As a sport chaplain, Lewis will be one of those observers. "Rugby is bringing in people from all over the world," Lewis said "and many people come to the pitch with a faith background. You have to look after that."
Asked to prophesy this year's winner, Lewis doesn't think he can discern the outcome. "The Springboks, All Blacks, and France are all looking pretty good," he said, "but my heart has to stick with the Welsh."
Given their recent form, that may take all of Lewis' faith to prove true.
9/6/2023 2:50:55 PM