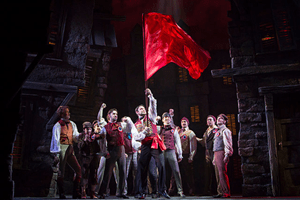 Village Theatre/Wikimedia Commons
You've all heard of a mid-life crisis, mostly revolving around an unfulfilled ambition. But I don't think we twenty-somethings get enough credit for our quarter-life crises. I recently had such a crisis in parish choir practice as my vocal ineptitude struck me like a diesel train driven by Jumbo the Fabulous Elephant.
And so, there was only one thing to do: find a singing teacher. This I duly did. Anyone who has taken singing lessons knows there are basically three specialisms you can choose to pursue: (1) classical singing, (2) popular vocals, and (3) musical theatre. My teacher specializes in option three.
Now, singing musical theatre felt as comfortable, to begin with, as curling up in the footwell of an active dodgem car on a sweaty summer's day. But I've really grown to love it. I've got a newfound weakness for Boublil and Schoenberg's Les Mis, in particular. This came about whenever my teacher assigned me Javert's impassioned solo, "Stars."
I probably connected with it on account of all the theological ideas I noticed in the piece. To put it in context, Inspector Javert is a police officer who has, for years, been intent on bringing a former prisoner, Jean Valjean, back into custody. Valjean has renounced all criminality but is in breach of an unfair parole settlement.
In spite of all his efforts to become 'an honest man,' Valjean remains a worthless criminal in Javert's legalistic eyes. The solo, "Stars," is our insight into Javert's inflexible thinking. 'And so it has been,' proclaims the villain, 'and so it is written on the doorway to paradise, that those who falter and those who fall must pay the price.'
Naturally, Javert wouldn't regard himself among 'those who falter and those who fall.' He's referring, in this moralizing spiel, to Valjean. Javert's holier-than-thou talk opens up a key theme in the musical: self-righteousness versus true righteousness. And, as everybody knows, this is a recurring issue for the Gospel writers too.
We see this, for instance, in the Parable of the Pharisee and the Tax Collector in Luke 18. The Pharisee's words in v. 11 are like something Inspector Javert would say: 'God, I thank you that I am not like other people — robbers, evildoers, adulterers — or even like this tax collector' (NIV).
If we were to believe how the Pharisee describes the Tax Collector in this parable, we would assume the worst. It isn't a given, though, that one person's perceptions tell the whole story. Far from having no redeeming qualities compared with our sanctimonious Pharisee, indeed, the Tax Collector is the one who leaves the temple in a state of grace because he repented humbly (v. 14).
Similarly, Javert's damning words are an unfair take on the Valjean story. The man is no monster. As we follow Valjean from petty criminal to kindly father, we can see the transforming influence of a sincere Christian faith over him. His major solo from the second act, "Bring Him Home," takes the form of an intercessory prayer for Marius, a student risking death on the barricades of revolution.
'God on high, hear my prayer. In my need you have always been there.' In this opening line, Valjean sings a difficult octave leap, firing his prayer into heaven with immense power. I'm reminded of an episode of where Laura thinks God will be more likely to hear her when she prays on top of a mountain.
Javert is also a praying man, it so happens. But in his prayer, delivered in the final crescendo of "Stars," the pharisaical Inspector's plea goes, 'Lord, let me find him,' Jean Valjean, that is, 'that I may see him safe behind bars.' Javert never lets up on his one objective.
Anyone would imagine Valjean as a Bundy-like psycho from how Javert presents him. What sin is terrible enough to merit a lifetime looking over your shoulder for Inspector Javert? Infringing an arbitrary parole, it seems. As in the Gospels, then, the musical probes our presumptions about which man is in the right.
Our antagonist is misguided in writing off an 'honest man' as an irredeemable offender. How does a man become so blinkered? Javert's mistake is in failing to realize that righteousness does not always consist in enforcing the letter of the law. Christ's ministry confirms this. "The Sabbath was made for man, not man for the Sabbath," Jesus tells the Pharisees (Mark 2:27).
Themes recur in the literatures of all ages. Ecclesiastes was right: 'What has been will be again, what has been done will be done again; there is nothing new under the sun' (1:9). The problem of ostensibly righteous men turning away from the needy plays out in the Parable of the Good Samaritan as well as in Les Mis — different works written two thousand years apart.
Even from the show's opening number, "At the End of the Day," hypocrisy comes to the fore. Sung by the chorus in the role of impoverished workers, we see how little compassion the privileged upper classes express. 'And the righteous hurry past, they don't hear the little ones crying.' Zero sympathy given. In the 2012 adaptation, Javert himself sallies down the middle of a hungry crowd on horseback.
In true biblical fashion, the Pharisee Javert eventually has to face a moment of revelation, where true righteousness confronts him in the form of a merciful Jean Valjean. Events have overtaken Javert, who now finds himself in Valjean's hands. For once, all the power belongs to the parole-breaker. He can either kill or spare the policeman.
Even though Valjean holds all the cards, he lets his nemesis go. This plunges Inspector Javert towards existential crisis, as he feels his worldview crumble. Javert's moral system, based as it is on the cycle of crime and punishment, is blown apart when faced with a criminal's mercy: 'granting me my life today, this man has killed me.'
So Javert drowns himself in the Seine, choosing oblivion instead of embracing a new moral frame. It's an interesting paradox, in the Bible and in Les Mis, that authentic righteousness is misinterpreted as evil. There is no more striking comment on our tendency towards moral blindness, as fallen people, than this irony.
Javert wonders aloud, 'Is he from heaven or from hell?' about a man who granted him his life whenever he had every reason to kill him. In a similar mode, some of Christ's contemporaries, who witnessed his healing miracles, accused Him of acting on Satan's authority (Luke 11:15). Bizarre allegations.
Moral blind spots are the gift which keeps on giving in the dramatic world. A fundamental clash of outlooks between individuals like Valjean and Javert is plentiful material for a good story. Flannery O'Connor knew this well: 'I believe that the fiction writer's moral sense must coincide with his dramatic sense' (, 124). O'Connor possessed a great ability to tap into the drama behind every moral melee.
But it isn't, as we know, just on the pages of a novel or onstage that we see the struggle to define what is righteous. Every day Twitter is awash in such arguments. Roe v. Wade, anyone? #SCOTUS. If we learn anything from the Gospels or Les Mis, however, it's that our grasp on the knowledge of what is righteous often turns out rather less firm than we had assumed.
Over and over, Jesus challenged accepted ideas about righteousness. What is righteousness really, and what is just empty rule-keeping? In Javert's case, rigorous law-enforcement hinders an 'honest man' from building a new life. As for the Pharisees, their mammoth reams of rules were a cruel weight: "woe to you, because you load people down with burdens they can hardly carry," Jesus excoriates them, "and you yourselves will not lift one finger to help them" (Luke 11:46).
'Righteous,' unavoidably, carries a lot of religious resonance. Merriam Webster defines it as, 'acting in accord with divine or moral law: free from guilt or sin.' But it's clear from Jesus' teaching that sticking too slavishly to doctrine can run counter to righteousness. Well… it seems like I've wandered into quite a minefield… a bigger one than I had anticipated…
Really, becoming righteous begins and ends with gradual discernment: waiting on God's grace as He reveals His ways – by the words of Holy Scripture, by the sacraments of Holy Church, by the dictates of Holy Conscience – over the meandering course of a lifetime. By no means is discerning righteousness a straightforward or linear process. "I have much more to say to you," teases Jesus, "more than you can bear" (John 16:12). It's our job as believers, then, to listen while God speaks.
7/14/2022 1:50:42 AM