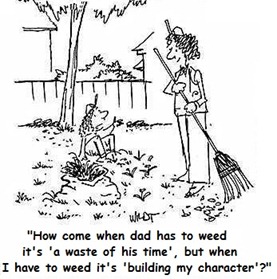 It's already started. I had big plans to accomplish a whole lot today, and so today is the day that everything is coming up to try to make sure I don't! I'd say that's natural, but I'm not sure if it is.
Thankfully, I was able to sense, already, that this is going to be one of those days, good for developing patience, and I can really only attribute it to the Holy Spirit. Otherwise, I'd be a hitting the shrew level pretty soon. I've got an index card in my pocket with the verse I remembered around 7:15 this morning.
"Consider it all joy, my brothers, when you encounter various trials, for you know that the testing of your faith produces perseverance. And let perseverance be perfect, so that you may be perfect and complete, lacking in nothing." (James 1:2-4, NAB)
What I don't understand is why didn't I get this feeling yesterday? It was the kind of day that could only be characterized as dreadful. I felt like a dirty towel that's been shoved under the bed, forgotten, until it starts to mildew and you're wondering, what's that smell?
I literally did nothing until almost 5:00 p.m., when I pulled myself together enough to get dressed and go to choir practice. Once I did that, the day proceeded splendidly and we had a lovely practice, but of course how much am I going to accomplish after 8:00 p.m., when choir was done?
I got a pep talk from a friend, but nothing seemed to work. I knew that I was behaving badly, but I just didn't care. I know there will be days like that, too, but by the end of the day I was developing that combination feeling of guilt and anger. The day was wasted! Aarrgghh! It's hard to brush that off, even when I remind myself that it was only one day, and days like that are bound to happen, it could've been worse (a whole week, etc.), blah, blah, self pep talk, positive thinking, etc.
So I made up my mind before I went to bed (early) last night that today would be different. And it is.
Related articles