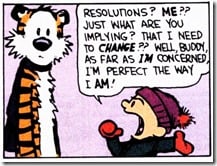 Everybody makes 'em. Nobody keeps 'em. Yeah. I'm talking about New Year's resolutions.
You have to admit, they show good intention. People always mention that they want to lose weight, start exercising, manage their budget better, invest wisely, save more money, become a better parent, the lists go on. And on.
Why, honestly, do we bother? I have never yet met a person who made a New Year's resolution that they managed to keep. Ever. Past February. (If you have, please comment, because I want to arrange a meeting with you and other world leaders.) Given that, I am starting an entirely new style of resolution, which is based on the principal of reverse psychology. It's a well-known fact that, since the Garden of Eden, people can't seem to avoid doing either the very thing someone tells them not to do, or just the opposite of what they are supposed to do.
So, my New Year's Resolutions are as follows:
Utterly trash my home and become an unrepentant hoarder;
Become a recluse who shuns human contact, especially with my aging parents and any close friends;
Gain as much weight as is humanly possible by never cooking or eating anything healthy, let alone by attempting anything that even resembles exercise;
Never keep track of appointments or dates and never, ever return phone calls the same day;
Avoid anything that smacks of spirituality or any kind of organized religion;
Shamelessly prowl Facebook and Twitter All Day Long;
Relentlessly pursue anything that might depress me, most notably by staying in bed all day;
Spend my money on whimsical items that have no enduring value whatsoever; and
Write as little as possible.
I'll NEVER tell you how that's going.