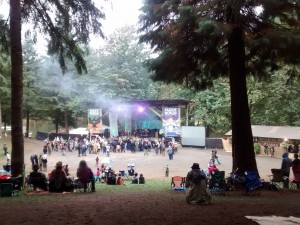 It was the best of festivals, it was the coldest of festivals. Faerieworld's first year since moving from Mount Pisgah was marked by uncharacteristically cold temperatures, rain, and mud. Unlike the old festival site, Horning's Hideout was hilly and wooded, with tent sites interspersed between trees, clusters of ferns, steep hills, and bodies of water. Mist rose from the creek and hovered over the lake early in the day, lending an otherworldly serenity to the festival.
Our first impression was the severe shortage of programs. My partner Autumn and I arrived with two friends on Saturday morning, apparently too late to receive a map. After parking our car we asked strangers for directions, but many we talked to were also mapless. By the time we found one program to be shared among us, we had already missed several workshops and events.
Wandering around lost at Horning's Hideout, however, was worth the adventure in its own right. I have never been to a more beautiful festival site. The German in me likes to look at a map first, go through every item on the program, circle and annotate events of interest, and then create a customized personal agenda for the weekend. Without that option, however, I made a conscious choice to spend more time connecting with this piece of land.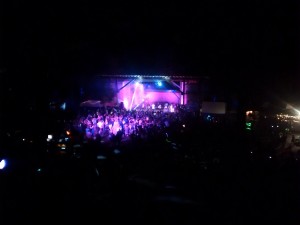 Sharon Knight's beautiful performance was our introduction to main stage. A grassy hill with the perfect incline wrapped itself around a dance pit, creating a stunning natural amphitheater. The stage itself sat on the shores of a lake, a little pier stretching into the waters on stage right, a tavern and food booth on stage left. As I sat on the hill I watched giant soap bubbles float over the lake, as songs and harmonies traveled among the trees on the hill, perfectly interspersed to provide shade or shelter from the rain.
Food vendors circled a clearing uphill, not far from main stage, making it convenient to carry food back to the amphitheater for dinner performances. The only challenge was finding a spot that wasn't downwind from the smoking areas, a recurring problem for those in my group suffering from respiratory issues. The food choices were excellent. With food restrictions including gluten-free, vegan, soy-free, my friends and I all found delicious dishes we could eat, dessert and drinks notwithstanding. My friend Lynx invented our favorite Faerieworlds drink, a Kombucha Float, combining the floral Kombucha from one vendor with a scoop of vegan coconut ice from the vendor across the path. For us Kombucha Float will forever be the official flavor of Faerieworlds 2015.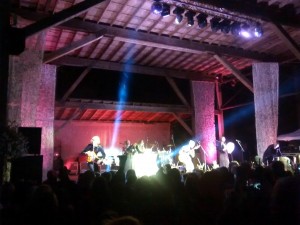 Saturday night's performances were stellar. Faun delighted as always, mixing highly dance-able Dudelsack (German bagpipes) tunes with German songs from their new album. I thought back on how much their music has meant to my spiritual journey and enjoyed being perhaps the only person able to sing along to every song. Those dancing beside me asked for impromptu lyric translations and I was more than happy to oblige.
During the switch between Faun and Wardruna late on Saturday night, several clothing vendors sold out of hoodies. My own quest for a cloak remained fruitless, but both my partner Autumn and I acquired new fleece sweaters. I am not sure we would have survived Wardruna otherwise. Without a thermometer and no cell signal to look up current weather conditions, I estimated that the temperature had dropped to around negative 40 (my partner Mead, who lived in Alaska for twenty-some years, informs me that I was wrong about that. Whatever.)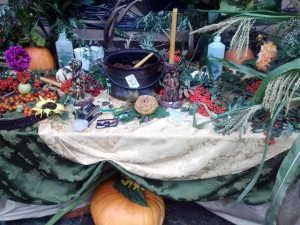 Regardless of exact numbers, the arctic temperatures were fitting for Wardruna. It was easy to forget that the colored lights reflecting off the lake were not, in fact, the Northern Lights dancing over a Viking village on a Scandinavian Fjord. Haunting and yearning, Wardruna stirred up a nostalgia for times and places I haven't seen in this body, ancestral memories too ephemeral to grasp.
A clear and starry midnight promised morning frost, but instead the rain took away the bite of dawn just before sunrise. Living in a severe drought in California, I woke up to a sound and smell I had all but forgotten. Rain drops drummed on my tent, nourishing the bleeding hearts and ferns surrounding our campsite. I dozed off again, thankful for the blessed water, until I awoke to cold drops falling on my nose. The rain had found its way through the seams of the tent, soaking my sleeping gear and clothes.
Faerieworlds on Sunday was the cold cousin of Woodstock. The rain persisted throughout the morning and we spent the better half of the day dragging wet items out of our tents, brewing Gypsy Cold Care tea, and cooking soup with half a bulb of garlic and a whole jalapeno. Instead of concerts and workshops, we were having a Northwestern rain forest adventure, breaking down camp under dripping trees.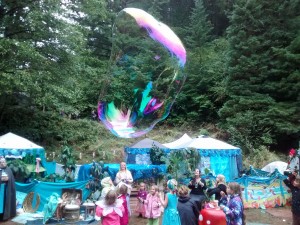 By afternoon the rain had turned into Portland's characteristic liquid sunshine, a drizzle too thin to call itself rain but with just enough downward movement to distinguish itself from mist. The trails had turned into slip-and-slides and we watched a multitude of costumed characters hit the mud. A second trip through vendor row resulted in more credit card charges and wonderfully dry clothes. Despite missing so many programming options, I once again felt deep gratitude for the beauty of this place, watching freezing mermaids frolic in a pool, children splashing carefree in the mud, and a pervasive spirit of happiness in spite of the challenges of the weather.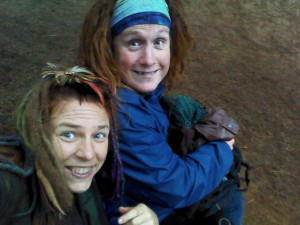 Right on cue a patch of blue sky appeared for the first act on main stage. The Harp Twins joked about their lack of appropriate clothing and played an energetic set to dancers splashing mud everywhere. Folk Noir's first U.S. performance introduced us to a versatility of hurdy gurdy sounds that had me continuously oohing and aahing, much to the amusement of my partner Autumn.
After dinner under the first blue sky of the weekend, we danced to Delhi 2 Dublin, a band that is a case study in how to work a crowd. As the temperatures dropped again, Woodland took the stage for the festival's final act, enchanting those of us brave enough to face the cold in the amphitheater again. Unlike their performance a couple of years ago, the band's energetic songs were replaced by a lot of new material. Combined with an amazing light show circulating over the lake, trees, and giant soap bubbles, the concert became a trance journey.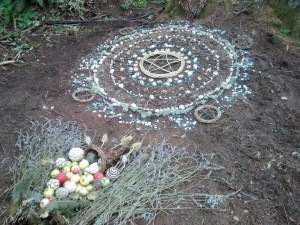 Even after the last song faded, the final announcements were made, and the organizers said their goodbyes, we sat on the hill watching nature's stars above us and the lighting system's patterns among the trees. No one wanted to break the magic, none of us wanted to end the trance. Only the cold brought us back to a reality in which we still needed to drive to Portland.
"But there'll be hot showers at my house," my friend Lynx said. Suddenly we couldn't get to the car quickly enough. On the drive back, however, we shared our stories of Faerieworlds and planned the logistics for next year, the additional friends we'll be bringing as well as a giant tent full of warm water bottles and blankets.