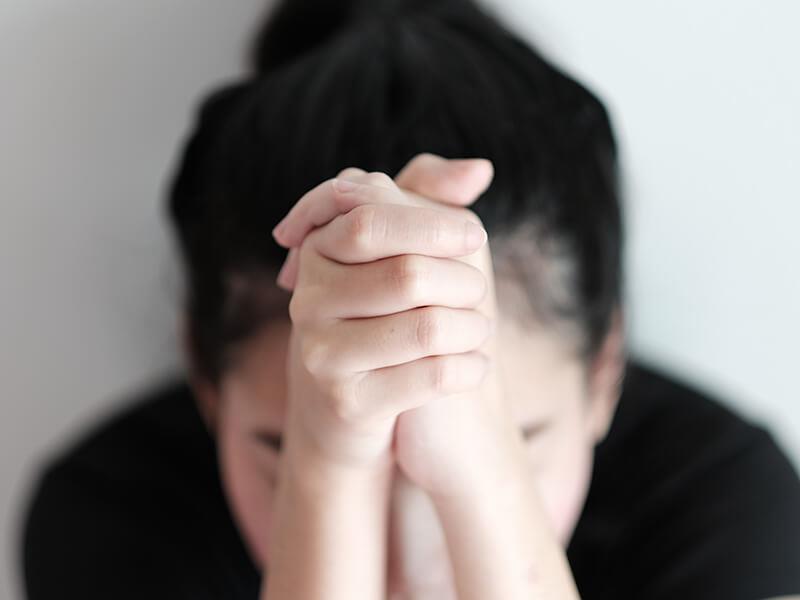 By Val Woerner
Over the past few years, I've had countless conversations with friends, family members, and blog readers about what holds them back most when they pray. One of the most common responses is never knowing what to say and being afraid of messing up.
I believe the "right" or "perfect" way to pray is far less logistical than we'd assume and has more to do with our heart posture than our specific words or methods. I think a few things are key: We come humbly, we confess often, and we have faith. If we can do these three things, we can pray without paralysis.
1. Come Humbly
Wikipedia says, "Dictionary definitions accentuate humility as a low self-regard and sense of unworthiness. In a religious context humility can mean a recognition of self in relation to a deity (i.e., God) or deities, and subsequent submission to said deity as a member of that religion."
I could not love this more. The world sees humility as a sense of unworthiness, while in a "religious" context, it means seeing ourselves in relation to God.
Imagine what it means to come to prayer with humility. To approach the throne of God without worrying if your doubts are disrespectful because you know you have a genuine desire to pursue the Lord. To be less concerned with yourself in prayer and completely consumed with the God in front of you. To stop trying to win God over with perfect words because you fully understand you couldn't possibly earn his grace.
If you want to pray consistently, if you want to shake the weight of perfectionism and come to God with the right heart posture, get desperate. Scratch that. We don't need to get desperate; we already are. We just need to walk each day in the realization of who we are in relation to who God is.
2. Confess Often
If we long to draw near to God, we absolutely need to be cleansing our hands and purifying our hearts before him. This doesn't mean we actually do the cleaning. It means we acknowledge our mess before the Lord and give him access to it so we can be reconciled to him.
We don't have to over-complicate this. As we sit down to talk with the Lord, we can take a few minutes to humble ourselves, see what sins we've committed, and confess them to God.
You want to talk about a humble heart posture? What do you think it says to the Lord when you come to him without fear, openly admitting the things you'd gladly keep hidden from the world? What do you think it says when you don't pridefully attempt your own cleansing but bring it before the one and only Redeemer?
The Lord knows the posture of our hearts (see Jeremiah 17:10) and invites us to come near him anyway. That just might be all the reason we need to keep coming back to him in prayer.
3. Have Faith
James 1:6-7 says this about those who ask the Lord for wisdom: "Let him ask in faith, with no doubting, for the one who doubts is like a wave of the sea that is driven and tossed by the wind. For that person must not suppose that he will receive anything from the Lord."
What's that fear that rattles your bones? The one that swirls your thoughts and makes it hard to remember truth? Mine always seems to relate to my health. A chest pain that's a result of heartburn attempts to tower over God in my mind when I start playing the game of "what ifs."
What if this time it's not heartburn but a heart attack? My family does have a history of it. I don't work out like I probably should. Yep, it's definitely a heart attack. And just like that, I've put all my faith in circumstances I can touch and see instead of in God.
I've been working on capturing these thoughts and quickly reminding myself of a God who is very much alive. And it's working! When I stop to really think about God's power, ability, and desire to see me experience his peace, I am able to pray with conviction and faith.
We can talk about learning new habits for prayer, but our methods don't matter one lick if we do not believe God is who he says he is.
Do we even believe God can do what he says he can do?
Do we even believe our prayers make any difference to the God of the universe?
Do we even believe our circumstances can change by simply speaking words in the air?
A handful of words in Mark 6 speak profoundly to this. Jesus went back to his hometown, and as he taught in the synagogue, people were essentially in disbelief that he had any authority to teach. Oh, that's just Mary and Joseph's boy! They only believed in what they saw.
Mark tells us, "He could not do any miracles there, except lay his hands on a few sick people and heal them" (Mark 6:5, NIV).
The Amplified Version explicitly says, "He could not do a miracle there at all [because of their unbelief] except that He laid hands on a few sick people and healed them." There's no beating around that bush. The people's lack of faith stopped miracles from happening.
What are we missing out on simply because we don't believe God can do it? If healings were minimized as a small footnote of what God had planned in Nazareth, holy cow! What level of miracles has unbelief kept from us today?
I love that mustering up more faith isn't all on us. Of course we will have doubts that we need to address with the Father, but for now, know this: If we want more faith, our first prayer should echo the disciples' words to the Lord in Luke 17:5: "Increase our faith!" And then we must believe he can do it!
When we throw off the weight of perfectionism, we can experience a deeper prayer life that's no longer paralyzed by coming "the wrong way" to prayer. We can come humbly, allowing our eyes to rest on the Lord instead of being consumed with what we bring to prayer.
We can confess the real things that separate us from God—the big boulders of pride and other sin—and stop being tripped up by the pebble in the road—the specifics of how we pray—that seems to get most of our attention.
We can spend more time falling in love with who God is and how worthy he is of our faith than being distracted by our doubts and secret attempts to solve problems on our own.
If we truly have a wrong heart posture, we won't "fix" it on our own. Coming to God in prayer knowing that he's the only one who can do something is humble and faith filled.
If we can keep going to God, giving him access to our mess, we can experience prayer that leads to deep intimacy with our Creator.
Adapted from "Pray Confidently and Consistently: Finally Let Go of the Things Holding You Back from Your Most Important Conversation" by Valerie Woerner. Copyright ©2021. Used by permission of Tyndale House Publishers, a Division of Tyndale House Ministries. All rights reserved.