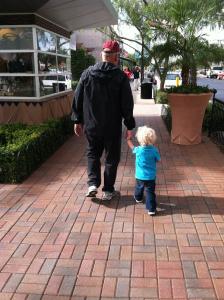 By Mark Williams
When we lose a partner we have maybe been tethered to for decades, we can feel really alone, especially if we believe in God. Weird, huh?
Wait a minute, Mark. Are you saying we have been abandoned because, well, I kind of feel that way, now that you bring this up.
Our faith says we are not, but it can sometimes be real quiet, especially on His end. In our belief, the Bible tells us in Deuteronomy 31, 'He will never leave you, or forsake you'—ever. So, why does it feel that way? When we ask God and hear nothing, it builds doubt.
I'm thinking maybe the quiet is the answer? Maybe part of the answer anyway.
We have to decide, in these times—quiet times, if we will believe what He says, like in Psalms 46— be still and believe I am God.
This isn't a bad thing, this doubting. God knew we would from the beginning. That's why he gave us a way to Him—Jesus. In pastor John Lynch's book On My Worst Day, that title walks us through God's relationship with his child and how, on our worst day, He is with us. Lynch paraphrases God—'I got this—I got you kid.' God is God. But He is personal with us—in us. As we read in 2 Timothy 1:14, "Guard the good deposit that was entrusted to you—guard it with the help of the Holy Spirit who lives IN us" (emphasis added).
God is in us!
"Oh yeah? You got this? You, who took my partner, You got this?"
"Yeah, I do."
You find yourself waking up, questioning if you slept at all. You figured you fell asleep sometime during the night because your neck hurts from the way you slept, but you are still tired, like bone tired, more so than you thought you were when you went to bed. Whenever that was. I speak about losing a life partner, but it could be the same for other traumas. You want to just breathe again.
So you spend your time in this new climate of life, and you try to modify and adjust. A new routine starts.
Admiral William McGraven, wrote a book on routine. It's on my pile of reads at bedtime. It's a tiny book. I don't think its 100 pages. He said start each day with a victory by making your bed well— every day.
Good advice I have found out—making your bed.
"Ah, Mark, I don't make my bed. I have never made my bed. Why should I start now? I like the idea of pulling the sheets over my head and trying to smell my partner's scent one more time. I don't want to make my bed. That's a stupid way to start the day."
Then don't make your bed.
"Oh. But you said—"
Yeah, it's not going to cause the world to be an instant rainbow. Geez, you're just making your bed. But it's a start. Instead of making your bed, it could be a walk or something else—anything. It's a start to another day of trying to figure out your life. Oh, and by the way, you wind up talking to Dad—the God of the Universe, when you do it.
God's design is for us to be redeemed. Saved by the sacrifice of his son on the cross. Someone had to write a check for our infection of sin. Jesus decided he would do it—for all of us. All we have to do is receive it. It's a start. In Matthew 11 he tells us to take his yolk. It is light and even though a yolk is a harness of burden, it is an easy burden compared to the one we were carrying. And in our faith, His plan is centered on you. Dad has nothing but love for you—me. Even when you swear at Him and doubt him. He knew you would before this rock we live on was solid. He wants you to vent to Him. He loves you and wants your pain.
All of it.
It draws Him closer. Imagine the God of the Universe coming down to live in you. Just you. It's not a group thing. It's all about you. Which makes it then all about Him. Maybe after you make your bed, you go for a walk. God loves walks, especially with you. Imagine walking around the block with, well, GOD. Or cook something. Or go for a drive. Or simply sit on the back porch. He will meet you wherever you need to meet Him.
If you and your partner did family stuff, you might have to cover for them. No, sometimes it won't be pretty. My wife was much better at nurturing. By I can do things. I will meet my kids and grandkids and acquaintances where they need me to meet them. See? I'm modeling God and I didn't even realize it. They see Him and Jesus through me! That's big—real big.
Maybe we just go for a walk.
Or I show them how to make their bed.
It's like they were given permission to wander into a world of forbidden life of chocolate cake for breakfast for just a moment with the special person their parents only whisper about in the kitchen. You find yourself smiling, maybe for the first time in a long time. They don't care. It's you.
And you realize—God is smiling.
Then, you find yourself smiling. And maybe for a few minutes, you haven't thought about the dumpster fire you are living in.
He used worldly things to get you up and moving and to cause you to have some joy. Not a lot. A little at a time. It was Him all along!
And it all started with a son and his father. In your mind, you picture the son saying to his Father—send me.