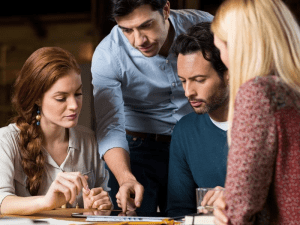 By Catherine McNiel 
There is power in proximity.
Where we live and work and go to church, where we shop, where we send our kids to school, who we rub shoulders with day in and day out— these choices matter. Even if the decision to live "here" instead of "there" seems unconscious or outside our immediate control, it does not happen by accident. Neither are the factors morally neutral or inconsequential. What makes us consider one community desirable and another undesirable? How does this influence our posture of love over fear? The people we bump into regularly impact our knowledge and empathy, influencing who we suspect and who we understand. So, to love as God commands, we must consider the dynamics behind who is and isn't our neighbor.
When I listen to Christians give advice regarding where to live and who to mingle with, nearly every message I hear is a warning. I find this especially true when speaking with other middle- class Christians like myself. Whether we are afraid of race, poverty, immigration status, sexual orientation, religion, secularism, or fundamentalism, decisions about proximity seem to be weighed primarily out of a fear of danger, rather than considering what Jesus might ask of us. We talk about wanting a good neighborhood, good schools, and a good church— which implies we don't want the bad neighborhoods, bad schools, or bad churches.
But what does good mean in this context? Good for whom? Good for what?
If the answer is "Good for using my privilege to give my family every possible leg up in the world," that is a valid choice for an American. But for Christians? Jesus commands us to care for the community as we care for our own families. We cannot be the salt and light Jesus sends us out to be if we segregate, if we spend what we have been given on ourselves or on those who already have everything we have.
Depending on your context, your fears and decisions may unfold differently; your Christian community will have unique challenges to wrestle through together. But no matter who or where we are, we are called to look upon our communities with the eyes, heart, and mind of Christ.
I am intrigued by God's command to the exiles in Babylon to "seek the peace and prosperity of the city to which I have carried you into exile." Without a doubt, these folks lived in a hostile culture. Can you imagine being carried away as a hostage and forced to live in the nation that upended your way of life, that destroyed your family and country? The exiles worked day and night to maintain their unique identity, to be "a peculiar people" and not adopt foreign values and lifestyles. Yet even with this ever-present danger, even though Babylon was their literal mortal enemy, they were commanded by God to not only consider what was good for themselves but work for the benefit of the city.
Take a moment to picture yourself in the shoes of these exiles.
Can you imagine? Talk about being unsafe. Yet God required them to choose love and service over fear.
If this was God's heart for the families abducted to Babylon, surely he wants us to seek the good of the city where we reside, to consider how our decisions impact the peace and prosperity of those around us. We are afraid of godless agendas and dangerous neighborhoods—but our "godless" neighbor is not where the risk to our Christian values lies. In choosing to exercise our own rights and seek our own individual good over the good of our neighbors, we have already been infiltrated by America's secular values at the expense of God's Kingdom.
Of course, this is a two-way street. If we are afraid to mingle with certain parts of our community, they're likely scared of us too. We've sent clear and powerful signals that we aren't trustworthy, that we don't see them as equals or value them. A major trust breach develops over time—one that isn't easily mended.
When we choose the opposite path, inviting people to join our lives, families, and homes until our paths irrevocably mingle, it does change us—but that's not something to be afraid of.
Relationships are powerful, but that doesn't mean they're dangerous. Viewing life's realities through the eyes of people we love forms us on a level that books and education cannot reach. When we hear life stories and testimonies from neighbors while watching their faces and eyes, touching their hands—then their experiences become intertwined with ours. Our stories become intertwined with theirs. We become a "we," not an "us- and- them."
Imagine what it would be like if communities used their resources to ensure everyone could get by. I've seen people live like that—but rarely in the "good" neighborhoods. Rather, it's in the less-affluent communities where I've witnessed this Kingdom-living thrive, where my neighbors have taught me how to place value in my fellow humans rather than in my possessions and net worth.
How much Kingdom goodness do we miss out on, in the name of choosing a so-called "better life" for our families?
Our isolation may be unwitting, yet this makes it hard for us to step into the blessing and suffering of our brothers and sisters, and for them to share in our blessings and help in our sufferings. When we live among those who are like us—racially, ethnically, religiously, educationally, economically—we withhold something important from ourselves, something we don't even realize we are missing: intimacy and cross-pollination with people who are different from us.
Taken from Fearing Bravely: Risking Love for Our Neighbors, Strangers, and Enemies by Catherine McNiel. Copyright © 2022. Used by permission of NavPress. All rights reserved. Represented by Tyndale House Publishers, Inc.