Whether you attend Bible study on a monthly or weekly basis, you know just how life-giving it is to fellowship with other believers. Each time you gather to share God's word, pray and uplift one another, you tend to feel more on fire for Christ.
This month, you'll have yet another opportunity to stoke your spiritual flame and thank the Lord for his many blessings — one of them being your Bible study group. Show your fellow believers how much you appreciate their friendship and encouragement by putting together a beautiful and delicious Thanksgiving. Here are a few tips to help you plan.
1. Create a Menu
Whether you're making all the food yourself or you're organizing a potluck-style celebration, it's important to create a menu ahead of time. Otherwise, you might end up with two of the same dish — or worse, you're missing a must-have like pumpkin pie. Regardless of who's making food, remember to consider allergies and dietary restrictions. Make a classic dish or mix things up with fresh takes on old favorites like hard cider gravy and sweet potato grits.
2. Pre-Assemble Dishes
The best way to attack the Thanksgiving feast is to pre-assemble casseroles, desserts and other dishes before the big day. Make pies, cheesecake, rolls and breads two days before and warm them up before serving. Other dishes, like soups and cranberry sauce will also keep in the fridge for a few days. Finish up your baking, buy and wash salad greens and brine or marinate your turkey one day before.
3. Make a Day-Of Timetable
It's easy to get distracted fellowshipping with friends, and the last thing you want to do is forget about the turkey. As the big day approaches, make a timetable for when you plan to cook everything on Thanksgiving day and who will do what. Set alarms on your phone to remind yourself to put dishes into the oven — and take them out. If friends plan to cook dishes in your oven, make a sign-up schedule so your kitchen is less chaotic on Thanksgiving day.
4. Distribute Responsibilities
1 Peter 4:10 reminds believers to "use whatever gift you have received to serve others, as faithful stewards of God's grace in various forms." Give your fellow Christ-followers the chance to use their God-given gifts by allowing them help you plan Thanksgiving. With a finalized guest list, you can start coordinating menu items and decorations. Those who don't have time or resources to help with either can bring perishables like napkins, disposable utensils and cups.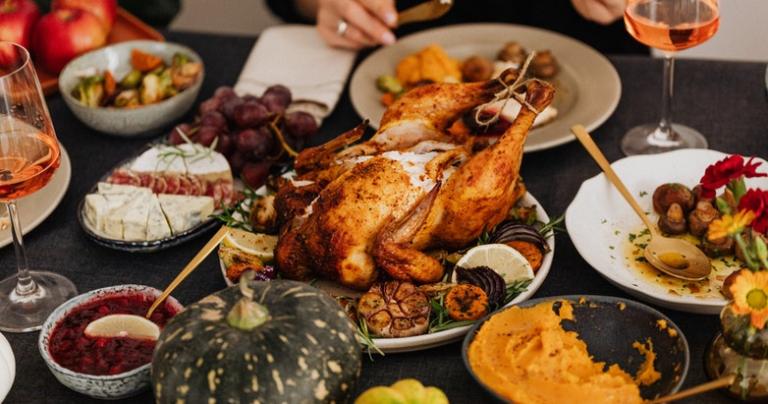 5. Decorate Early
Whether you allow others to bring decorations or you've decided to make them all yourself, plan a decorating day about a week before the big day. Arranging flowers and wreaths on Thanksgiving morning is a recipe for disaster. What if you spend so much time adorning your house that you have to push back dinner? You might as well set the table while you're at it, too. Print your own placemats to delight the kids or create name cards to make everyone feel extra-special the day of.
6. Pick a Turkey
More than 80% of people plan to eat turkey on Thanksgiving, which means you should probably pick out a nice-sized bird. Just how big should it be? The general rule is to plan for one-and-a-half pounds of meat per guest. Some chefs opt to go even bigger, recommending two pounds per person. Others propose serving ham, duck or another alternative meat option. Vegan entrees have gained popularity in recent years, so don't be surprised if someone suggests a plant-based main.
7. Plan Activities
Whether kids are attending or not, it's a good idea to plan a few games and crafts for your guests to enjoy. Ask your friends to bring a few of their favorite card or board games and try something new like basketweaving to bring out everyone's inner child. Remember to take some time to read a few scriptures about giving thanks or celebrate God's goodness with a Thanksgiving communion. List what you're grateful for and share with the group, then partake in the sacraments together.
Keeping Christ at the Center
1 Corinthians 10:31 says, "Whether you eat or drink, or whatever you do, do it all for the glory of God." No matter what you're serving or how you're decorating, remember to keep Christ at the center. Make him the focus just as you would at a typical Bible study gathering, and celebrate his goodness together. The Lord's provided the food and company, so don't forget to thank him for it.