Imagine approaching a church and realizing you can't get inside. The doors are set six feet off the ground and have handles that are too large to turn, even if you could reach them. You can hear music and see people inside, but there's no feasible way for you to join them.
Unless your church was intentionally designed to be accessible, people with disabilities might feel locked out when they approach your building. As a place of worship, your church should be welcoming, safe and easy for members to access. Here are five ways you can make your church more accessible so that everyone can worship there.
1. Add Ramps
Adding ramps is one of the easiest things you can do to make your building more accessible. If your front entrance is lifted above the street, add a ramp next to the stairs or near another entrance. Ramps empower the elderly as well as people with disabilities to easily enter your sanctuary and fellowship hall.
As building improvements go, ramps are relatively inexpensive. You can construct a sturdy ramp out of wood, concrete or other building materials. It's best practice to add a safety railing and grade the ramp so it's not too steep. If you're not sure how to make your church building accessible, building a ramp is a solid start.
2. Adjust the Interior
Once inside, people with disabilities may encounter a number of challenges. For one thing, many doorways are not wide enough for people using wheelchairs. There may be another set of stairs inside or restrooms with narrow stalls and no room for people to maneuver.
Start by making sure your sanctuary is accessible from the front door. You can widen doorways and add secondary ramps as necessary. Older buildings with no room for a ramp could add a stairlift or possibly an indoor elevator. In bathrooms, it's good practice to build an accessible stall with grab bars and room for a wheelchair.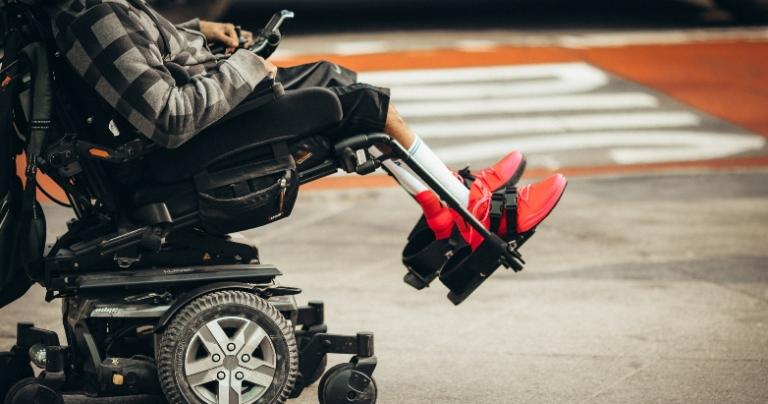 3. Enhance Parking
Parking can also pose a problem for people with disabilities. Because it can be difficult for some people to maneuver, it's essential to have accessible parking spaces by the front door. Once out of the car, it can be challenging for people with disabilities to handle sidewalk curbs. Cracks in the pavement can also make entering a building dangerous.
In 1990, the Americans with Disabilities Act was passed to make transportation easier for people with disabilities. This law requires businesses and charities to provide a certain number of accessible parking spaces and build curbs with ramps so people in wheelchairs can access sidewalks. Churches are not required to follow these rules, but they should also be accessible for everyone.
4. Adapt Seating
Sanctuaries are typically filled with several rows of chairs or narrow pews. For many individuals, this seating isn't accessible. You can improve the accessibility of your sanctuary by widening the space between rows or designating a certain area for individuals with wheelchairs.
For elderly church members, consider comfort. Make sure seating is padded, the temperature is controlled and there are a variety of options available. Emergency exits should be accessible for everyone at all times. If your church serves individuals from the deaf or blind community, make sure that locating and listening to the service is feasible for them.
5. Change Hardware
Some types of hardware are much easier to use than others. Take lever-shaped doorknobs, for instance – they can be opened with an elbow or wrist as well as your fingers. For individuals with disabilities, many everyday tasks are complicated by difficult hardware. Updating your church's hardware will instantly make your building more accessible.
In addition to door handles, consider changing your light switches. Modern designs use rocker switches instead of the older single pole switch. Rocker switches can be moved with an elbow just as easily as a hand. You can use them if your hands are full, your fingers are in a brace or you have difficulty using your muscles.
Open the Doors Wide
You can't serve everyone all the time. However, you can make several simple adjustments so that your church becomes accessible to the majority of people who want to worship there. If individuals with rare disabilities want to join your congregation, you can make more specific adjustments for them as well.
Use this list of five tips to make your church more accessible for people who want to worship together. Adding a ramp and accessible seating may seem like a small thing, but it can be a big deal to someone who has trouble navigating stairs and tight spaces. Making your church more accessible is one small way that you can show others the lovingkindness of God.