Summer is the season for renovation. Warm weather means you have an excellent opportunity to work outside, but the hottest days are best reserved for remodeling indoors. 
While you might be taking care of your house, you could be overlooking another important building in your life: the church. Your church deserves a few upgrades, too. Try out these minor upgrades that can make a huge difference this summer and beyond.
1. Hanging New Lights
It could be time to hang new lights in your church. If you're going for an upgraded, modern look, you'll want to find lighting that can be both effective and sleek. If you want chandeliers in your sanctuary, find ones that fit the mood of the church. Some churches are more simplistic and befit rural settings, while others are ornate and in the city's center. Let your lighting reflect the church you attend.
You might want to opt for smart lighting in your church, or at least in your sanctuary. That way, you can dim the lights when you see fit. Smart lighting can adjust to the time of day, so you don't have to worry about overhead lights disrupting anyone's sleep cycle. Dimmed lights would be perfect for evening or sunrise services that don't require much light. Work with the light outdoors, and you should find that the lights don't hurt as many eyes.
2. Cleaning and Repairing the Gutters
Cleaning out the gutters is something most people do for their houses, but they may neglect it for their church. Gutters keep water away from the foundation of a building, which can be crucial in keeping your church standing for years to come. Cleaning debris away from your gutters after it falls can also make it easier for the groundskeeper to mow the grass. 
Make sure to check on your church building's gutters at least once a season after clearing them out this summer — though you may need to pay more attention to how clogged they are through the fall and winter, when damage to your gutters could happen more easily.
3. Adding to Curb Appeal
One thing that may invite more people in for a service is a welcoming environment. Make sure that any grass around your church is freshly manicured every season. If appropriate, you can build flower beds and add bright blooms to them. Think about what language you can convey with flowers that will invite people in. 
For example, you may want to opt for lilies of the valley, which mean purity, when you can get them, rather than rhododendron, which can signify danger. Find something that suits your church and congregation and makes the outside of your church just as inviting as the people inside.
4. Tinting the Windows
Many churches have stained glass windows throughout the sanctuary, but you can't have them throughout your church. For safety and privacy purposes, having tinted windows where you can't put stained glass is a great option. Tinted windows can preserve the privacy of the offices and spaces inside your church. If you're worried about break-ins, tinted windows can deter people from seeing any valuables inside and breaking in as a result.
5. Sticking to a Color Palette
Your church might be the kind that found one color and decided to create a color palette around just that color. If you want to upgrade your church's interior design style, finding a suitable color palette that's easy on the eyes and welcoming can help people want to stick around after the sermon has ended.
Look for colors that go well together and can convey a serene feeling. Green is a great option, either as the primary color or accent color, because it eases stress and can make people feel like they're in a relaxing environment. Make sure to choose complementary colors, so your church's color palette is pleasing to the eye, not causing it to strain.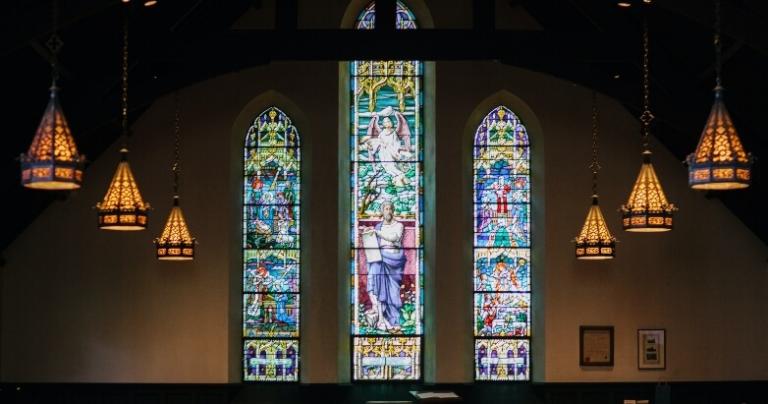 6. Upgrading the Sanctuary
When you start paying attention to your church's color palette, you may notice that a few things need an upgrade. This improvement is probably the most complex one on the list, but it can make a huge difference. You can change the colors around or find different decor. 
If it's been a while since your church has had the carpet cleaned or replaced, consider trying for new, easier-to-clean flooring. You might go with wood or laminate to keep the inviting feeling of your sanctuary without sacrificing a nice appearance. If you want to opt for a more modern sanctuary, you might choose to replace stiff, classic pews with more modern, flexible chairs, which can also allow you to seat more people in your sanctuary.
7. Getting New Signs
Your church's signs are one of the most important parts of the building. After all, it signifies to people that your church is right there, welcoming them to come in. Letterboard signs can convey essential messages to those who pass by. Upgrading your signs with a fresher look that befits the feel of your church will turn heads. 
Think about the sign in front of your church that displays the church's name and, sometimes, the sermon times or a message. That sign might definitely need replacing, but you should get signs around your church to match. For example, if you update your front sign, you should also update the accessible parking signs. Make sure your church looks cohesive in every area.
Change Your Church For the Better
Updating your church doesn't mean you need to change what's at its heart. You can still spread love and your church's message while making small upgrades to the church building and its interior. To look more inviting to new members and the current congregation alike, you should update your church to be more comfortable as you see fit.
Make sure to run potential changes by the necessary people first. In the end, they'll thank you for making the church a more beautiful place.