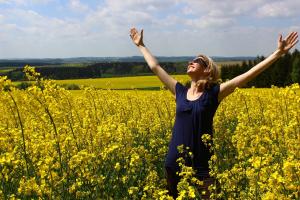 Every semester, my students at Brigham Young University select a Christlike attribute to study in the scriptures, write a paper on, and apply in their lives. They develop that attribute throughout the semester, and present what they have learned in an interview with me.
As part of their assignment, these students produce an artifact—such as a video, journal, photo, or dance performance— to represent their experience. I am consistently humbled, inspired, and amazed by the growth and creativity of these students.
It's Me
One of my favorite interviews occurred with a young woman who, rather than selecting a specific Christlike attribute, chose to study and apply the Atonement of Jesus Christ. After explaining what she had studied and applied, I asked to see her creative artifact.
With a huge smile and tears running down her checks, she stood and exclaimed, "It's me!"
She explained that as she applied the Atonement of Jesus Christ, she began praying more frequently, thinking of Him more often, relying on and trusting Him, and desiring to become like Him. "I'm a different person, I'm a better person. Because of Him, I'm becoming like Him, and I'm happier than I've been in a long time."
A miracle had occurred in her life as she learned and applied the Atonement of Jesus Christ. His influence on her was obvious.
Access to Godly Power
President Russell M. Nelson explained that "God so loved the world that He sent His Only Begotten Son to help us. And His Son, Jesus Christ, gave His life for us. All so that we could have access to godly power."
In a revelation regarding the potential of mankind, the Lord taught, "Then shall they be above all, because all things are subject unto them. Then shall they be gods, because they have all power" (Doctrine and Covenants 132:20).
If power is fundamental to being a god, then it is critical for us to gain a greater depth of knowledge and understanding regarding the principles of Christ's power. We must apply these principles on our path to perfection and thus godhood.
One critical truth regarding Christ and our pathway to perfection is that it is a line-upon-line process. In the Doctrine and Covenants, John teaches that Christ "received not of the fulness at the first, but continued from grace to grace, until he received a fulness . . . and he received all power both in heaven and on earth" (93:13, 17).
Christ then explains that as we follow His example, we too "can receive of his fulness, and be glorified in me as I am in the Father" (93:20).
Perfect in Christ
It is only through Christ that we can be perfected.
In Joseph Smith's Great Vision, Joseph saw those in the Celestial Kingdom, and wrote that "they are gods, even the sons of God—wherefore, all things are theirs . . . and they shall overcome all things . . . and shall dwell in the presence of God and his Christ forever and ever" (D&C 76:58-62).
How did they get to this position of becoming gods? Joseph explained, "These are they who are just men made perfect through Jesus the mediator of the new covenant, who wrought out this perfect atonement through the shedding of his own blood" (D&C 76:69). Christ's great sacrifice allows us to one day be perfect.
It's Us
As we learn of Christ, connect with Him, and apply His teachings, line upon line, He will perfect us until we become like He is. In that Final Interview, "where God and Christ are the judge of all" (D&C 76:68), we will present our artifact to our Maker. Like the woman in my class, we too can declare, "It's me!"
We will be our own proof of His glory, as our "bodies will be celestial, whose glory is that of the sun, even the glory of God, the highest of all" (D&C 76:70).