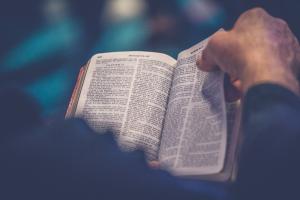 The first (and only) time that I met my only brother was when I was 44 years old. I'm not sure why the Lord had us wait 44 years before we could meet each other, but I am confident that His hand was involved in the timing.
Meeting My Brother
After doing a DNA test a few years ago, I learned I had a brother named Lyncha ("LA") who lived in Missouri. I'd grown up as an only child (and so had my mom and my grandmother), so the thought of having a brother gave me a sense of excitement that I'd never felt before.
LA and I connected over text. We sent each other Christmas presents that year—the first time I'd received a Christmas present from a sibling.
Soon after, I prepared to speak at a devotional for single adults in Nauvoo. I decided to use this opportunity to travel through Missouri. I was going to meet my brother in person.
It was two hours of bliss and amazement as LA and I sat down at Sugarfire Smoke House in St Louis, Missouri. We spoke of our lives and discovered some sweet similarities and also some contrasts. It was a serene feeling, looking into the eyes of the man sitting across from me, knowing that he was my genetic brother—and my new friend.
We said goodbye and hugged each other, and off I went to speak in Nauvoo.
Losing My Brother
In a tragic turn of events, six weeks after my lunch with LA—and just a week before Christmas—I received the news that my brother had died by suicide.
I knew that LA had struggled with some emotional and psychological challenges, but I had no idea how badly he was struggling or how deep his hurt was.
I was asked to select a scripture for my brother's funeral. What a sacred invitation. I turned to the Bible, using biblical passages only to honor my extended family's Baptist roots. As I searched, I was guided to discover several sacred passages that remind everyone of our Heavenly Father's goodness, omniscience, kindness, and love. My faith was strengthened.
For the funeral, I shared 1 Peter 5:10. It says, "The God of all grace, who hath called us unto his eternal glory by Christ Jesus, after that ye have suffered a while, [will] make you perfect, stablish, strengthen, settle you." In reading this verse, I felt God's love and comfort.
Finding God's Love in the Bible
Listed below are fifteen other Bible verses that I hope can strengthen you during this Christmas season. If you know someone who is struggling, or if you yourself are having a tough time, these verses can help in the hour of need.
Old Testament
Deuteronomy 4:30–31. "When thou art in tribulation . . . if thou turn to the Lord thy God, and shalt be obedient unto his voice; (for the Lord thy God is a merciful God;) he will not forsake thee."
Deuteronomy 31:6. "Be strong and of a good courage, fear not, nor be afraid . . . : for the Lord thy God, he it is that doth go with thee; he will not fail thee, nor forsake thee."
Nehemiah 9:17. "Thou art a God ready to pardon, gracious and merciful, slow to anger, and of great kindness."
Psalm 34:18. "The Lord is nigh unto them that are of a broken heart."
Ecclesiastes 3:1, 11. "To every thing there is a season, and a time to every purpose under the heaven. . . . He hath made every thing beautiful in his time."
Isaiah 61:1–3. "The Lord . . . hath sent me to bind up the brokenhearted, to proclaim liberty to the captives, and the opening of the prison to them that are bound; . . . to comfort all that mourn; to appoint unto them that mourn in Zion, to give unto them beauty for ashes."
Jeremiah 30:17. "I will restore health unto thee, and I will heal thee of thy wounds."
Lamentations 3:25–26. "The Lord is good unto them that wait for him, to the soul that seeketh him. It is good that a man should both hope and quietly wait for the salvation of the Lord."
New Testament
John 14:18. "I will not leave you comfortless: I will come to you."
John 16:33. "In the world ye shall have tribulation: but be of good cheer; I have overcome the world."
Romans 8:28. "We know that all things work together for good to them that love God."
1 Corinthians 15:55, 57. "O death, where is thy sting? O grave, where is thy victory? . . . Thanks be to God, which giveth us the victory through our Lord Jesus Christ."
2 Corinthians 4:8–9. "We are troubled on every side, yet not distressed; we are perplexed, but not in despair; persecuted, but not forsaken; cast down, but not destroyed."
1 Peter 4:13. "Rejoice, inasmuch as ye are partakers of Christ's sufferings; that, when his glory shall be revealed, ye may be glad also with exceeding joy."
Philippians 4:7, 13. "The peace of God, which passeth all understanding, shall keep your hearts and minds through Christ Jesus. . . . I can do all things through Christ which strengtheneth me."
May we connect with Christ and feel the peace of God, even in our struggles.