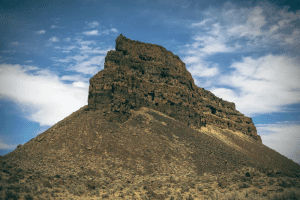 Lines and circles are drawn on chalkboards or whiteboards all over the world to represent the Plan of Salvation. Some include a lot of detailed information—not all necessarily  scriptural or accurate.
Missing Center
But among all those lines and circles, something is often missing—Jesus Christ.  Jesus is at the center of the plan, but some of our visual depictions leave Jesus out.
Thinking about how Christ is sometimes left out of Plan of Salvation drawings makes me wonder if sometimes we aren't as focused on the Savior's centrality to the plan as we need to be.
Let's consider what Joseph Smith taught:
The fundamental principles of our religion are the testimony of the Apostles and Prophets, concerning Jesus Christ, that He died, was buried, and rose again the third day, and ascended into heaven; and all other things which pertain to our religion are only appendages to it.
How often are some of us caught up in the appendages?  Consider the example of very young children coming to the stand on fast Sunday. "I want to bear my testimony, that I know the church is true." What comes next? "I'm thankful for my family" and that might be the end of the testimony.
Please don't misunderstand me—the church is true and that's really important. But we need to remember to make Jesus central to our testimonies, where He belongs.
Missing Power
Recently a friend told me about one of his children who had left the church because of some struggles with church history. My friend said that what really was discouraging to him was that not only did his child leave the church, but that child no longer believes in God or Jesus Christ.  He said, "I can understand my child leaving the church, but how could he leave Jesus?"
He continued, "John, I wonder if when we [now 60-somethings] were teaching you [40-somethings] we focused so much on 'the church is true' that we didn't focus enough on 'Jesus is real and there's a power in Him. He is your savior.'"
Reflect for a moment on your testimony. Is it deeply rooted in Jesus Christ? Is He central to it? Remember Moroni's final message to his Book of Mormon readers: "Seek this Jesus" (Ether 12:41). Whether it's in a drawing of the Plan of Salvation or in our testimonies, Jesus Christ should be at the center. In our journey to salvation, He is our rock and our refuge.
Consider the General Conference address on Easter of 2021 when President Russell M. Nelson made this powerful promise:  "The more you learn about the Savior, the easier it will be to trust in His mercy, His infinite love, and His strengthening, healing, and redeeming power."
In both ancient and modern scripture, the Savior has invited, "Learn of me" (Matthew 11:29; Doctrine and Covenants 32:1).
Ever-Present Foundation
But learning of Jesus takes focused effort. President Nelson taught in a 2017 article in the Ensign magazine (reproduced in 2020):
As we invest time in learning about the Savior and His atoning sacrifice, we are drawn to [Him]… As we seek to be disciples of Jesus Christ, our efforts to hear Him need to be ever more intentional. It takes conscious and consistent effort to fill our daily lives with His words, His teachings, His truths.  
Christ is central—and all our "conscious and consistent" efforts are strengthened and magnified as we become His more worthy disciples.
I've recently started a free online course that you can join, to help you learn more about Jesus Christ. I welcome you to join at http://johnhiltoniii.com/seekingjesus. But whether or not you participate in the course, you have my testimony that I know Christ is central.
Helaman taught his sons,
Remember, remember that it is upon the rock of our Redeemer, who is Christ, the Son of God, that ye must buildyour foundation; that when the devil shall send forth his mighty winds, yea, his shafts in the whirlwind, yea, when all his hail and his mighty storm shall beat upon you, it shall have no power over you to drag you down to the gulf of misery and endless wo, because of the rock upon which ye are built, which is a sure foundation, a foundation whereon if men build they cannot fall. (Helaman 5:12).
I highlight these three words: "ye must build." Each is important. "Ye" meaning you— you and I have to build our own foundation.  You cannot rely on others. You are the one who needs to build it.
Then consider the phrase "you must. " It's not like "you should"; it's something you must do. Finally the word buildconnotes action. We've got to work at building on this foundation of Jesus Christ. 
If we build our lives on this rock—the foundation of Jesus Christ—we cannot fall.