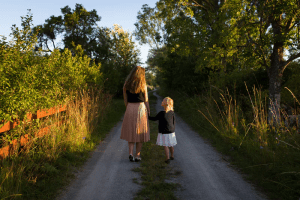 Those Who Mourn, Those Who Seek:                      Forever Blessed in Christ
It was a small inconspicuous box, easily obscured by the more garish Christmas items demanding attention—like so many of the most important things in life. Inside the box was a tiny pendant on a chain, representing the tree of life bearing the fruit of God's love.
This tree of life is a little different: tiny figures of a woman and a little girl are at the side of it, not merely attached but integral to it—symbolic of the loving, sustaining faith we now find in our family.
 Comforted in Christ
My daughter-in-law's beloved younger sister has been hovering for weeks at the edge of the veil with a hereditary chronic condition; her passing is expected, but it is difficult to say "goodbye."
My daughter-in-law's large family, extended slightly by my small one, has recently encountered varied serious illnesses and deaths. Christ reached out to such families during His ministry on earth:
"Blessed are they that mourn, for they shall be comforted."
Russell M. Nelson, President of the Church of Jesus Christ of Latter-Day Saints, understands. He wrote, as quoted In His book Daily Joy,
For many of us [Christmas] is also a time of tears. Tender recollections come of loved ones who were a vital part of Christmases past. The older I get, the greater are the memories of those who now live on the other wide of the veil. I never apologize for those tears. A good cry at Christmastime is a sacred symbol of love
Comforted Within Ourselves
Another beatitude becomes pertinent with our tree.
"And blessed are all they who do hunger and thirst after righteousness, for they shall be filled with the Holy Ghost."
Our family wants to be "righteous," but like many if not most, we have our ups and downs and our ins and outs. I watch the exuberant mayhem of my small (and only) grandson—running, bouncing, and laughing over brightly wrapped packages and the undivided attention of a room populated by adults.
I want this precious child forever, just as I want my children and children in law—and my daughter-in-law's sister who is so ill, and their angelic mother who, with her loving, sustaining faith, cares for this daughter, and other members of her family.
But we have our mists of darkness: confusion, discouragement, temptation, and depression, along with fear for the calamities of the world—natural and human made. We make mistakes; we bump into things; we trip over barriers; and we live with the painful, embarrassing, and often laughable results.
We need the iron rod of the scriptures and words of the prophets, with the guidance of the Holy Ghost, to gently comfort us and keep us moving in the direction of the tree of life as we feel our way along.
Onward
 Though I'm certain He sighs over us often, the Savior does not give up on those who struggle forward. Righteous King Benjamin comforted his people: "It is not requisite that a man should run faster than he has strength . . . it is expedient that he should be diligent . . . [and] all things must be done in order."
We are assured that we shall ultimately be judged by our righteous intentions as well as by our often imperfect attempts and behavior. Our family and those like us can have hope for today's comfort and for eternal life.
Our Savior knows we are trying.