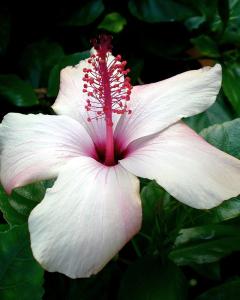 My wife and I recently enjoyed dropping our oldest son off at college. We were excited to spend time with him exploring the area around the school, sharing some of the unique sights and sounds in that college town. The beautiful campus, in Hawaii, was landscaped with varied tropical plants, including vibrant colorful flowers. Everything was carefully cared for and clean—except for that trash.
A Flaw in Paradise
 As we took our son to his dorm on the first day of check-in, I noticed a couple of pieces of trash on the ground outside of the car, near the curb. I glanced at that trash briefly and continued to help our son unload his things to take to his new dorm room.
I thought at first that I was too busy to pick up trash; surely a responsible someone would pick it up and throw it away. Over the next couple of days, we returned a few times to that same spot outside the dorm as we brought more things to our son's room. Every time, I noticed that that trash had not moved. I started thinking how weird it was that no one had thrown it away yet. I was almost surprised by this neglect.
As we took my son to his dorm on our last day right before leaving, I noticed that trash again. The same trash in the same place! I couldn't believe it! By now I was starting to feel slightly judgmental of all the people who had surely passed by the spot without taking care of that unsightly trash. I even asked myself who had neglected this job.
A Fault in Perception
The lesson of that trash finally became apparent.  How often do we find ourselves on the outside looking in at "weird" problems that we easily see but pass by as we feel disconnected from them? We are quick to put the burden of doing the right thing on others. But is that what Christ wants us to do?
In the parable of the good Samaritan, Jesus told of a man who was robbed, beaten, and left for dead. As a priest and a Levite, who should have identified as his brethren, passed by, they chose to ignore the sufferer and continue instead of stopping. Perhaps in their minds they thought, "That's sad. That man looks like he's in bad shape." Or they may have questioned, "Where is someone who can help when you really need them?"  Perhaps they felt too busy, or left the victim to wait for someone with medical responsibility to walk past.
As I sat there disgusted about that trash, I realized that I was the one who had noticed the trash and passed by several times without picking it up. Perhaps I was like the Levite and the priest.  Taking care of the problem should have been my job!
The Savior's Way
I repented quickly, picked up that trash, and walked to a nearby trash can to dispose of it. My small mistake taught me a BIG lesson! I had not thought about my own responsibility. I wanted to project responsibility onto someone else.
The Samaritan immediately saw that if the injured man was to be rescued, the rescue had to begin with him. As we are told in the scriptures, we should be "anxiously engaged in a good cause, and do many things of [our] own free will, and bring to pass much righteousness" (D&C 58:27).
If we are actively looking for opportunities to do something the Savior would have us do, what amazing opportunities we will have to serve by recognizing the power and responsibility within ourselves! The power within each of us can only be released as we follow the example set by Christ.
As we recognize our responsibility, we will also realize the power that Christ has placed within each one of us to bring to pass much righteousness and benefit the world. The only question is where each of us will begin.