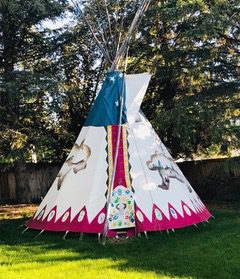 On a cool summer evening, Larry greeted our family at the door, dressed in a western shirt, with a scarf around his neck, jeans, and moccasins. As we walked through his house, he showed us treasures from events in his life, including his military service. We reached the back yard where Larry's 20-foot beautifully hand painted tipi was waiting for us, as we circled a gas-lit fire to share stories and s'mores. This was Larry's secure, loving place, where he invited us into a treasured experience, to share his and our cultures, families, and love.
To Share Traditions
Almost every week Larry and his wife invite friends, neighbors, church members, or others to join them in the tipi to share interests, ideals, and stories. Taking our places around the fire, we worked together to build a miniature tipi. The sticks laid out for us were each labeled with a Cherokee word representing foundations of a happy home. Words like  "love," " kindness," "hope," and  "friendship."
We shared stories. Larry taught us the native American tradition of the origin of fire. When our son mentioned that he had lost his first tooth a few hours ago, the tooth fairy became part of our multicultural celebration.
As we all told what we know about the beginnings of our families, we were reminded of the power and purpose of keeping family narratives and finding joy in the stories that bind us. Larry expressed with sincerity his gratitude for the ways the Gospel of Jesus Christ saves and serves his family.
 To Share Love 
Larry and his wife  encircled us in their love, inspiring us to love more directly using our gifts and interests. I found myself thinking about how we might use some of our family traditions and stories to share with our neighbors opportunities to be nurtured in our love.
With a foundation of Jesus Christ and His teachings, Larry's family and ours have blessings that make love and togetherness realistic hopes and expectations for us.
As stated in "The Family: A Proclamation to the World," this foundation leads us to faith, prayer, repentance, forgiveness, respect, love, compassion, work, and wholesome recreational activities—whether in a tiki or on a family hike or outing to the beach.
To Share Security
Book of Mormon General Moroni set an outstanding example of the importance of secure places, inspiring me to more intentionally create a home where my family and others can find safety and security. To create wartime strongholds, Moroni led his people to pile earth high around the cities,  add man-height timbers, and create picket frames upon the timbers, crested by towers enabling lookouts to  see a considerable distance. Their enemies were unable to penetrate these walls.
Obviously fortifications like this would not fit around my house, nor would they be desirable. The wars we are fighting near our home threaten us internally; we need to share layers of spiritual, mental, and emotional security.
But I sometimes remember Moroni as I think about layer upon layer of protection. Larry gives us security as he offers to share family values, as well as the love and wisdom he has collected throughout his life—which we accept with joy. My husband and I put on our layers as we determine to share our faith and love for Christ continually with our two young children. Relatives, friends, and neighbors, as well as church leaders and teachers, add timbers and pickets as they choose to share their faith, their knowledge, and their experiences.
Like Larry and his wife, we can invite many to be nurtured through our efforts as we connect ourselves and others to Christ. To share loving protection is a responsibility for all of us.