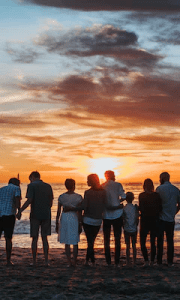 "Welcome to Godhood 101." Every semester I start the Eternal Family class I teach at BYU Idaho the same way. From this somewhat unusual beginning, we explore the Church of Jesus Christ's doctrine of the family, with emphasis on God's intent to bring us back to Him: exalted—as He is. Then Max, a lost photography student, found his way into my classroom, eventually sharing with me his insightful view of a lens for eternity.
My Class Lens
To give my students a perspective of families for eternity, I have developed a maxim that I repeat almost every class.
Exaltation is the goal.
Salvation through Jesus Christ is the way.
The family is the context.
This clear articulation of God's plan of happiness catches my students' attention and invites them to engage in content focused for eternity in a deeper, more meaningful way.
Enter Max
About 40 minutes into the first class last semester, Max stood and explained, "I thought this was my photography class. Sorry!" Then he left.
We all laughed for a minute and then finished the class. The next class, I welcomed everyone to "Photography 101." We laughed again. But I found myself thinking about this student and wondering why he would stay so long in this class, thinking that it involved photography although it was obviously focused on God's plan to exalt His children for eternity.
I was glad when Max came to see me a few weeks later, and I asked him why he had stayed so long that first day.
He responded, "Well, this is BYU-Idaho. I expect we will talk about these kinds of things in all of my classes. Besides, I was enjoying myself so much I forgot where I was supposed to be."  "So what are you learning about godhood in your photography class, Max?" I asked.
Parable for Eternity
Max thought for a minute. With the depth and complexity of a parable, he explained how for a photographer a lens shapes everything. Thinking of Godhood as his lens helps him sharpen his focus, make sure he sees the "big picture," and even take care of the details as he zooms in. I have since thought about how many different analogies a photography class might offer to those of us who are considering ways to develop for eternity in this fallen mortal state.
With this meaningful spiritual reminder, we might consider ways aspects of our daily lives—for example courses in a student's major or a items on a teacher's syllabus—may shape our development as divine beings for eternity. "The Family: A Proclamation to the World" assures us that "each is a beloved spirit son or daughter of heavenly parents, and, as such, has a divine nature and destiny." Godhood is our destination for eternity.
How would our lives be different if we paused each day and connected with the divine in us? Could we acquire new lenses to bless us with opportunities to grow and develop as gods? We are children of God. He has sent us here. And he wants us back for eternity. Every one of us.
I am so grateful that Max stayed that first day and returned later to share his thinking with me. And I thank him for drawing me in with his eternal perspective as a devout photographer. Joining him in a photographer's view for eternity has helped me connect with my potential to find ways in my life to grow in my true identity in God's eternal family.