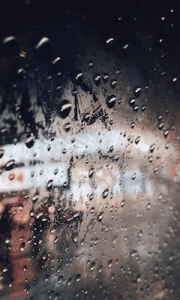 It was a small irritation. The windshield wiper on the driver's side needed attention. I never seemed to find time to fix it, and with small adjustments I could get along. A heavy rainstorm and a tense deadline taught me that getting along may quickly turn to racing onward impaired, with uncertainties and dangers, and reflection has taught me that moving onward impaired spiritually can be even more dangerous.
Onward Impaired in Vision
When the windshield wiper flew off our van, I  found the nearest underpass to stop and see what could be done. A new part would be needed to replace the one now lying somewhere on the road. We were nowhere near a store that would have the part.
My daughter had to be on time for the wrestling tournament where she was expected. I had  to figure out a way to drive without a windshield wiper.
 I turned on the passenger side wiper and thrust onward impaired. At times I was uncertain about what I was seeing and whether or not danger might be ahead.
After intense concentration and a lot of squinting and slowing down, I made it through. After a while, the squinting and slowing became easier, and the strain was less of a burden. Once I dropped my daughter off for the check-in, I found the nearest auto parts store, bought what I needed, and replaced the wiper.
The rain continued for the trip home, but the onward thrust was no longer impaired. I was shocked at how much more clearly I could see—no squinting or worrying because I could not see the road, with possible dangers ahead.
I hadn't realized how much moving onward impaired by loss of one windshield wiper could affect my driving. I also realized that ignoring the problem, with its risk of faulty vision,  might put me in even greater danger.
Blessed With Damage Control
 Even small things can send us onward impaired in spiritual ways. But we are not alone on a dangerous highway. Christ has told us that people who are broken or at risk do not need to make simple adjustments and proceed with faulty vision. Christ is always there for us.
Come unto me, all ye that labour and are heavy laden, and I will give you rest. Take my yoke upon you, and learn of me; for I am meek and lowly in heart: and ye shall find rest unto your souls. (Mathew 11:28)
In the parable of the Prodigal Son, we see Christ helping with the big repairs and the small repairs. As in all Christ's parables, the story is not about a specific event or specific family. As Jeffrey R. Holland has written, "His parables are invitations to 'lift up your eyes'  to see heavenly things—specifically to see and understand Him."1
The son who had demanded his inheritance, left home, and wasted his fortune had rushed onward impaired and broken his relationship with his family and his heritage.
The son's humble return and the father's loving welcome mended that major break, as the Savior was teaching us all to do. With His loving guidance, neither the son nor the father had ever been alone.
But I often wonder if this broken relationship had more or less need for mending than the relationship with the other son. This son also had not seen clearly, though his impairment may have been less obvious.
His faulty vision had never seen accurately his father's devoted love and the unimpaired inheritance he would someday enjoy. Since we are not given the end of the story, we can only hope that this son also accepted the Savior's healing guidance.
Onward with Divine Guidance
Most of us seem to have a history of big breaks and small ones, often caused by rushing onward impaired in our vision. We may think of our windshield wipers as too small to ask for Christ's help to lift us up and heal us.
We need to understand that we do not need to squint or limp our way through life; the Savior is able and anxious to repair us. No shopping or tinkering is required to correct our vision. The scriptures explain,
Pray always . . . [Y]e must not perform any thing unto the Lord save in the first place ye shall pray unto the Father in the name of Christ, that he will consecrate thy performance unto thee, that thy performance may be for the welfare of thy soul. (2 Nephi 32:9)
Sister Tracy Y. Browning, who suffers with faulty physical vision and has incredible spiritual vision, assured us,
Friends, Jesus Christ is both the purpose of our focus and the intent of our destination. To help us to remain fixed and heading in the right direction, the Savior invites us to see our lives through Him in order to see more of Him in our lives. (emphasis in original)2 
When I served as  a full time missionary in Houston, Texas, I would pray no less than 15 times each day— sometimes over 30. I felt so close to Christ, as He guided my companion and me from day to day. We never moved onward impaired, and He was continually with us.
I have consistently found prayer to be one of the best ways to stay close to Christ and allow Him to heal faulty vision, along with other difficulties. When my prayers focus on gratitude, my vision opens up to better understand my Savior and receive His healing. Trying to move onward impaired doesn't happen.