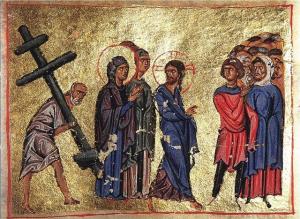 Christ was exhausted from Roman/Jewish persecution—in addition to suffering for the sins, sicknesses, and sorrows of everyone who had lived, was living, or would yet live in His Father's kingdom. When He stumbled under the heavy crossbeam, impatient Roman soldiers, "found a man of Cyrene, Simon by name; him they compelled to bear his cross" (Matthew 27:32). Simon had not volunteered, but when compelled he did not refuse. Simon's service, a simple everyday gesture, gave him the opportunity to give badly needed aid to the Savior of the world; it has become model behavior for billions of grateful Christians.
Simon's Service: To Follow with the Savior's Cross
Almost nothing is known about Simon of Cyrene, though three of the Gospels mention his service to Christ in His hour of greatest need. Luke recorded, Simon was "coming in out of the country, and on him they laid the cross that he might bear it after Jesus" (23:26). He followed Jesus humbly and respectfully, despite the unruly, abusive crowd.
We recognize the Father's caring presence and influence on the events of His Son's infinite sacrifice. Some Christian authors suggest that God specifically chose Simon—one of those "coincidences" that are not coincidental. Surely this blessed opportunity would have been given to one who was worthy.
After Simon's service, he seems to have blended humbly into the background, claiming no attention or recognition for his role in the transcendent events that followed
Devoted Missionaries: To  Follow with Their Service
Simon's Service began without an opportunity to heft the cross. The Savior needed Simon's Service, and Simon gave it.
As a mission presiding couple, we found that many young people who enter the mission field are willing to serve but may not realize how heavy the load is before they are under it.  Those who have complained to us often mention theses hardships.
The language is difficult.
The new culture is uncomfortable.
They are all day every day with a companion who is a stranger.
Work hours are from 7:30 am to 10:30 pm every day.
They are physically and mentally exhausted.
Cyrene, Simon's home, was a different culture speaking a different language from Jerusalem. He was among strangers, and carrying the heavy crossbar, likely weighing more than 75 pounds,  would have been physically and mentally exhausting.
During Simon's service, he was open to mocking and verbal abuse by hostile crowds. Missionaries often have to confront people (in crowds, homes, streets, public places etc.) who are unfriendly, irritated, and sometimes hostile or verbally abusive.
We told our missionaries about Simon's Service and challenged them to "do likewise." Choosing to bear Christ's cross and our neighbors' crosses draws us to our Savior, allowing us to see into the eternities and come to know the full meaning of eternal life. As we serve and love God, he will lead and support us through our challenges.
As one initially very discouraged missionary completed his joyful mission, he thanked us, saying, "Simon's Service is a beautiful pattern that has taught me many vital life lessons."
Personal Challenge: To Bear "Crosses"
 Elder Jeffrey R. Holland quoted Christ's instruction to His disciples: "If any man will come after me, let him deny himself, and take up his cross, and follow me" (Matthew 16:24). Elder Holland referred to this as "the rock-ribbed integrity and stiff moral backbone that Christians should bring to the call Jesus has given to every one" who follows Him.
He continued,
One must sometimes carry a burden—your own or someone else's—and go where sacrifice is required and suffering is inevitable . . . We follow Him everywhere, including, if necessary, into arenas filled with tears and trouble, where sometimes we may stand very much alone.
 Elder Holland concluded that we must follow Christ "unfailingly, never faltering nor fleeing, never flinching at the task, not when our crosses may be heavy and not when, for a time, the path may grow dark. 1 
Simon's Service following Christ did not falter, flee, or flinch. Nor did that of the apostles who carried crosses—literal and figurative— to serve in continuing His work after His time on this earth.
Christ knows every cross that we bear—our own or someone else's. He has already borne every one of them.
Elder Merrill G. Bateman in 2005 suggested a personal way of thinking about crosses Christ bore for us.
For many years I thought of the Savior's experience in the garden and on the cross as places where a large mass of sin was heaped upon Him. Through the words of Alma, Abinadi, Isaiah, and other prophets, however, my view has changed. Instead of an impersonal mass of sin, there was a long line of people, as Jesus felt "our infirmities." 2 
President Henry B. Eyring explained that feeling close to the Savior gives us  a "feeling of His love for those in distress" and an increased desire to help them. He spoke of "courage to . . . "go to the rescue of others without concern for our own needs." In accounts of Simon's Service, we read nothing of a quick escape to attend to his own Passover needs.
President Eyring spoke of church members in Florida who served after a destructive hurricane, removing two large trees blocking the driveway of a couple not of their faith, who had been praying for help with faith that the Lord would send helpers. They had received assurance that help would come, and within hours helpers arrived. 3
Like Simon, helpers were available and responded to need.
For a discouraged missionary, a hurricane helper, or any other disciple of Christ—at any time or in any place—Simon's example helps us understand how we can be part of carrying crosses and showing His love.